Judge a Pokémon: Shedding Ninjas
Introduction
We asked. You answered. According to Smogon's Facebook page, Shedinja is the number one Pokémon you wanted to see ripped apart (and analyzed?). Not entirely sure how that is possible, given that it's a ghost and human hands can barely touch it, but that doesn't matter. Let's welcome seasoned JAP writers antemortem, brightobject, and Eevee General.
---
Shedinja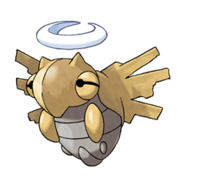 antemortem
Shedinja is a very unique creature that's full of character, despite actually being absolutely hollow. That fact did always freak me out when I was younger; how can what is considered a Pokémon—presumed to be a living, breathing thing—be vacant and practically motionless? The ghost stories of the Pokémon world are bizarre, and they're wont to haunt the dreams of children everywhere. Seriously, its PokéDex entries claim that peering into its back will result in the stealing of your soul. One entry says it just "appears" in a Poké Ball after Nincada evolves into Ninjask. That's a whole new level of breaking and entering. What if it broke into an occupied Poké Ball and stole the soul of your Swampert? Then how would you beat Flannery? Or maybe you're a Treecko sort of fellow... well, then you deserve to lose to her. How can something like Shedinja even be legal? They're practically murderers. How are all Nincada not required to wear an Everstone, or trainers restricted to evolving their Nincada with a full party? Ridiculous. Anyway... Shedinja's cool, I guess, but if my kids were trainers, they'd never be allowed to catch a Nincada, or they'd be grounded.
brightobject
Who said you had to be competitively viable to be cool? Shedinja's design is kickass, as are its numerous gimmicks. Let's start off with those. When you were a kid and heard about Shedinja, there's no way Wonder Guard did not get you hyped. A mysterious Pokémon with absolutely no way to hurt it, appearing enigmatically in your party like some sort of ghost?! It is one of the few Pokémon with that true air of mystery about them (the only others I can think of are Unown and Registeel) gazing at you wordlessly with its hollow eyes as it floats silently in midair. Its design complements its concept immensely, the cleverly designed halo / crescent above its head and its ruined wings that almost remind one of a mummy's bandages all speaking to one's innermost desire for mystery, adventure, and a good scare. Basically, ignore Shedinja's edgy PokéDex entries and its nonexistent viability, and you have yourself one heck of a 'mon.

Eevee General
Arriving in your team via the most dubious methods in all of Pokémon evolution, one could assume Shedinja ought to be more epic, or at least more useful. Rather, this fiendish bug is often just dead weight. Quite literally. It doesn't really "move" except for the halo, which it uses in some of its attacks. Speaking of which, why does it even have a halo? What saintly deeds did Nincada accomplish in its relatively short lifespan in order to warrant this canonization when it evolved? Are those Pokéballesque eyes hiding more than just empty space? Probably not, as the Emerald PokéDex entry explains how "The inside of its body is hollow and utterly dark." It's all a little uninspiring if you ask me, as if Game Freak was struggling to gussy up a leftover design found on the drawing board. I suppose that's what we can expect from the castoff of another Pokémon's transformation: a hollow feeling. Shed this bug quickly if you see one. It will raise your spirits, I promise.
Conclusion
Next issue our second most popular Pokémon, as-voted-by-you, Cradily, will be analyzed. Catch you guys then!