Normal-types in USM PU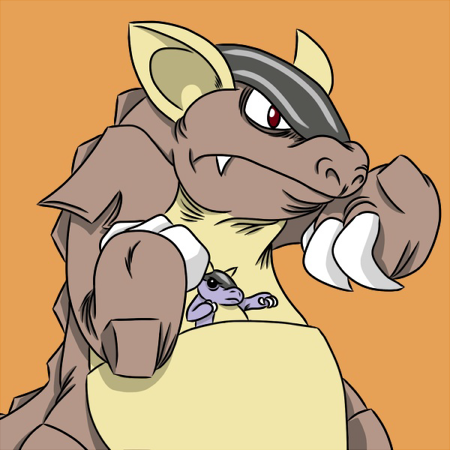 Art by ZapDraws.
Introduction
While many Normal-types are often dismissed as simple or one dimensional, PU offers some of the most viable and multifaceted Normal-type Pokémon. Their ability to fulfill many different roles and fit on pretty much all teams is nothing but outstanding. Without further ado, let's jump into how Normal-type Pokémon impact the PU metagame!
---
Normal-types
Click on a Pokémon's sprite to reveal its set(s) and learn more about it!
Stoutland
Stoutland @ Choice Band
Ability: Scrappy
EVs: 252 Atk / 4 Def / 252 Spe
Adamant Nature
- Return
- Superpower
- Pursuit
- Facade
Initially overshadowed, Stoutland has established itself as arguably PU's most threatening wallbreaker thanks to its access to Scrappy, its high Attack stat, and its decent bulk and movepool. These attributes makes it incredibly hard to safely switch into and enables it to spam its STAB attacks with few to no drawbacks, and it can even catch would-be counters such as Regirock and Ferroseed on the switch with Superpower. It's also a good Pursuit user, as it can force out and trap Pokémon such as Froslass, Cryogonal, and Jellicent, while Facade allows it to take advantage of predicted status moves to wreak havoc on the opposing team. It's also important to note that its bulk means that it isn't easily revenge killed without using a super effective move and gives it numerous opportunities to switch into Pokémon such as Audino, Articuno, and specially defensive Alolan Sandslash. However, it has a poor Speed stat, which leaves it vulnerable to faster threats like Primeape, Oricorio-E, and Kangaskhan, while its reliance on physical moves to break down foes mean that it is very susceptible to chip damage like Rocky Helmet from Qwilfish, Iron Barbs from Ferroseed, and Aftermath from Skuntank. Lastly, its typing leaves it vulnerable to Fighting-types like Gurdurr, and locking Stoutland into Pursuit or Superpower makes it exploitable by setup sweepers like Lycanroc and Oricorio-E. Even with these shortcomings, this good boy definitely won't disappoint you, so don't hesitate to give it a try!
Kangaskhan
Kangaskhan @ Silk Scarf
Ability: Scrappy
EVs: 252 Atk / 4 SpD / 252 Spe
Adamant Nature
- Fake Out
- Double-Edge
- Earthquake
- Sucker Punch
Kangaskhan @ Normalium Z / Fightinium Z
Ability: Scrappy
EVs: 252 Atk / 4 Def / 252 Spe
Adamant Nature
- Double-Edge
- Power-Up Punch
- Sucker Punch
- Earthquake / Focus Punch
Kangaskhan @ Leftovers
Ability: Scrappy
EVs: 252 HP / 148 Def / 108 SpD
Impish Nature
- Substitute
- Toxic
- Power-Up Punch
- Return
Kangaskhan is a premier threat thanks to its typing, access to Scrappy, unpredictability, decent stats, and useful movepool, the latter of which sets it apart from Stoutland. All-out Attacker is by far Kangaskhan's most common set. It is a threatening wallbreaker but mostly a revenge killer thanks to its access to Fake Out and Sucker Punch, which notably allows it to deal with dangerous sweepers like Ludicolo, Omastar, Simisear, and Alolan Raichu. Its priority moves also make it an incredibly threatening Pokémon on Spikes stack builds thanks to its ability to chip down teams. Unlike Stoutland, Kangaskhan can switch up moves, which makes it less prediction reliant. Kangaskhan can also reliably use a Power-Up Punch set, which allows it to beat would-be switch-ins like Regirock, a slightly weakened Gurdurr, and Mudsdale depending on the Z-Crystal it's holding, while the SubToxic set allows it to stallbreak and beat threats it wouldn't be able to beat otherwise, like Quagsire and Tangela. While Kangaskhan is definitely a strong presence, it suffers from competition from other Normal-types like Stoutland, which hits harder and has Pursuit, and Dodrio, which is faster and is part Flying-type. It can also struggle to break past Pokémon like Regirock, Tangela, Quagsire, and Gurdurr, the latter of which can even use it as setup fodder, and its Speed, while decent, leaves it outsped by threats like Oricorio-E, Primeape, and Alolan Persian. However, don't let this discourage you from using Kangaskhan; you'll wish it was your mom.
Dodrio
Dodrio @ Choice Scarf
Ability: Early Bird
EVs: 252 Atk / 4 SpD / 252 Spe
Jolly Nature
- Brave Bird
- Jump Kick
- Return
- Pursuit / Knock Off
Dodrio @ Flyinium Z / Fightinium Z
Ability: Early Bird
EVs: 252 Atk / 4 SpD / 252 Spe
Jolly Nature
- Swords Dance
- Brave Bird
- Jump Kick
- Return / Quick Attack
Dodrio @ Choice Band
Ability: Early Bird
EVs: 252 Atk / 4 SpD / 252 Spe
Jolly Nature
- Brave Bird
- Return
- Jump Kick
- Knock Off / Pursuit / Quick Attack
Blessed with great Speed, Attack, and coverage options, Dodrio is one of the most threatening Normal-types in the PU tier. Its wide range of sets, great coverage moves, and superb offensive typing allow it to function as a great revenge killer and wallbreaker. Choice Scarf is a great set in Dodrio's arsenal, working as an effective revenge killer for fast threats like Alolan Raichu and Simisear. Knock Off and Pursuit grant Dodrio great utility options, and its item allows Dodrio to outspeed all other common Choice Scarf users, only leaving it susceptible to physical walls like Regirock and Carracosta or priority attacks from Skuntank and Gurdurr; however, these Pokémon have to be wary of switching into certain coverage moves from the Normal-type bird. Dodrio's Swords Dance set grants it the ability to function as an effective setup sweeper even able to break through bulky titans such as a weakened Regirock with a boosted Jump Kick. Flyinium Z gives Dodrio a way of hitting most of the tier for great neutral or super effective damage with its main STAB move, and Quick Attack prevents Choice Scarf users like Primeape from revenge killing it. What's more, its Choice Band set trades the versatility of its Swords Dance set and the Speed of the Choice Scarf one to allow Dodrio to hit as hard as possible without a boost, effectively wearing down physical walls such as Quagsire, Regirock, and Tangela with its great coverage. No matter how you look at it, Dodrio is a threatening Pokémon in the PU metagame that is unrivaled, securing its status as a terrifying and effective offensive threat in all of its roles.
Audino
Audino @ Leftovers
Ability: Regenerator
EVs: 248 HP / 8 Def / 252 SpD
Careful Nature
- Wish
- Protect
- Knock Off
- Heal Bell / Toxic / Encore
Audino's great HP and Special Defense stats, access to Wish and Heal Bell, and ability Regenerator make it a great cleric and the premier Wish Passer in PU. Wish + Protect + Heal Bell all pair well to let Audino heal HP and any status for teammates and itself reliably. Knock Off can cripple common switch-ins such as Stoutland, Gurdurr, and Ferroseed. Regenerator lets Audino heal up when switching out on threats such as Stoutland and Aggron. Audino is rarely seen outside of stall builds, where its ability to heal up teammates and clear status is very much appreciated. However, Audino's low physical bulk leaves it vulnerable to threats such as Stoutland, Primeape, and Aggron. Audino also doesn't fit on a wide variety of teams, as it's a big momentum drain for offense, bulky offense, and any other build that isn't stall. Audino lacks any notable attacking stat, which makes it very passive and leaves it open to threats that it can't use Wish in front of or Toxic stall such as Skuntank and Alolan Sandslash.
Drampa
Drampa @ Choice Specs
Ability: Sap Sipper
EVs: 136 HP / 252 SpA / 120 Spe
Modest Nature
- Draco Meteor
- Hyper Voice
- Fire Blast / Flamethrower
- Focus Blast
Drampa @ Leftovers
Ability: Sap Sipper
EVs: 140 HP / 252 SpA / 116 Spe
Modest Nature
IVs: 0 Atk
- Calm Mind
- Dragon Pulse
- Roost
- Flamethrower / Hyper Voice
Drampa stands out as a decent Normal-type in the tier thanks to its distinctive secondary typing in Dragon, wide movepool, great Special Attack, and useful ability in Sap Sipper. Its Choice Specs set allows it to function as a terrifying wallbreaker with no counters outside of Carbink. Sap Sipper allows it to switch in on Grass-type moves from the likes of Tangela and Roselia, effectively walling them, a feature that gave it a strong niche during the Lilligant meta as well. On the other hand, its Calm Mind set trades offensive power to function as a slow late-game sweeper that's able to break through bulkier Pokémon such as Tangela and defensive Jellicent that aren't able to revenge kill it easily. Despite these perks, its low Speed and bad defensive typing make Drampa easy to revenge kill by the multitude of Fighting- and Ice-types in the tier such as Primeape and Aurorus.
Type: Null
Type: Null @ Eviolite
Ability: Battle Armor
EVs: 252 HP / 8 Def / 248 SpD
Careful Nature
- U-turn
- Return
- Rest
- Sleep Talk
Type: Null @ Eviolite
Ability: Battle Armor
EVs: 252 HP / 8 Def / 248 SpD
Careful Nature
- Swords Dance
- Return
- Rest
- Sleep Talk / Iron Defense
Type: Null stands out as one of the bulkiest pivots in PU courtesy of its good Eviolite-boosted bulk, which allows it to check wall many special attackers like Floatzel, Rotom-F, and Swanna. Its well-rounded stats give it a slow U-turn, and make it no slouch offensively either, as access to Swords Dance and Iron Defense give it the ability to potentially clean late-game and even take on physical wallbreakers such as Stoutland. While Type: Null has to rely on Rest for recovery, it can take advantage of this by acting as a switch-in to status moves that may plague its team. Reliance on Eviolite and Rest can make Type: Null exploitable, however, as it's vulnerable to Knock Off and Taunt from Pokémon like Eelektross, Tangela, and Sableye. Ghost-, Steel-, and Rock- types like Oricorio-G, Aggron, Omastar, and Choice Specs Aurorus can also take advantage of Type: Null's use of Return for damage output and passivity when using Rest and overwhelm it or use it as setup bait, especially with its Eviolite removed. Ghost-types are particularly noteworthy, as the likes of Froslass and the aforementioned Oricorio-G and Sableye can utilize Taunt to shut down all of Type: Null's options bar U-turn, and Pokémon such as Oricorio-G and Spiritomb can use it as an opportunity to set up.
Niche Normal-types
Alolan Raticate
Raticate-Alola @ Normalium Z / Darkinium Z
Ability: Hustle
EVs: 252 Atk / 4 SpD / 252 Spe
Jolly Nature
- Swords Dance
- Double-Edge
- Knock Off
- Sucker Punch
Alolan Raticate's access to Swords Dance and Sucker Punch and its ability Hustle make it a very high-risk, high-reward wallbreaker. Knock Off and Double-Edge combined with Hustle are very hard to switch into, and access to Sucker Punch allows Alolan Raticate to revenge kill faster threats such as Alolan Raichu and Oricorio-E. Normalium Z or Darkinium Z gives Alolan Raticate a one-time nuke that still gets the boost from Hustle without the risk that normally comes with the accuracy drop. With Alolan Raticate's ability to force switches, it can potentially get a Swords Dance off and become an even scarier wallbreaker. Despite these attributes, Alolan Raticate struggles to be very consistent. Hustle's accuracy drop hinders its ability to reliably wallbreak, and its Normal / Dark typing leaves it susceptible to common Fighting-type Pokémon like Hitmonchan and Gurdurr. Alolan Raticate also faces competition from premier Normal-type wallbreakers such as Stoutland and Kangaskhan, which are more reliable and fit on teams more easily, and from Absol, which has similar power and won't miss all of its Knock Offs.
Kecleon
Kecleon @ Assault Vest
Ability: Protean
EVs: 172 HP / 252 Atk / 84 Spe
Adamant Nature
- Knock Off
- Drain Punch
- Shadow Sneak
- Sucker Punch / Power-Up Punch
Kecleon fills an interesting role in the PU tier, both as a Normal-type and as a specially defensive Pokémon. Access to Protean and priority moves makes Kecleon hard to switch into, and its solid Special Defense makes it a formidable check to specially offensive Pokémon like Omastar, Cryogonal, and Rotom-F. Despite functioning as a niche Assault Vest user with decent power, Kecleon is often outclassed by the likes of Eelektross, which can pivot and offer different coverage options. Kecleon's low physical bulk also makes it susceptible to strong physical wallbreakers such as Stoutland and Lycanroc, and its reliance on an Assault Vest and lack of reliable recovery make it easy to wear down. Despite its chameleon-like qualities, Kecleon is definitely one to stand out for its distinct perks!
Zangoose
Zangoose @ Toxic Orb
Ability: Toxic Boost
EVs: 252 Atk / 4 Def / 252 Spe
Adamant Nature
- Facade
- Knock Off
- Close Combat / Swords Dance
- Quick Attack
Zangoose @ Sitrus Berry
Ability: Immunity
EVs: 4 HP / 252 Atk / 252 Spe
Jolly Nature
- Belly Drum
- Quick Attack
- Knock Off
- Close Combat
Access to two great setup moves, STAB Facade, and Toxic Boost allows Zangoose to become a potentially deadly wallbreaker and late-game setup sweeper. This is further bolstered by good offensive stats and great movepool, giving it perfect coverage between Facade, Knock Off, and Close Combat, as well as a boosted priority move in Quick Attack to pick off threats such as Primeape and Jynx. Toxic Boost sets notably don't require setup, which allows Zangoose to immediately use its powerful arsenal to break through slower offensive and bulky teams alike. However, Zangoose is let down by its poor defenses and worn down by either Toxic Orb or Belly Drum, giving it very limited turns to perform its role and making it susceptible to Rocky Helmet chip and faster priority users such as Kangaskhan and Dodrio. Zangoose must also rely on Quick Attack against more offensive teams, which can make its matchup difficult against teams utilizing a faster Pokémon that resists or is immune to it like Froslass or Lycanroc. Despite its competition with other Normal-types and more sustainable wallbreakers, Zangoose's ability to pose a serious threat with Toxic Boost or setup gives it a niche.
Ursaring
Ursaring @ Flame Orb
Ability: Guts
EVs: 252 HP / 252 Atk / 4 SpD
IVs: 0 Spe
Brave Nature
- Swords Dance
- Facade
- Close Combat
- Crunch
Ursaring's gargantuan Attack, access to Swords Dance and Guts, and horrendous Speed give it a clear-cut role as a deadly Trick Room attacker. After a Swords Dance boost, Ursaring is capable of OHKOing nearly every Pokémon in the tier, which combined with perfect coverage between Facade, Close Combat, and Crunch makes it a nightmare to check that usually involves stalling out Trick Room turns, picking it off with a priority move, or threatening it prior to setup. However, the issue with Ursaring is its reliance on Trick Room: after Trick Room expires, Ursaring requires another teammate to set it up again to outspeed most foes, which can become a massive momentum sink. Teams utilizing priority users like Kangaskhan or bulky Pokémon such as Gurdurr can stop Ursaring before it's able to start wallbreaking and can even burn a turn of Trick Room in Kangaskhan's case. Ursaring's average bulk and previously mentioned dreadful Speed make it difficult to fit onto any archetype other than dedicated Trick Room teams, which see mixed results due to how difficult the task of setting up Trick Room multiple times is alongside the loss of Pokémon such as Alolan Exeggutor to anchor the playstyle.
Munchlax
Munchlax @ Eviolite
Ability: Thick Fat
EVs: 4 HP / 252 Def / 252 SpD
Careful Nature
- Toxic
- Earthquake
- Rest
- Sleep Talk
Munchlax usually struggles to find a spot on teams over Type: Null, as it has inferior stats and lacks options like U-turn and Swords Dance, but it has one thing to set it apart: Thick Fat. This allows it to much more effectively check special attackers such as Aurorus and Simisear lacking Focus Blast while still retaining Type: Null's ability to check weaker Pokémon like Swanna and Alolan Dugtrio. Earthquake + Toxic is also a useful combination of moves that covers most Pokémon in the tier, as Toxic cripples defensive behemoths such as Mudsdale and Tangela while Earthquake targets Pokémon that can attempt to exploit it or switch into Toxic like Aggron. Despite this, Munchlax is highly exploitable by setup sweepers and wallbreakers like Carracosta, Gurdurr, and Stoutland, and the latter two can take advantage of the use of Toxic with Guts and Facade. Much like Type: Null, Munchlax must rely on Eviolite, leaving it open to Knock Off and Trick from Pokémon such as Eelektross and Rotom-F.
Bouffalant
Bouffalant @ Leftovers
Ability: Sap Sipper
EVs: 252 HP / 156 SpD / 100 Spe
Careful Nature
- Substitute
- Swords Dance
- Return
- Earthquake
Bouffalant's solid Attack and Defense stats coupled with Sap Sipper allow it to viably run a niche Swords Dance set. Its good bulk and access to Sap Sipper let Bouffalant take advantage of Grass-types like Tangela and Ferroseed and passive Pokémon such as Clefairy, where it can set up Substitute and accumulate boosts with Swords Dance. Ultimately, however, Bouffalant is overshadowed by many Normal-types that make it hard to justify using on a team; Stoutland and Kangaskhan are more potent offensively while retaining solid bulk, Dodrio and Zangoose give it competition as a Normal-type Swords Dance user because of their superior offensive stats, and Type: Null and Drampa have either better defenses or reliable recovery. All of these Normal-types also possess Scrappy, Dark-type coverage, or the ability to pivot, which gives them ways to counteract Ghost-types such as Sableye, Haunter, and Oricorio-G, which are all Pokémon Bouffalant struggles to deal with. Bouffalant's viability also took a bit hit following Lilligant's ban, as it was able to use it as setup fodder by absorbing Sleep Powder and its STAB moves, and it could even take on Normalium Z sets by virtue of its great bulk.
Sawsbuck
Sawsbuck @ Normalium Z
Ability: Chlorophyll
EVs: 252 Atk / 4 SpD / 252 Spe
Adamant Nature
- Swords Dance
- Double-Edge
- Horn Leech
- Jump Kick
Sawsbuck is able to fill a niche as a Normal-type in the PU tier thanks to its ability Chlorophyll. In tandem with Swords Dance, a formidable Speed tier, great coverage, and the ability to run Normalium Z, this turns Sawsbuck into a threatening sweeper for sun teams. Despite these perks, its Normal typing often gives it more trouble than it's worth, since it makes Sawsbuck susceptible to prevalent Mach Punch users such as Gurdurr and Hitmonchan. Additionally, Sawsbuck's heavy reliance on sun makes it easily revenge killed by most Choice Scarf users like Primeape and Dodrio after sun has ended, and it suffers competition from the likes of Leafeon and Shiftry, with the former not having to worry about a Fighting-type weakness and the latter having access to STAB Sucker Punch to circumvent its mediocre Speed outside of sun.
Ditto
Ditto @ Choice Scarf
Ability: Imposter
EVs: 252 HP / 4 Atk / 252 Def
IVs: 30 Atk / 30 SpA / 0 Spe
Relaxed Nature
- Transform
Ditto has a very weird niche in the PU tier, functioning as a revenge killer that transforms itself into the foe. Choice Scarf is a necessary item on Ditto, which allows it to outspeed the foe it copies. Its ability to be versatile means that just about any build can appreciate Ditto's ability to revenge kill threats. However, it's so niche that a lot of times it struggles to fit on a team over any other Pokémon, where you always know what they will do, except for its ability to easily win most stall matchups. Needing to run Choice Scarf to reliably revenge kill means that it cannot set up alongside any opposing Pokémon, meaning if it wants boosts, it must come in on an already boosted threat. Being Choice-locked can also be costly and allow free setup to the opponent.
Smeargle
Smeargle @ Focus Sash
Ability: Own Tempo
EVs: 248 HP / 8 SpD / 252 Spe
Jolly Nature
- Sticky Web
- Stealth Rock
- Spore
- Nuzzle / Taunt
Smeargle's access to almost every move makes it an option as a suicide lead, as it can set all entry hazards while having a decent matchup against opposing entry hazard setters such as Regirock thanks to Taunt. Smeargle can also further support its teammates and give them free setup opportunities thanks to Spore and Nuzzle. However, Smeargle is very one dimensional despite its wide movepool due to providing almost nothing outside of its suicide lead function, which can leave it very matchup dependent because of its lack of offensive or defensive utility. Smeargle is also extremely susceptible to Taunt users such as Oricorio-E and Froslass. Due to its passivity, Smeargle is overreliant on Spore and Nuzzle to not be complete setup bait. Lastly, its poor Speed and extremely mediocre bulk mean that it's strictly a suicide lead, so it struggles to keep entry hazards up for its team, while Sticky Web is a niche archetype, partly because of the number of the Pokémon immune to it. Smeargle still has a justifiable niche, but there isn't much reason to use it over more reliable suicide leads like Omastar and Leavanny.
Final thoughts...
Between great stats and colorful movepools, most Normal-types in PU find their way onto teams as either offensive powerhouses, revenge killers, or bulky tanks, so there's something for everyone to use. With knowledge of what Normal-types do in the PU metagame, try including one on your next team!