Divinity in the making


Moderator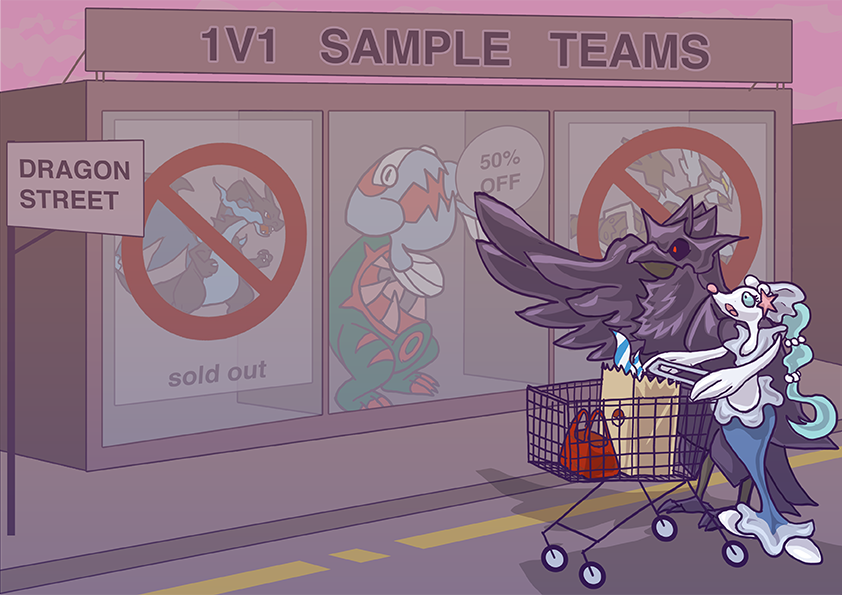 Art by AmirAlexander
1v1 Sample Teams
​
AMERICA HECK YEAH!
By
linux user

IN GOD WE TRUST (Tapu Bulu) @ Grassy Seed
Ability: Grassy Surge
EVs: 240 HP / 12 Atk / 200 Def / 56 Spe
Adamant Nature
- Dazzling Gleam
- Horn Leech
- Disable
- Taunt

LIBERTY BELL (Aggron) @ Choice Band
Ability: Sturdy
EVs: 252 Atk / 4 Def / 252 Spe
Adamant Nature
- Head Smash
- Heavy Slam
- Avalanche
- Rock Blast

MOUNT RUSHMORE (Hydreigon) @ Choice Specs
Ability: Levitate
EVs: 136 SpA / 120 SpD / 252 Spe
Timid Nature
- Draco Meteor
- Dark Pulse
- Flamethrower
- Snarl / Echoed Voice
Tapu Bulu might seem like a worse Rillaboom, but it has an even higher attack stat and much higher physical bulk, letting it live even 4x hits from strong Choice Band users like Urshifu and Haxorus. Being a fairy type is really nice for beating Zygarde and Regidrago consistently, as well as Kommo-o, Zarude, and some random Buzzwole and Pheromosa sets. Horn Leech is used to better beat Sawk and Glastrier, Taunt beats a lot of stall and more reliably beats Zygarde, and Disable helps out against opposing Aggron, Disable Spectrier, and Haxorus. It's eved for Adamant Band Urshifu Poison Jab and Aggron Heavy Slam (they're basically the same benchmark) while maximizing total bulk. It outspeeds Aggron, and the rest is in Attack.

Aggron has sort of fallen off, but thanks to great options like Rock Blast and Avalanche still has a niche in the current metagame. Sturdy is obviously a really good ability thanks to its near-guarantee that Aggron will be able to attack. It's incredibly strong, beating basically all Fairy-types except Water/Fairies such as Tapu Fini, which Tapu Bulu takes care of. Head Smash and Heavy Slam are incredibly strong STAB moves, and Choice Band increases their power even further. Avalanche hits Haban/AV Zygarde, Lando-T, and Galarian Zapdos, and some Garchomp sets. Rock Blast beats Zapdos and Crustle mostly. It's EVed for max Attack and the rest is in speed. Bulk doesn't help with much. Aggron deals with Fire-, Ice-, and Flying-types which Tapu Bulu doesn't like, while in turn, Tapu Bulu removes Ground-, Fighting-, and Water-types.

Specs Hydreigon (thanks hctc) helps to patch up a bunch of holes in this team. Bulu and Aggron struggle to beat most Steel-types and Wisp users, but thanks to a lot of coverage, good bulk, and good damage, it notably beats Celesteela, Metagross, Ferrothorn, Heatran, and Magnezone. It also helps out against Volcanion, Necrozma, Cresselia, Disable-less Spectrier, and also has decent odds in the Disable-less Bulu mirror. It also helps out against Band Haxorus, Kommo-o, and some Zygarde. Draco Meteor and Dark Pulse are obvious strong STAB moves, while Snarl helps against Sub Pult, Aegislash, and Carracosta. Flamethrower is vital coverage which hits a bunch of steel types. It tanks two max SpA Magnezone Flash Cannons, has max speed to outspeed Haxorus and speedtie opposing Hydreigon (lol), and the rest is in SpA. Echoed Voice is listed as a slash option to improve the Entei matchup somewhat
Raindrops over burnt Earth
By fruan

Morning dew (Tapu Fini) @ Leftovers
Ability: Misty Surge
EVs: 244 HP / 56 Def / 208 Spe
Bold Nature
IVs: 0 Atk
- Calm Mind
- Iron Defense
- Taunt
- Draining Kiss

Echoes of thunder (Zeraora) @ Assault Vest
Ability: Volt Absorb
EVs: 12 HP / 224 Atk / 216 SpD / 56 Spe
Adamant Nature
- Plasma Fists
- Knock Off
- Iron Tail
- Outrage

Seasons past (Landorus) (M) @ Choice Specs
Ability: Sheer Force
EVs: 4 HP / 72 Def / 208 SpA / 224 Spe
Timid Nature
IVs: 0 Atk
- Earth Power
- Sludge Wave
- Focus Blast
- Psychic
Tapu Fini: With dual setup and lefties + dkiss Tapu Fini covers almost every pokemon that isn't electric, grass, steel, or poison. It also serves as the team's stallbreaker, foregoing surf at very little cost and still being able to check fire types such as Entei and Heatran without it.
Fini vs Heatran
https://replay.pokemonshowdown.com/gen81v1-1472439454
Zeraora: AV Zeraora helps glue the team together taking care of fast poison types that threaten Tapu Fini, non-grounded steels that Landorus might struggle with such as Celesteela as well as covering most of the fairies and the special attacking dragons.
Landorus: While not as versatile as its therian twin, lando-i makes much better use of the unique coverage they get, covering grasses and opposing electrics that its partners can't handle. Choice specs + sheer force allow Landorus to ohko frail non resists such as haxorus and Whimsicott through Kebia Berry. The defense invest is there to reliably check all Dracozolt as well as living life orb fake out into glide from Rillaboom.
FerroFairy with Smack Down Lando
By
Here Comes Team Charm!



El Dorado (Ferrothorn) @ Chople Berry
Ability: Iron Barbs
Shiny: Yes
EVs: 252 HP / 4 Atk / 252 Def
Relaxed Nature
IVs: 0 Spe
- Gyro Ball
- Body Press
- Iron Defense
- Leech Seed

San Francisco (Sylveon) @ Custap Berry
Ability: Pixilate
EVs: 252 HP / 160 Def / 80 SpA / 16 SpD
Modest Nature
IVs: 0 Atk
- Hyper Beam
- Hyper Voice
- Fake Tears
- Endure

Timbuktu (Landorus-Therian) (M) @ Assault Vest
Ability: Intimidate
EVs: 168 HP / 116 Atk / 120 SpD / 104 Spe
Adamant Nature
- Earthquake
- Outrage
- Knock Off
- Smack Down
Custap Sylveon + AV Landorus-Therian is a solid core, and Ferrothorn is a great anti-meta pokemon right now.

This Ferrothorn runs min speed, with Gyro Ball over Power Whip. This is necessary in the Choice Band Sawk matchup, where Gyro Ball kills a -1 Sawk while Power Whip doesn't. It also helps against Sylveon, 2hkoing essentially all sets. Chople + Iron Defense + Body Press let Ferrothorn act as a blanket answer to dangerous physical mons, beating threats like Aggron, Rillaboom, Avalugg, and Dracovish. Leech Seed and ID Press gives it the edge in many stall matchups against Pokemon like Chansey and Registeel. Gyro Ball also 3hkos Trick Fini, in spite of the speed boost granted by scarf. It also walls gimmick pokemon like Venusaur, Whimsicott, and toxic stallers through typing alone.

Sylveon still does sylveon things: it endures on dangerous wallbreakers like band Galarian Darmanitan, beats stall with Fake Tears spam, and defeats most of the bulky waters that Ferrothorn would normally need Power Whip for. It also hard counters dragapult and kyurem, two annoyingly versatile pokemon that often force a lot of setguessing. Just like ferrothorn, it hard counters zygarde, giving the team an amazing matchup against this common and powerful pokemon. The defense evs are for band LandoT, while the special defense lets Sylveon survive a single Prismatic Laser from max special attack Necrozma.

AV Landorus-Therian is great glue, beating things like Choice Band Unnerve Haxorus, Naganadel, and Trick Cresselia, as well as Fire- or Steel-types like Heatran, Arcanine, and Aegislash. It also beats all Volcanion spreads with Knock Off into Earthquake. Smack Down is mostly for Celesteela but also puts in work vs Zapdos, Volcarona, and Togekiss, as well as some Corviknight sets. Lastly it serves as a Spectrier answer with Knock Off.

The remaining tough matchups are mostly random mons with fire coverage. Fire Punch Aggron and Fire Punch Sawk are both rolls in Ferrothorn's favor, and Mystical Fire Yawn Sylveon can be similarly annoying. Even so, the Genesect ban has caused many of these Pokemon to abandon their fire-type moves in favor of other coverage. Opposing ferrothorn will probably not be min speed, giving them an advantage. ID corviknight is sometimes seen on ladder and can be annoying as well. Corsola-Galar and Suicune are also rough, but aren't commonly seen. Lastly, fast Stall Arcanine is a 3-0, though nowadays most run Assault Vest.
Dragon Fish Steel
By
Rosa
Metagross @ Assault Vest
Ability: Clear Body
EVs: 216 HP / 252 Atk / 40 Def
Adamant Nature
- Meteor Mash
- Bullet Punch
- Earthquake
- Ice Punch

Regidrago @ Haban Berry
Ability: Dragon's Maw
EVs: 8 HP / 220 Def / 68 SpA / 116 SpD / 96 Spe
Rash Nature
- Dragon Energy
- Draco Meteor
- Scale Shot
- Outrage / Breaking Swipe

Jellicent @ Maranga Berry
Ability: Cursed Body
EVs: 252 HP / 80 Def / 80 SpD / 96 Spe
Calm Nature
IVs: 0 Atk
- Taunt
- Recover
- Strength Sap
- Night Shade
Metagross: Metagross does just about everything you'd expect it to, being a reliable fairy smacker with great stats and solid coverage.
- The Attack is maxed out to give Metagross as reliable of a chance at 2HKOing Haxorus with Ice Punch into Bullet Punch as possible.
- The special bulk allows Metagross to survive hits even as strong as Modest Choice Specs Fire Blast from Naganadel. Technically, you only need 136 EVs in HP for this; the extra HP is explained below.
- The physical bulk is to give Metagross a 6.3% roll to survive Adamant Choice Band Earthquake from Haxorus. Unfortunately, even if you use just the 136 HP and put the leftovers into Defense, you still only get a 6.3% roll at best, so I figured it best to put the remaining EVs into HP and balance them out with the Defense to squeeze out the most added special bulk you can get while still preserving the 6.3% roll.

Regidrago: Regidrago is Regidrago, doing its usual thing in beating just about every non-Fairy/Steel out there.
- The SpA alongside the Rash nature are used to 2HKO the predominant Assault Vest Urshifu spread with Draco Meteor followed by Outrage.
- The Speed outpaces base 100 Pokemon (namely Entei) after using Scale Shot.
- The bulk is carefully calculated to provide Regidrago the best odds of surviving 2 Wicked Blow/Close Combat from Assault Vest Urshifu as well as Modest Choice Specs Draco Meteor from Dragapult, as well as Prismatic Laser from non-boosted Necrozma.
- Breaking Swipe is an alternative move over Outrage, namely being useful for cutting the Atk of opponents who might otherwise KO you like Avalugg and Shell Smash Crustle.

Jellicent: Jellicent is a bit of a unique threat, having a very bulky stat spread, as well as an excellent movepool for stalling that also allows it to deal with most other stallers.
- The physical bulk allows Jellicent to survive a Choice Band Earthquake from Darmanitan-Galar.
- The special bulk allows Jellicent to survive a Choice Specs Prismatic Laser from Necrozma.
- The Speed is leftovers that help Jellicent in outspeeding the various other base 60 Pokemon that are in the metagame.

Overall, the team was designed with mainstream use in mind, ie ladder and roomtours. A lot of the awkward matchups that this team faces are generally issues that stem from not knowing the opponent's sets, but in ladder and roomtours, these naturally become less of an issue, as you often face the same opponents multiple times over the course of a single session. Furthermore, some threats to the team like Moltres-Galar, Tapu Koko, Babiri Whimsicott, and etc, can be dealt with through small tweaks to the team, whether it be through adding Power-up Punch to Metagross, giving Regidrago Assault Vest, giving Jellicent Mental Herb, or however else you need to handle an annoying threat, you can do so subtly without drastically changing the team or making it obvious that you changed anything at all. Other than that, the biggest nuisances to the team are going to be picking against Darmanitan-Galar, Urshifu-Single, Necrozma, Kartana, and Ferrothorn, as these are all prominent threats that the team only really has one good answer to for each.
Rules On Submitting Samples + This Thread.
Sample team submissions without descriptions will be deleted on the spot. This is not meant to be a team dump, we're looking for strictly the best, most well-rounded teams that can be used to at least moderate success by just about anyone. If you aren't willing to tell us what the team does, then we won't even consider it for a sample team. This includes explaining EV spreads, move selection, what can be swapped around, metagame coverage, etc. As a courtesy, remember to include a Pokepaste of the team in your submission.
You may only make up to 2 sample submissions per cycle. You can submit them both in the same post or in separate posts. Additionally you can edit or change them as much as you need until the cycle ends, but at that time if you have more than two teams posted we will only accept the first 2 teams you posted.
This thread is intended for submissions only. Any discussion and one liners will be deleted. If you wish to discuss submissions or ask for recommendations I encourage you to use the 1v1 room on PS! or the 1v1 Discord. Both of these are excellent locations for discussion but please keep this thread to submissions only.
Red Darm FWG
Darmanitan @ Choice Scarf
Ability: Sheer Force
EVs: 252 Atk / 4 SpD / 252 Spe
Jolly Nature
- Flare Blitz
- Earthquake
- Rock Slide
- Trick

Primarina @ Weakness Policy
Ability: Torrent
EVs: 244 HP / 112 Def / 136 SpA / 16 Spe
Modest Nature
- Energy Ball
- Sparkling Aria
- Moonblast
- Aqua Jet

Rillaboom @ Leftovers
Ability: Overgrow
EVs: 240 HP / 56 Def / 180 SpD / 32 Spe
Impish Nature
- Protect
- Substitute
- Leech Seed
- Drum Beating
This is an incredibly simple Fire Water Grass core. Darmanitan provides a much needed strong and fast answer to threats such as Band Darm-G, Corviknight, and Whimsicoot. Primarina beats Waters and Fires that threaten its teammates. Weakness Policy is a measure to prevent Goodra from beating all three mos. Rillaboom beats annoying mons like Zeraora, Milotic, and makes Band Crustle less scary. It's not perfect but it's a tried and tested core with some of the better mons at filling the roles.
Voting is done by the VR Council
here
Last edited: