Hey guys, its IDerpy with my first RMT. For my first RMT I would like to showcase my best team that I've made so far. This team has gotten me pretty far up in the ladder but I feel like it needs more work (Suggestions are apreciated). With all that said lets get into the team:
​
First up is, in my own opinion, the best mega in UU since the recent tier shifts:

​
Mega Aerodactyl
Based af (Aerodactyl) @ Aerodactylite
Ability: Rock Head
Shiny: Yes
EVs: 252 Atk / 4 Def / 252 Spe
Jolly Nature
- Aerial Ace
- Stone Edge
- Aqua Tail
- Hone Claws

​
Lets start with the star of the team Mega Aero. First off hes a savage and not much can swich into him (except M-aggron and other bulky mons). Max atk and max speed to outspeed things and hit hard like a truck and 4 defense for a bit of bulk, Aerial ace is a great stab move, Stone Edge for great damage but may miss sometimes, Aqua tail for Hippos and elephants that want to switch in and Hone Claws to boost that godly attack an accuracy to help with Stone Edge and Aqua Tail.
Next up is a lizard that's thristy af A.K.A Heliolisk:
Based Lisk
Water Absorbent PJs (Heliolisk) @ Life Orb
Ability: Dry Skin
Shiny: Yes
EVs: 4 HP / 252 SpA / 252 Spe
Timid Nature
IVs: null Atk
- Hyper Voice
- Thunderbolt
- Volt Switch
- Grass Knot
​
This little thing is monster in UU especially with all the bulky waters around. He pairs amazingly with Mega Aero because of Dry Skin. Life orb for that added extra damage, Max SpAtk And Speed because he cant take a hit for shit shit, Hyper Voice for great STAB Thunderbolt for offense, Volt Switch for offensive momentum and grass knot for water/ground types (Swampert and others).
Next up is my broomstick, I mean, Lucario n_n:
Lucario (Michael Jackson)
​
Michael Jackson (Lucario) @ Focus Sash
Ability: Justified
EVs: 252 Atk / 4 SpD / 252 Spe
Jolly Nature
- Extreme Speed
- Swords Dance
- Close Combat
- Crunch/Iron Tail
​
Am i the only one that thinks he looks like Micheal Jackson?. Anyways, this thing is a truck if you get 1 Swords Dance up. Focus Sash for a guaranteed SD, Extreme Speed for that priority that my team is lacking, Swords Dance to just absolutely demolish things, Close Combat great STAB and amazing power, Crunch for psychic types (like the occasional Slowking and ghost) or Iron Tail if you want more STAB.
Now time for the bulk of the team:
First off is Vaporeon (the cat that never dies).
​
thick (Vaporeon) @ Leftovers
Ability: Water Absorb
EVs: 252 HP / 252 Def / 4 SpA
Bold Nature
IVs: 0 Atk / 30 Spe
- Wish
- Baton Pass
- Scald
- Protect​
This thing is the support for the whole team and a physical wall. Now on to the set: Leftovers for that precious little amount of health you get back, Water Absorb to switch into Blastoise (Which i will explain later why you switch this into blastoise instead of lisk). Max HP and Def for max bulk and 4 SpAtk to boost that Scald, 0 Atk IV for absolute min damage from Foul Play and 30 ivs in speed to be slower than other Vaporeons and get the baton pass off. Moves: Wish for that amazing recovery, Baton Pass for momentum and getting the wish to the rest of the team, Scald for obvious reasons, and protect to heal yourself.
​
Next on deck is Empoleon:
Empoleon A.K.A Gucci ​
Gucci (Empoleon) @ Leftovers
Ability: Torrent
Shiny: Yes
EVs: 252 HP / 4 Def / 252 SpD
Calm Nature
IVs: 0 Atk
- Stealth Rock
- Roar
- Scald
- Ice Beam
​
Empoleon The SpDef monster. The set is pretty standard with Max HP and SpD to live an special hitand 4 defense for that added bulk, 0 IVs in Atk for mn damage from Foul play, Stealth rock for those annoying sashes and extra damage on the opposing team, Roar to stop any sweeper (Curselax and others), Scald for STAB and get those burn hax and Ice Beam for Salamence and Mega Sceptiles that want to set up on this guy.
MAKE SURE TO KEEP HEALTHY IF FACING GOODRA.

Last but surely not least:
Gligar The Buffet Eater (Hungry for all the hits):
creepin on yo gurl (Gligar) @ Eviolite
Ability: Hyper Cutter
Shiny: Yes
EVs: 248 HP / 60 Def / 200 SpD
Careful Nature
IVs: 30 Spe
- Roost
- Defog
- U-turn
- Earthquake

​
You may be saying "lol this nub is running spdef on a gligar what a scrub", but have you tried using these evs?. Let me explain:​
252+ SpA Mold Breaker Mega Ampharos Dragon Pulse vs. 248 HP / 200+ SpD Eviolite Gligar: 121-144 (36.3 - 43.2%) -- guaranteed 3HKO
0 Atk Gligar Earthquake vs. 132 HP / 0 Def Mega Ampharos: 164-194 (46.3 - 54.8%) -- 58.6% chance to 2HKO
If he can survive that he can live anything (except ice types but why would you leave him in on an ice type) Set: Eviolite because this guy is not even evolved and its in UU believe it or not, Hper Cutter cuz you can't run Defog+Immunity, 248 HP 60 Def and 200 SpDef for all this bulk, Careful nature to eat up them special hits. Moves: Roost to recover all that HP taken, Defog cuz nobody likes hazards, U-Turn to get momentum on the opponent and earthquake for that wonderful stab and amazing damage. And his amazing typing allows him to serve as a great core with Empoleon.

​
THREATS:​
Mega Blastoise​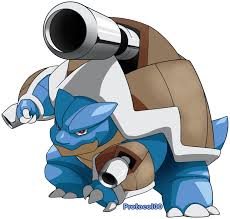 Very bulky, Has Aura Sphere so helio cant switch in or OHKO it, only way to beat it is to wither it down with scald then get a free switch into helio.
GOODRA
Bulky, has coverage on my whole team and the only real way i found out to beat him is with ice beams from empoleon but this shit has t-bolt so RIP.
Shoutouts:
Thank you to Sniperaim, Serperior for Ubers, VeryPinkPancakes and all my UU room frens that helped me out with this team <3 all of you.
I learned everything I know from
MunnAy
​
Last edited: