that was just supposed to be a filler title, but now it's here to stay i guess.
Introduction​
Ever since the beginning of XY, I have been an avid 1v1 player; it was one of the more fun, relaxed tiers at the time, since some matches were short, some were intense, and others just funny. From that time to the era of the 3v3 team preview, I messed around with lots of gimmicks that would be regarded as "complete garbage" in other tiers. Some of the gimmicks were successful (specs steelix lol), some of them complete failures (cough farfetch'd cough). Still I managed to reach number 10 on the ladder with my gimmicks (pressure stall suicune in particular). However, with the introduction of team preview, using complete gimmicks became much harder, as the opponent could easily figure out what could beat it and predict accordingly. Something else I noticed about the new change was that almost all the teams looked identical. Certain that creativity beat the standard in 1v1 (unlike some other tiers), I set out to build a better team; a more unique team.

Teambuilding
​
Normally, when I teambuild, I pick 6 (three in this case) things that I want to use, slap it together, find the weakest link, and patch it up accordingly. The first thing I added was a specs Kyurem-B, a mon that I had lost to before and thought was pretty cool before the 3v3 era:

Next, I remembered how Aggron was such a potent threat with its sturdy metal burst combination. After doing a dexsearch of all the metal burst users, Mawile stood out to me with its ability Intimidate, its base 120 Defense, and its enormous attacking power, even uninvested. While this team was still changing, Mawile was switched back and forth between physically defense (what it is now) and specially defensive (to eat up a specs greninja hydro cannon).



After that, I remembered a certain set I used to use in OU during my more nooby (but fun) days; Specs Blissey. It helped that Blissey was normally (hue) a counter abuser, which allowed me to OHKO mons that would try to set up.





This team ended up being very successful, providing a surprising amount of synergy for a team built in literally 4 minutes. I peaked at #2 on the ladder with it (unfortunately have stopped trying for number 1 these days) However, after playing extensively with this team, I realized a number of things my team was weak to:
- Stallbreaker Mew
- Charizard Y
- Aegislash
- Mega Gyarados
- Imprison Smeargle
Realizing that Blissey was the real problem of the team, I replaced Blissey with a jolly Banded Dragonite, which allowed me to beat all of the mons on that list barring aegislash and Mega Gyarados. Then I replaced Iron Head on Mawile with Play rough, realizing that the extra damage on fairies didn't really matter, since Sylveons ran babiri berry and Gardevoir is just frail; This allowed me to beat mega gyarados more reliably.



It was at this time that I won an OM room tour and peaked at number 2 yet again. However, some strange instinct gripped me and I decided that I wanted to try bulky band Victini, which beat none of the things that threatened my original team besides Aegislash. Still I managed to get to number 2 again (lol).



Finally, after coming back to this team recently, I got serious and got things done. I needed a mon that could beat Aegislash, Specs Thundurus, Mew, Char X, Char Y, and Smeargle. The zards were decided on first. I needed a fast rock type that could outspeed base 100s (mew and zardY). The only two that even looked competent were Archeops and Terrakion. Archeops beat thundy with its speed tier, so it was chosen. A combination of Substitute and Taunt allowed it to beat Aegislash and Mew (explained below)



This is the team where it is today. I may ladder 1v1 again someday; I know that this variation definitely has the ability to make it to number 1, though maybe someone else can do it for me. It's definitely the most solid team I've made, and the mons have excellent synergy, both for offense and bait.
Anyways, on to the team:
THE TEAM


Kyurem-B @ Choice Specs
Ability: Teravolt
EVs: 252 HP / 48 Def / 196 SpA / 12 Spe
Modest Nature
- Earth Power
- Ice Beam
- Draco Meteor
- Focus Blast​
With Teravolt, a base 120 SpA, the valued Ice-Ground Coverage, and 125/100/90 bulk, Kyurem-B makes the perfect specs user. While most people use it as a scarfer, Kyube is, at least in my opinion, a much better specs or band or weakness policy user, just because its bulk HAS to be utilized somehow. The set itself is pretty simple; earth power hits lots of 1v1 threats, Ice Beam for STAB, Mega Venu, and others, Draco is for STAB and the ability to beat other weaker mons; Focus Blast hits Heatran and Mega Gyara. Beats far more things than it loses to; overall, a great pokemon.
EVs: It lives a banded Victini's V-create, has enough SpA to OHKO Venusaur, and speed creeps other max hp kyurem-b's.
Mawile @ Mawilite
Ability: Intimidate
EVs: 252 HP / 244 Def / 12 Spe
Impish Nature
- Toxic
- Counter
- Play Rough
- Sucker Punch
​
The second member of the team: Mawile proves itself time and time again; like Kyube, it beats several things while losing to only a handful. It's an excellent choice for a counter pokemon in a very physical metagame, utilizing intimidate and its 50/120 physical defense to live things like +1 Mega Mawile Fire Fangs, Banded Garchomp EQs, etc. Play Rough allows it to kill dragons, fairies, and fighting type mons, while sucker punch lets it pick off the things that it can't OHKO as well as giving it a very strong form of priority. Toxic helps me beat opposing Swampert and Chansey. I don't use SD because it loses to the charm variant of chansey (big threat btw)
EVs: Allows maximum physical bulk while still being able to creep. There's probably a better spread, but idk.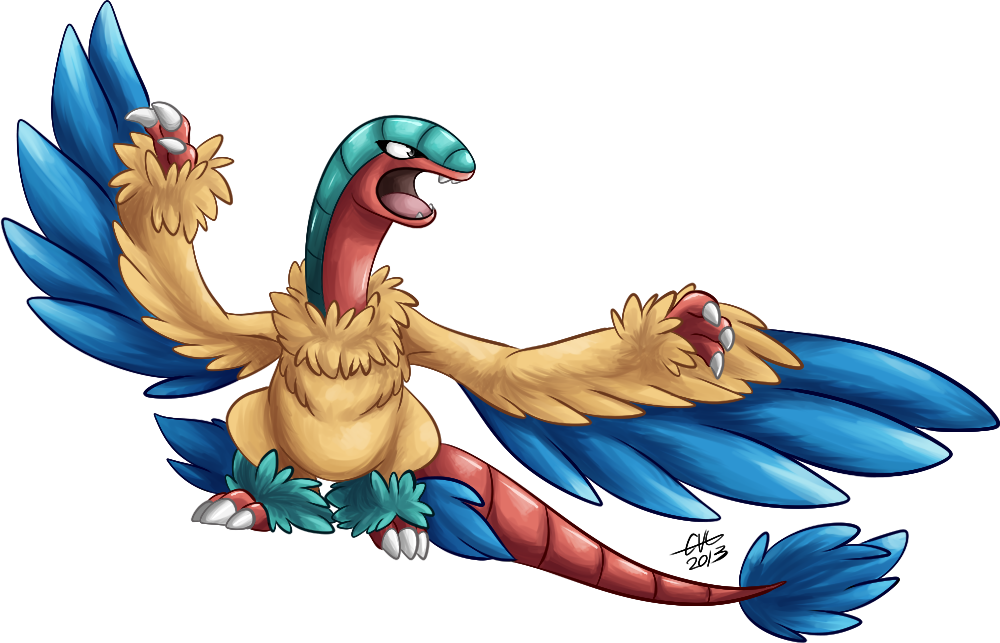 Archeops @ Sitrus Berry
Ability: Defeatist
EVs: 252 Atk / 4 Def / 252 Spe
Jolly Nature
- Substitute
- Taunt
-Stone Edge
- Earthquake
​
Ah yes. The glue that holds my team together. While Archeops is normally regarded as a bad pokemon in general, it fit the bill perfectly in this situation. Stone Edge OHKOs Thundurus, Zard X, Zard Y, and Smeargle. A combination of Substitute and Taunt allows it to beat Mew and Aegislash; with Mew, simply sub the first turn, taunt it twice, and then it will struggle to death. With Aegislash, sub first turn, taunt it so it can't use king's shield, then attack it when it is still in its blade form. Another thing worth mentioning is that it has a 31.3% OHKO chance on Mega Gardevoir, not to mention it can just sub to avoid hyper beam or will-o-wisp.
Another thing I feel like should be mentioned is that this team is extremely good at luring. For example, at a glance, Mega Aggron destroys it, so they send it in, and it gets OHKO'd by specs teravolt focus blast. Maybe your jolly M-Mawile looks like it'll have fun. It gets OHKO'd by earth power. Garchomp looking like it'll have a field day? Eat a Counter from Mega Mawile. Is Victini eager to go out there and OHKO all three mons? How about a specs earth power for you? In general, this team is extremely good at luring specific threats and killing them pretty easily. There were more pokemon that I missed (Golem), but that's just to give you an idea of what this team is like.
god talking about certain pokemon too much makes me feel uncomfortable.
anyways
Threatlist​
Gonna make this short, basically stuff that beats all three things on my team:
- Jolly Banded Dragonite
- Hyper Voice + Will-o-wisp + Focus Blast + Protect Gardevoir
- Fast Specs Kyube (seriously, though, don't run that, it sucks)
- and of course, who could forget HP Steel Greninja (if i don't know it's HP steel)
- oh yeah and when stone edge misses
Importable​
Kyurem-Black @ Choice Specs
Ability: Teravolt
EVs: 252 HP / 48 Def / 196 SpA / 12 Spe
Modest Nature
- Earth Power
- Ice Beam
- Focus Blast
- Draco Meteor

Mawile @ Mawilite
Ability: Intimidate
EVs: 252 HP / 244 Def / 12 Spe
Impish Nature
- Counter
- Toxic
- Play Rough
- Sucker Punch

Archeops @ Sitrus Berry
Ability: Defeatist
EVs: 252 Atk / 4 SpD / 252 Spe
Jolly Nature
- Substitute
- Roost
- Stone Edge
- Taunt
So go use it I guess.
And while you're at it, maybe give me a few suggestions to help improve the team.
Last edited: