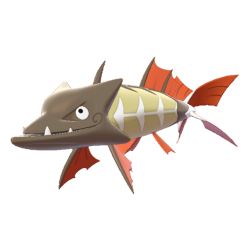 Base Stats
: 61 HP | 123 Atk | 60Def | 60SpA | 50SpD | 136 Spe
Abilities
: Swift Swim | Propeller Tail (H)
[Notable Moves]
Level Up Moves:
- [01] Throat Chop
- [01] Peck
- [01] Aqua Jet
- [01] Fury Attack
- [01] Bite
- [18] Agility
- [24] Dive
- [32] Laser Focus
- [40] Crunch
- [48] Liquidation
- [56] Double-Edge
TMs:
- [TM08] Hyper Beam
- [TM09] Giga Impact
- [TM21] Rest
- [TM24] Snore
- [TM25] Protect
- [TM26] Scary Face
- [TM31] Attract
- [TM33] Rain Dance
- [TM36] Whirlpool
- [TM39] Facade
- [TM40] Swift
- [TM43] Brick Break
- [TM45] Dive
- [TM52] Bounce
- [TM58] Assurance
- [TM67] Ice Fang
- [TM76] Round
TRs:
- [TR03] Hydro Pump
- [TR04] Surf
- [TR12] Agility
- [TR13] Focus Energy
- [TR16] Waterfall
- [TR20] Substitute
- [TR26] Endure
- [TR27] Sleep Talk
- [TR32] Crunch
- [TR53] Close Combat
- [TR57] Poison Jab
- [TR84] Scald
- [TR87] Drill Run
- [TR95] Throat Chop
- [TR97] Psychic Fangs
- [TR98] Liquidation
All Moves
- Aqua Jet
- Crunch
- Liquidation
- Bounce
- Ice Fang
- Waterfall
- Substitute
- Close Combat
- Poison Jab
- Scald
- Drill Run
- Psychic Fangs
[New Ability]

Propeller Tail
- Ignores the effects of opposing Pokemon's abilities and moves that draw in moves
This ability, whilst differing in Doubles where it also makes moves ignore redirects, works exactly the same as Mold Breaker in Battle Stadium Singles.
[Pros]
- Barraskewda has a blistering speed tier at base 136, making it the fourth fastest unboosted legal pokemon in the game after Ninjask, Accelgor and Dragapult. The likelihood of the first two being very niche/unviable means that Barraskewda will almost always be the fastest unboosted pokemon in any battle. Furthermore, even running an adamant nature would speed tie you with Jolly Cinderace, making you joint 12th fastest.
- Complimenting that speed stat is a respectable attack stat of base 123, which looks better when considering rain boosted attacks.
- Two great abilities in Propeller Tail and Swift Swim, the former allowing it to bypass Mimikyu and Eiscue disguises and water absorb pokemon and the latter giving it a ridiculous 376 speed under rain with Adamant Nature, making it faster than even a +1 Jolly Dragapult. This gives it diversity in team preview similar to Excadrill.
- Wide movepool with strong water stab, decent fighting, poison, psychic, dark, ground, ice and flying type options if assuming dynamax.
[Cons]
- It has a lack of innate setup outside of dynamaxing and whilst having a decent move pool, it suffers from not having the perfect coverage to hit the entire tier.
- 61HP/60Def/50SpD defences are very poor, leaving it unable to switch into anything and being a glass cannon susceptible to being picked off by priority. For example Adamant Iron Fist Conkeldurr's Mach Punch OHKOs Barraskewda unless it is Dynamaxed.
- Really would prefer that Rain was up since it relies on getting off strong hits that OHKO the opponent.
[Dynamaxing Potential]
- This pokemon is made for Dynamax and probably is best used with this in mind. Dynamax helps shore up a lot of Barraskewda's shortcomings.
- It can autoset its own rain with Max Rainfall, raise its own attack with Max Knuckle, prevent priority with Max Mindstorm. These are the three main Moves that Barraskewda really benefits from.
[Potential Movesets]
Barraskewda @ Life Orb
Ability: Swift Swim
Level: 50
EVs: 252 Atk / 4 Def / 252 Spe
Adamant Nature
- Waterfall
- Psychic Fangs
- Close Combat
- Crunch / Substitute
There are plenty of potential items you could use on this set, from Mystic Water to Choice Band however I do think that Life Orb, assuming you have Pelipper as a rain setter is up there as one of the best for this pokemon. This allows you to delay your dynamax a few turns or break with Barraskewda so to use it on a secondary rain sweeper (such as Drednaw or Ludicolo) instead. Getting close combat is such a blessing for a rain pokemon vs. Ferrothorn. Of course the option for Dynamax is here. Simple tactic seems to be get Barraskewda in on a weakened pokemon and use Max Mindstorm or Max Knuckle based on the opponents team composition and then spam Max Geyser until your opponent has ran out of pokemon. We are talking about a pokemon here that is faster and hits harder than Mega Swampert under rain. You do not need Jolly Nature since you outspeed everything in the rain. The last move I think should be Crunch here for Gengar, Dragapult and the plethora of other ghosts such as Cursola, Runerigus, Jellicent, Polteageist and Aegislash which otherwise give this set some trouble. Substitute is also an option though.
Barraskewda @ Choice Band / Focus Sash
Ability: Propeller Tail
Level: 50
EVs: 252 Atk / 4 SpD / 252 Spe
Adamant Nature
- Waterfall
- Crunch
- Close Combat
- Bounce / Psychic Fangs
Another basic set I thought of was a Choice Banded Propeller Tail set. It functions as a pretty fast revenge killer. Sash is probably also a very good item on this sort of set, but I highlighted Choice Band because Ada Choice Band OHKOs no bulk Mimikyu through disguise. Again this pokemon is just perfect to Dynamax and it is because of this I've added bounce to the set as an option for the 4th move, since Max Airstream would increase speed and give it coverage vs. Fighting Types if need be. Crunch is more important on Propeller Tail sets I believe because of the ability to revenge Gengar and dent Aegislash. The reason I've put Adamant nature is because of that specific calc vs. Mimikyu but Jolly might be better based on speed tiers and how the meta shapes out. You miss out on +1 neutral nature Kommo-o, Eiscue-No Ice, Inteleon, speed tie with Cinderace and potentially a few other older gen pokemon with potential such as Dugtrio and Weavile.
Last edited: