Stage 15 suspect testing is still going on for RU at the time of making this, but since I've already made reqs, I'm going to go ahead and share with you guys the team that I used to get reqs. I made some minor tweaks as I laddered to account for weaknesses I didn't notice when I first made the team, but no Pokemon changes were made. This was a really fun team to use and I was really happy that I could make defensive balance / semi-stall work for the first time. It struggled a bit with CB Durant (most balance teams do to be fair) and CB Tyrantrum (thank god this isn't used more than it is) but it was a very cool team to use overall. I ended up peaking 3rd on the ladder just before I got reqs, but some hax made me tumble a little before finally getting reqs, so no screenshot sadly :( As per usual, teambuilding will be in hide tags below for those who don't care to read through it, but keep in mind I will note the tweaks I made in that section. And this will be heavily Xenoblade Chronicles-themed if the name and video aren't an indication. If you haven't played it, you should.

I started building this team before the suspect test started because I wanted to build around Calm Mind Flame Orb Sigilyph. It's capable of winning tons of games when played correctly and the fact that it can use Air Slash to hit predicted Houndoom and Spiritomb switch-ins to severely cut down their lifespans is incredibly helpful. Thanks to Flame Orb, Sigilyph also acted as a status absorber for this team, primarily Spore from Amoonguss and Toxic from Alomomola.


Sigilyph appreciated a Pokemon that can punish Heal Bell Diancie, so I went the route of Life Orb Tangrowth to break down walls and put heavy pressure on Diancie. Thanks to Regenerator, it could switch into Diancie multiple times and pressure it with powerful Leaf Storms. It also provided a Ground resistance over Venusaur, which could definitely be helpful against the likes of Rhyperior and Mega Steelix once they were burned.




With the offensive core taken care of, I looked to a defensive core next. I've loved the Diancie + Alomomola core for a while due to the fact that it provides Wish, cleric, and Stealth Rock support along with checking a wide range of powerful threats in the tier. Diancie in particular is crucial to allow me to pressure Spiritomb and Houndoom. It might seem strange to give cleric support to Flame Orb Sigilyph, but it can definitely be useful if I get caught by random poison, paralysis, or sleep-inducing moves.





Venusaur was a pretty major problem for the team as it was currently constructed. I decided to use Garbodor considering Ground-types were handled rather well between Tangrowth and Alomomola while the Spikes support could easily pressure spinners and opposing teams lacking hazard removal. Garbodor also comes with the ability to strip 25% of a physical attacker's HP at any time in a pinch to help me deal with it.






With nothing outspeeding Durant, Manectric, Virizion, and other generally fast threats, Choice Scarf Flygon seemed like a natural fit. Due to the use of Spikes and lack of a Stealth Rock weakness, I was able to run Fire Punch in the last slot to instantly drop Durant It also gives the team a scout lead and U-turn user to take advantage of the Spikes support Garbodor provides

After about 15 battles, I noticed that the team was exceedingly weak to boosting sweepers, especially mono-attackers like Diancie and Braviary. Because of this, I decided to replace Toxic with Haze on Garbodor. This also allowed me to better handle Lum Hone Claws Durant

This was a fairly late change, after I was up near the 2500 range in COIL, but I noticed that I was having a hard time getting Tangrowth to do what I wanted it to do (switch into Ground mons and pressure Waters / Rocks, etc.) and unable to utilize Leaf Storm reliably due to how common Venusaur was. Because of this, I made the change to Assault Vest to pivot into Electric-types, some Psychic-types, and be much more reliable against Mega Steelix. It also gave me a guaranteed switch-in to Virizion, regardless of the set and coverage it was carrying. Also, it gave me a Knock Off user and that's never bad.
Team at a Glance






​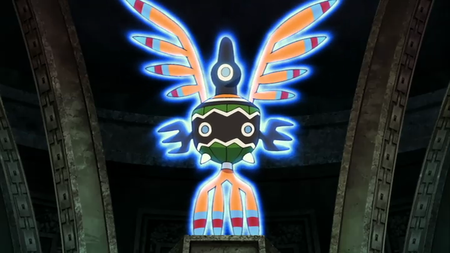 Gale Slash (Sigilyph) (M) @ Flame Orb
Ability: Magic Guard
EVs: 252 HP / 4 SpA / 252 Spe
Timid Nature
IVs: 0 Atk
- Calm Mind
- Psycho Shift
- Roost
- Air Slash

Sigilyph has always been a difficult Pokemon to switch into due to its odd coverage, Magic Guard, and good offensive stats. However, Flame Orb Calm Mind Sigilyph turns the tables on many common defensive switch-ins Sigilyph typically has to deal with. Calm Mind is obvious to allow Sigilyph to deal solid damage to most opposing Pokemon. Psycho Shift is crucial to this set and its use determines how effective Sigilyph will be. Catching faster physical attackers early means Sigilyph can push past them later while waiting to use it when the opponent has a Fire-type or status inducer like Amoonguss or Alomomola can open setup opportunities later. Roost is necessary to keep Sigilyph healthy from tanking hits during setup or switching into tanks. Air Slash is the chosen STAB as it lacks immunities. While some people feel this set should run max Special Attack so you don't need to boost as much, I feel max HP is much more beneficial to take advantage of the burns Sigilyph inflicts more reliably. It also allows it to switch into stuff like Venusaur much more easily in tight situations. Max Speed is mandatory so Sigilyph outspeeds Houndoom and Drapion.

"Gale Slash!" - Dunban



Shadow Stitch (Tangrowth) (F) @ Assault Vest
Ability: Regenerator
EVs: 240 HP / 16 Def / 252 SpD
Relaxed Nature
- Giga Drain
- Focus Blast
- Knock Off
- Aerial Ace

I used AV Tangrowth near the end of the Sharpedo meta and grew to really like it. After using Life Orb Tangrowth for much of my run, I switched over to Assault Vest after noticing how tricky the likes of Mega Steelix, Electrics, Flygon, and Virizion could be if I was lacking certain Pokemon. Giga Drain provides STAB and some extra recovery on top of Regenerator to keep Tangrowth in high health through most of the match. Focus Blast is obvious coverage to put a dent in the likes of Mega Steelix, Registeel, and Durant. Knock Off is a pretty easy move to spam and can make it easier for the team to break through some Pokemon, pressure Wish users (especially Aromatisse) and make some Pokemon easier to handle, like Durant. Aerial Ace is there almost exclusively there for Virizion, but considering it's not the easiest Pokemon to wear down and Tangrowth defensively beats all sets, it just made sense to plug it in there since I can't utilize Sleep Powder or some other status move due to Assault Vest. The EV spread is designed to give Tangrowth the best overall bulk to handle most Flygon sets while still pivoting into the likes of Meloetta well enough to know which resist I need to switch into.

"Feel Darkness blacker than midnight!" - Melia



Light Heal (Alomomola) (M) @ Leftovers
Ability: Regenerator
EVs: 120 HP / 136 Def / 252 SpD
Bold Nature
- Wish
- Protect
- Scald
- Toxic

Alomomola is a staple on just about every balance and stall team in RU due to how large its Wishes are, its ability to scout virtually every physical attacker in the tier, and its ability to spread status like no other. Wish and Protect are pretty obvious and are used on every Alomomola set for good reason. Protect in general is nice to scout Choice mons and stall for some extra recovery as well. Scald is Scald. It's probably broken, but you spam it for burns. Toxic is used over Knock Off to spread poison, which is ideal for opposing Alomomola and Slowkings. The EV spread and nature let Alomomola handle physical attacks more reliably while also ensuring it doesn't immediately fold to special attacks. 250 HP Wishes are absolutely insane. They nearly restore all HP for Diancie and Flygon in particular.

"Light Heal!" - Shulk



Cure Round (Diancie) @ Leftovers
Ability: Clear Body
EVs: 252 HP / 4 Def / 252 SpD
Sassy Nature
- Stealth Rock
- Moonblast
- Diamond Storm
- Heal Bell

I've loved Diancie pretty much ever since it dropped to RU. It's one of the top defensive Pokemon and just provides so many good qualities. Stealth Rock is Stealth Rock. You want it to pressure Fire-, Flying-, and Ice-types that are pretty common in RU and it's nice for the chip damage in general. Moonblast and Diamond Storm are there as obvious STAB moves to KO what they need to KO. Heal Bell may seem odd on a team with Flame Orb Sigilyph, but it really helps Diancie, Alomomola, and Tangrowth as the opponent will likely look to status them and it can also help if Sigilyph gets poisoned by random Sludge Bombs. The EV spread simply maximizes special bulk as Diancie is the team's main response to Exploud, Houndoom, and Delphox.

"Is everyone ok?" - Sharla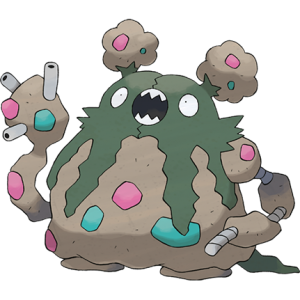 Lurgy (Garbodor) (M) @ Black Sludge
Ability: Aftermath
EVs: 248 HP / 220 Def / 40 SpD
Careful Nature
- Spikes
- Gunk Shot
- Pain Split
- Haze

Garbodor was a good fit for this team due to how well it checks Life Orb Venusaur, which was a thorn in this team's side. Thanks to the EVs and nature, Garbodor is able to handle 3 Life Orb Leaf Storms after Stealth Rock when accounting for the Special Attack drop on the 3rd Leaf Storm. Spikes is nice to pressure fat mons like Alomomola and Mega Steelix and Gunk Shot is a solid STAB move with high Base Power and a chance to poison. I chose to go with Pain Split since Garbodor can be pressured by multiple Pokemon on an opposing team and it can be super useful if the opponent tries to use Garbodor as Wish fodder for Alomomola. Toxic was originally in the last slot to help spread poison to the likes of Meloetta and Slowking, but after realizing how big of an issue the team had with boosting mono attackers like Diancie and Braviary, I opted to go with Haze to instantly remove those boosts and force them out to try again later. As previously alluded to, I went with an EV spread that primarily focused on physical bulk, but ensured that Garbodor could reliably switch into Venusaur. Black Sludge was used over Rocky Helmet to further help Garbodor handle threats, especially Venusaur.

"Heropon breath makes monster sick!" - Riki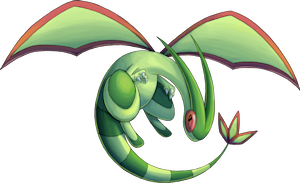 Double Wind (Flygon) (F) @ Choice Scarf
Ability: Levitate
EVs: 252 Atk / 4 Def / 252 Spe
Jolly Nature
- U-turn
- Earthquake
- Outrage
- Fire Punch

With a sweeper, defensive core, and pivot all accounted for, I realized I had a very difficult time with fast Pokemon late-game when most of my defensive Pokemon would likely be weakened or KOed. For this reason, I chose to go with Choice Scarf Flygon to shore up this issue. Flygon provided the team with momentum and a late-game cleaner / revenge killer in battles where it would be difficult to set up Sigilyph. U-turn is easy to spam and it takes advantage of the Spikes support Garbodor provides the team. Earthquake and Outrage are needed STAB moves to clean and revenge kill threats with. That said, Outrage is very risky to use unless you're attempting to clean up with it due to it locking Flygon in and possibly leading to it getting revenge killed too early. Because I had Spikes and the only fast offensive Pokemon required a turn or two to set up, I decided to forego Defog and Tailwind for Fire Punch. Although not used much, it does allow Flygon to instantly revenge kill Durant and push damage onto Bronzong. EVs are basic and Jolly is chosen over Adamant so that opposing Adamant Scarf Durants are outsped and instantly revenge killed by Fire Punch.

"Double Wind! You're history!" - Number 7



Gale Slash (Sigilyph) (M) @ Flame Orb
Ability: Magic Guard
EVs: 252 HP / 4 SpA / 252 Spe
Timid Nature
IVs: 0 Atk
- Calm Mind
- Psycho Shift
- Roost
- Air Slash

Shadow Stitch (Tangrowth) (F) @ Assault Vest
Ability: Regenerator
EVs: 240 HP / 16 Def / 252 SpD
Relaxed Nature
- Giga Drain
- Focus Blast
- Knock Off
- Aerial Ace

Light Heal (Alomomola) (M) @ Leftovers
Ability: Regenerator
EVs: 120 HP / 136 Def / 252 SpD
Bold Nature
- Wish
- Protect
- Scald
- Toxic

Cure Round (Diancie) @ Leftovers
Ability: Clear Body
EVs: 252 HP / 4 Def / 252 SpD
Sassy Nature
- Stealth Rock
- Moonblast
- Diamond Storm
- Heal Bell

Lurgy (Garbodor) (M) @ Black Sludge
Ability: Aftermath
EVs: 248 HP / 220 Def / 40 SpD
Careful Nature
- Spikes
- Gunk Shot
- Pain Split
- Haze

Double Wind (Flygon) (F) @ Choice Scarf
Ability: Levitate
EVs: 252 Atk / 4 Def / 252 Spe
Jolly Nature
- U-turn
- Earthquake
- Outrage
- Fire Punch



"Yeah, well played!" - Reyn