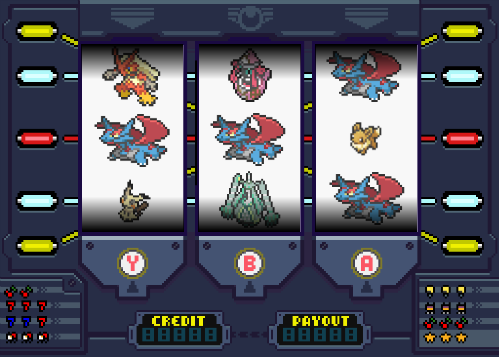 ~ Battle Spot Singles Factory ~
Programmed and maintained by
LegoFigure11
Movesets by
cant say
/
NOVED
/
Jhon
/
chemcoop
/
Solerme
​
Yes, the rumors were indeed true! For a little while now we've been working on getting our very own version of random battles for you to enjoy. This format will give new players an idea of how BSS works, while also posing a new challenge for BSS veterans, and will allow players from both varieties to duke it out against each other on (hopefuly) even ground!
The main things to note about this format are:
The format will be listed as "BSS Factory" and found under "Randomized Metas" in the formats dropdown.
You get 6 random Pokemon and have to choose 3 at team preview to battle with. You will be able to see your opponent's 6 Pokemon while making this decision.
For those familiar with the other random metas on PS, this format operates more similarly to Battle Factory than Random Battle (hence the name).

The Pokemon in Battle Factory have several specific movesets assigned to them, and the set you get is chosen at random when the Pokemon is put in your team. Random Battle has a predetermined list of moves for each Pokemon and you get 4 of them at random (which on occasion means you get a bad combination of moves). We decided it was better to have relevant BSS movesets+items and EV spreads instead of just random ones.
While the movesets are static, much like Smogon analyses, some moveslots have slashes. For example, sometimes you'll get Flamethrower on your Mega Charizard Y, sometimes you'll get Fire Blast.
Because of this, you shouldn't get a "bad" moveset. If you do, report it here and we will review the slashing on that moveset to try and make it work better. On the flipside, if you or your opponent get something that's way too strong or annoying, you can report that here too.
All the sets are preloaded into the Battle Spot Damage Calc! Simply click the "Factory" button next to the "GBU/ORAS/SM" buttons and calc away!
We will be hosting room tours with this format
a lot
, so come and give it a try!