Hello all!
You may recognise me as the person who uses full stops unnecessarily at the end of my sentences on the PS OU room. Recently, it has come to my attention that a major threat, and probably the most powerful pokemon in OU is about to be
banned
suspected soon. As a result, I have decided to upload this RMT before it is too late. I like this team, because it has lots of synergy between members, which I will get into later, is easy to use, and tends to have a very strong matchup vs standard balanced teams. The team plays very offensively, and generally aims to overrun the abundance of powerful speed and priority moves in the metagame with even more speed and power. Typically, I have always played balanced, but this team was specifically designed to make wins quick, and had an added effect of being able to tackle things that normally give Hyper Offence trouble well, such as Thundurus.
Anyway, here it is: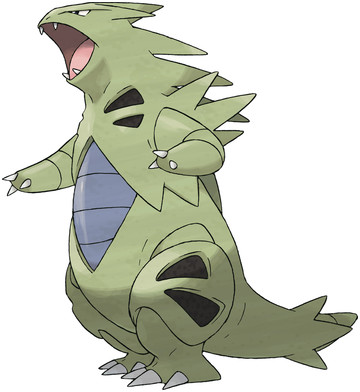 Tyranitar @ Smooth Rock
Ability: Sand Stream
EVs: 104 HP / 152 Atk / 252 SpA
Quiet Nature
- Stealth Rock
- Pursuit
- Fire Blast
- Ice Beam
Tyranitar is actually a weak member of the team, but what it does do, it does well. Stealth Rock is obviously mandatory on an offensive team, and because I am running Sand Rush Excadrill, Smooth Rock is a solid item choice. Pursuit works nicely with Keldeo, beating Latios/as switch-ins. Fire Blast and Ice Beam are nice for luring in unsuspecting fools, and blasting them away. Mostly though, you'll just be setting up sand, rocks, and pursuit trapping with this thing, a job which it does more than well. 152 atk lets it OHKO Latios with pursuit upon switching out. I stole this set from here:
http://www.smogon.com/forums/threads/the-howl-of-the-killer-sand-offense-peaked-18-1877.3506067/
So, whilst this isn't exactly original, it does the job just fine. Not every pokemon can wreck on a Hyper Offence team, very often they need some sort of support, and this Tyranitar does that very well, whilst still retaining offensive presence.
Excadrill @ Life Orb
Ability: Sand Rush
EVs: 4 HP / 252 Atk / 252 Spe
Adamant Nature
- Rapid Spin
- Earthquake
- Iron Head
- Rock Slide
Excadrill forms the other part of the sand core, and it is a great wincon if you can keep both it and Tyranitar alive until late game. I believe Sand Rush Excadrill to be the best rapid spinner in the tier, as it is very reliable, and provides excellent offensive presence. It takes care of things like Clefable, if I can get it in safely, and Earthquake hits fast and frail mons very well, often OHKOing them (think of Greninja, scarf Terrak, etc). Rock Slide lets it beat Talonflame, hit Dragonite nice and hard, and forms strong coverage with Earthquake. This is a pretty standard set, and I prefer Life Orb, because I found Excadrill really misses the power it provides if it has air balloon instead. However, this is another option. Personally, I do not like swords dance on Excadrill, because it is really hard to set up with something so frail, and it uses up a turn of sand. Plus, Rapid Spin is needed for the next pokemon, which is...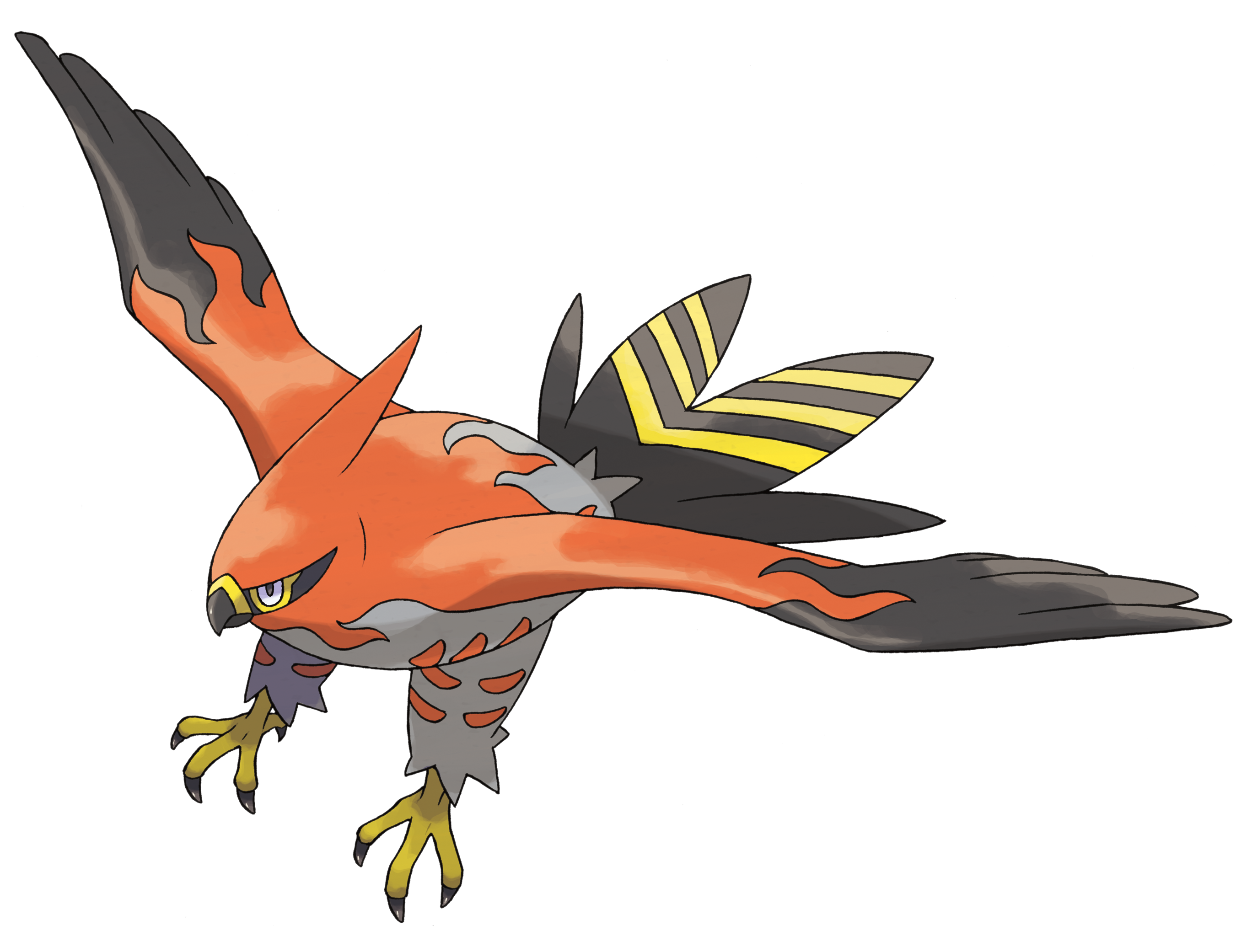 Picture roughly to scale, according to Showdown mid July.
Talonflame @ Choice Band
Ability: Gale Wings
EVs: 252 Atk / 4 Def / 252 Spe
Jolly Nature
- Brave Bird
- Flare Blitz
- U-turn
- Tailwind
This is nearly the most brainless thing in the tier, and it is easy to see why. Brave Bird provides strong priority with excellent offensive typing. This is a back up to set up sweepers when sand is down, and takes out things like Latios with a very small amount of chip damage, which sand can absolutely help with. This is very helpful for taking out Venusaur, which, without this + sand, I don't think my team would like very much. This is also a powerful weapon against rain teams, which sand would struggle with, were this thing not so common on them. Jolly nature has proven to be useful, allowing me to outspeed and OHKO Thundurus with Flare Blitz, and also, winning the speed tie against opposing Talonflame, which is surprisingly important. Finally, I prefer Tailwind as the last move, securing a few turns where you can't be outsped is very nice to end games. Often, the fourth move on Banded Talonflame goes unused, but for a Hyper Offence team, the turns of unmatched speed in exchange for sacking a member is a decent choice. Just don't go using Tailwind recklessly though, Talonflame is the most reliable revenge killer on this team.
Latias (F) @ Life Orb
Ability: Levitate
EVs: 4 HP / 252 SpA / 252 Spe
Timid Nature
- Draco Meteor
- Surf
- Thunderbolt
- Healing Wish
Alright, now we get into the core, which is Latias/Keldeo/Mawile. Latias takes care of Keldeo, which would otherwise be a strong check to Mawile. It provides the resistance to fire and immunity to ground that it needs, whilst really appreciating the ice and dark resistances + the dragon immunity that Mawile can provide. The only thing more threatening than Mawile is having to deal with Mawile TWICE, and this lets me play with it much more recklessly, knowing that I can bring it back from just a sliver of health late game using Healing Wish. Thunderbolt is nice for hitting Azumarill, and Surf is an option I am experimenting with right now, I used to be running Psyshock. Surf's use is that it can hit opposing Sand Rush Excadrill (which I would struggle with) very hard, and it can deal nice damage to Heatran too. Overall, this has been a useful choice for me. Another good target for Healing Wish is Keldeo, because it is a nice breaker, and is my main way of beating Bisharp.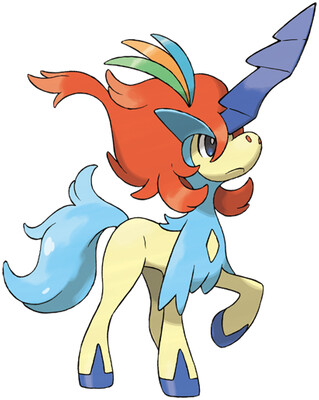 Keldeo @ Choice Specs
Ability: Justified
EVs: 4 HP / 252 SpA / 252 Spe
Timid Nature
- Hydro Pump
- Secret Sword
- Scald
- Hidden Power [Flying]
Keldeo rounds out the Latias Mawile core, and serves as a reliable stops to Bisharp, and it hits things that Mawile doesn't like very hard, such as Landorus T, and it is my main go-to for Heatran. It puts massive pressure on the opponent with Scald, and is very useful in fishing for burns, which often win you games. I'd just like to use this segment of the RMT to talk about Keldeo's moveset in general, because this is pretty standard. I doubt anyone would disagree with Hydro Pump and Secret Sword as choices for the 1st and 2nd moveslots, because it has a strong STAB combination, but the other 2 tend to be where people make mistakes. Scald is very important, it is spammable, and stops Azumarill and Gyarados from getting a free switch-in among other things. Like I said earlier, rendering a physical sweeper useless, or getting that extra chip damage with a burn on a wall is invaluable, securing scald as a solid choice. Not to mention, it is 100% accurate, so a nice alternative over Hydro Pump when you do not need the power. Next off, Hidden Power Flying should generally be used in the last slot. Why? Because Icy Wind is mainly used to hit Latis on the switch, but if you have a reliable pursuit trapper, such as Tyranitar, then this is not needed, and it means the pursuit trapper and Keldeo pair well offensively. Hidden Power Flying lets it hit incoming Venusaur well, which is trapped less easily (other than Gothitelle, which is deadweight vs some teams).
Mawile @ Mawilite
Ability: Intimidate
EVs: 120 HP / 252 Atk / 136 Spe
Adamant Nature
- Swords Dance
- Sucker Punch
- Play Rough
- Fire Fang
Mega Mawile is the pokemon that rounds this core off, and is a very good breaker. Swords Dance + Sucker Punch lets it finish off weakened teams very effectively, and OHKOs a Garchomp from full, just to give you an idea of its power. Mawile sets up very easily, as it has a built-in intimidate for extra physical bulk. Alternatively, this can just be used as a breaker for Talonflame or Excadrill to clean up. This provides a needed dragon immunity, and makes people very tentative to lock themselves into outrage, when they know that if they do, their pokemon dies when this comes in. I have mentioned how this pairs with Latias, and often, this can win games by itself, with its unrivalled breaking power. It has strong defensive typing, and the last move is your choice. As I have Keldeo for Heatran, I have chosen to not to go for a subpunch set, although this could be effective too. Fire Fang is nice for hitting Scizor and Ferrothorn, and I generally prefer this to Knock Off. Sucker Punch is needed priority, and lets Mawile get around one of its few weakpoints: low speed. Play Rough is fantastic STAB coming off of massive attack, and most teams have no switch ins for this, even if they do know its set.
Just to recap, as I mentioned this team has strong synergy, here are the ways the pokemon work together:
Pursuit trapper Tyranitar + Keldeo: Beat the few safe switch ins to Keldeo with its fourth coverage move and pursuit trap, great for applying pressure.
Tyranitar + Excadrill: Obvious, but outspeeds everything, it is a strong wincon.
Latias + Mawile: Have strong offensive AND defensive synergy, Latias can heal Mawile back up from burn or low hp with Healing Wish. Keldeo rounds out the core by beating the few pokemon that it can't, specifically Heatran for non-surf Latias, and more notably Bisharp. Surf Latias can lure in and weaken Heatran for Mawile, but seeing as I am posting a RMT, this may not work so well anymore lol.
Main wincons: Talonflame, Excadrill under sand, +2 Mawile
Main breakers: Keldeo, Mawile
This team shouldn't be too hard to figure out how to use, but if you want to use Psyshock over Surf on Latias, and Knock Off over Fire Fang on Mawile, that is fine.
I don't want to run the risk of repeating myself too many times, so here is an importable:
Tyranitar @ Smooth Rock
Ability: Sand Stream
EVs: 104 HP / 152 Atk / 252 SpA
Quiet Nature
- Stealth Rock
- Pursuit
- Fire Blast
- Ice Beam

Excadrill @ Life Orb
Ability: Sand Rush
EVs: 4 HP / 252 Atk / 252 Spe
Adamant Nature
- Rapid Spin
- Earthquake
- Iron Head
- Rock Slide

Talonflame @ Choice Band
Ability: Gale Wings
EVs: 252 Atk / 4 Def / 252 Spe
Jolly Nature
- Brave Bird
- Flare Blitz
- U-turn
- Tailwind

Latias (F) @ Life Orb
Ability: Levitate
EVs: 4 HP / 252 SpA / 252 Spe
Timid Nature
- Draco Meteor
- Surf
- Thunderbolt
- Healing Wish

Keldeo @ Choice Specs
Ability: Justified
EVs: 4 HP / 252 SpA / 252 Spe
Timid Nature
- Hydro Pump
- Secret Sword
- Scald
- Hidden Power [Flying]

Mawile @ Mawilite
Ability: Intimidate
EVs: 120 HP / 252 Atk / 136 Spe
Adamant Nature
- Swords Dance
- Sucker Punch
- Play Rough
- Fire Fang
Thank you for reading.
EDIT: By request, here is a replay of the team vs without a doubt the most competitive team archetype.
http://replay.pokemonshowdown.com/ou-146539457
I could supply other replays, but feel it generally distorts how good a team is when people only post wins, which is not something I am aiming to do. If you want to find lots of replays of me using this, my PS name is TheAmazingCJ.
Last edited: