WOWEE ZOWEE!










Moderator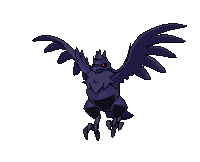 Wow, who would have thought the Pokemon with a marketed Gmax would be more viable with it gone?
[SET]
name: Pivot Knight
move 1: U-turn
move 2: Taunt
move 3: Roost
move 4: Brave Bird / Body Press
item: Rocky Helmet
ability: Pressure
nature: Impish
evs: 252 HP / 252 Def / 4 Spe
tera type: Dragon / Flying / Grass
[SET COMMENTS]
* Corviknight's fantastic typing makes it one of the best pivots in the metagame; it easily gets dangerous teammates such as Hydreigon and Dragapult in.
* Brave Bird's damage output generally justifies the recoil.
* Body Press deals much more damage to Electric-types such as Rotom-W but makes Dragapult a problem.
* Rocky Helmet lets Corviknight wear down physical threats more quickly while pivoting.
Tera Types
========
* Corviknight's defensive typing is fantastic, so don't Terastallize too hastily and lose to more threats.
* **Dragon**: Dragon and Fairy weaknesses are devastating, but in the late-game, resisting Electric and Fire can give Corviknight new win conditions against old foes such as Rotom-W.
* **Flying**: Boosting Brave Bird's damage output is nice, but the secret to the Flying Tera type is that Corviknight will no longer be vulnerable to Fissure while it uses Roost.
* **Grass**: Grass improves matchups against Rotom-W and Breloom significantly.
[CREDITS]
- Written by: [[Theorymon, 29010]]
- Quality checked by: [[Kiby, 534158]
- Grammar checked by: [[CryoGyro, 331519]]
Last edited: