It's all in the numbers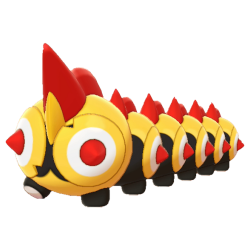 Base Stats:
65 HP / 100 Atk / 100 Def / 70 SpA / 60 SpD / 75 Spe
Abilities:
Battle Armor / Defiant (HA)
Level Up Moves:
- [01] Tackle
- [01] Protect
- [05] Rock Smash
- [10] Focus Energy
- [15] Headbutt
- [20] Bulk Up
- [25] Endure
- [30] Reversal
- [35] First Impression
- [40] No Retreat
- [45] Iron Defense
- [50] Close Combat
- [55] Megahorn
- [60] Counter

TMs:
- [TM08] Hyper Beam
- [TM09] Giga Impact
- [TM16] Screech
- [TM21] Rest
- [TM22] Rock Slide
- [TM24] Snore
- [TM25] Protect
- [TM37] Beat Up
- [TM39] Facade
- [TM41] Helping Hand
- [TM42] Revenge
- [TM43] Brick Break
- [TM48] Rock Tomb
- [TM57] Payback
- [TM58] Assurance
- [TM76] Round
- [TM79] Retaliate
- [TM94] False Swipe
- [TM96] Smart Strike

TRs:
- [TR00] Swords Dance
- [TR12] Agility
- [TR13] Focus Energy
- [TR20] Substitute
- [TR21] Reversal
- [TR26] Endure
- [TR27] Sleep Talk
- [TR28] Megahorn
- [TR39] Superpower
- [TR46] Iron Defense
- [TR48] Bulk Up
- [TR53] Close Combat
- [TR57] Poison Jab
- [TR64] Focus Blast
- [TR69] Zen Headbutt
- [TR74] Iron Head
- [TR95] Throat Chop
Notable moves:
- Bulk Up
- Endure
- Reversal
- First Impression
-
No Retreat
- Close Combat
- Megahorn
- Rock Slide
- Swords Dance
- Agility
- Poison Jab
- Zen Headbutt
- Iron Head
- Throat Chop
New Move:
No Retreat

|

101% Accuracy (self-targeting)
5 PP (Max 8 PP)
User omniboosts, but can't switch out. You can still switch out of No Retreat by using U-turn/Volt Switch (Falinks can't learn either), getting hit while holding an Eject Button or having your stats lowered while holding an Eject Pack. Roar/Whirlwind and Red Card can
not
force you out. Move fails if Falinks is already under the effect of No Retreat.
Pros:
- An interesting signature move in No Retreat give Falinks the opportunity to become threatening later in the game.
- Has a great ability in Defiant.
- While the base speed is nothing to write home about, Jolly Falinks will outspeed Jolly Barraskewda (136 Spe) by 1 point after using No Retreat.
- Possesses decent physical bulk while boosted, allowing it to survive any hit from Darmanitan-Galar, or a Max Airstream from +1 Gyarados while Dynamaxed from full.
- Has a wide-enough array of coverage to choose from, some having handy Dynamax-effects as well.
Cons:
- Extremely one-dimensional. It learns other viable boosting moves like SD or Bulk Up, but none of those are as effective as No Retreat. Meanwhile, choice sets are objectively outclassed by Passimian, a pokemon which shouldn't even see OU usage to begin with.
- Its unboosted stats are decent at best, featuring a disappointing attack stat and mediocre special bulk.
- Falinks is deadweight if there is even 1 pokemon on the opposite team that could check it while boosted, as it does not want any damage prior to it setting up.
- With No Retreat and Close Combat basically being mandatory, Falinks can struggle with picking appropriate coverage for the remaining 2 moveslots. No matter what it selects, it will always be walled by something.
Dynamax Potential:
- Falinks greatly appreciates using Dynamax after setting up, as it likes the added attack power to overcome the opponent's first answer to it. Falinks should be considered a priority user for Dynamax when teambuilding as Falinks' effectiveness is harshly reduced without it.
- Close Combat gives Falinks a strong Max Knuckle which also boosts Attack, allowing it to deal even more damage.
- Zen Headbutt becomes Max Mindstorm and sets Psychic Terrain. This can help Falinks in getting past Toxapex
Potential Movesets:
Offensive
Falinks @ Life Orb
Ability: Defiant
EVs: 252 Atk / 4 Def / 252 Spe
Jolly Nature
- No Retreat
- Close Combat
- Zen Headbutt / Rock Slide
- Throat Chop / Iron Head
There isn't much else that Falinks can run without being outclassed by a different pokemon. Hell, even it's above average Dynamax Potential is outclassed by pokemons like Gyarados that roam OU right now. It wants to hit as hard and fast as possible so the EVs are pretty straightforward. No Retreat is the main selling point of Falinks, with its omniboosting ability being a somewhat scary foresight for the opponent. Close Combat is a strong STAB-move that you really want to Dynamax to break through pokemons even easier. You have to select your coverage based on which mons you want to get beat by. If you choose to forgo Zen Headbutt Toxapex will wall you for days. Without Rock Slide you can't deal hefty damage to Gyarados and other flying-types, as well as struggling with [insert relevant bug-pokemon here]. No Throat Chop leaves you hard-walled by Aegislash, let you miss the OHKO on Dragpult, and you're not able to hit psychic types super effectively (Megahorn might sound like a hard-hitting option for the latter but if you want to hit Psychic-types just use Throat Chop). Lastly, if you don't have Iron Head or Poison Jab (better Dynamax Effect vs SE against Grass) you can't deal with fairies at all.
Closing Thoughts:
Phalanx is a fun pokemon to use. No Retreat gives the player a neat option to turn the battle back in his favor, if played well. That being said, Falinks won't stay OU as it's simply too easy to deal with (Unaware says hi too), on top of having bad base stats by OU standards. It has the potential to wreck through a team, but it will have to find that potential in a lower tier.