Drifting~


Moderator
Alright peeps, it's our favorite time once again, change time!! This episode: Stat Rank Cutoffs (again) (again)
Reasons
There are 2 major factors influencing this decision:
1. Stats need to actually matter in the game, and our current rank system squishes the stats together too much to allow for any inherent strengths or weaknesses to show from a Pokemon. And while this is also partially attached to the fact that ranks are applied 1:1 to the damage formula, this has to do with ease of use (in the case of values like 1.5) and balance concerns (in the case of values like 2).
2. This is a part of a big picture plan to shift purposes around. As it currently stands, stat ranks are too low, which causes us to keep ability and item values lower in order to make sure that the system's math doesn't completely underplay the value of stats. This keeps all of the values in the system too low to actually be capable of adjusting for the sake of balance, whether that be in the form of buffing or nerfing. Step 1 is what you're about to see soon, adjusting the stat system to make the numbers themselves bigger. Step 2 will be a re-evaluation of the items and abilities in the game, with a renewed focus on proper power distribution. Abilities should be a more primary source of damage influence than items are, and Items should have a larger impact on your gameplay decisions (outside of Knock Off and co) instead of just being just slapping on the highest damage generic item (hi expert belt). Doing this will allow us to play around with new or revisited item concepts to make use of a more niche set of items as opposed to general damage pumping game play. After these two major overhauls, we'll do an overall look of the system to see if there are any outliers that do not fit this vision.
Large wall of text, yay! The TL;DR of it is that we want to make stat numbers themselves more meaningful. You won't notice giant swings in "average" cases, but not everything and its momma will be able to consider basically every stat average.
Changes
Right to it, here's what the new rank thresholds will be: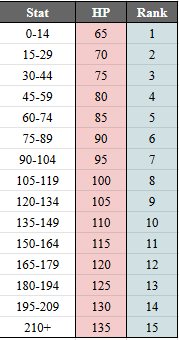 - Moving away from our current system of every 25 in favor of every 15
- Changing HP rank differences to +/-5 instead of +/-10
And now we open it up to the people! These changes
are not live yet
. This is a discussion thread, with the intention of capturing meaningful insights into what we're proposing. Any player should feel free to chime in here about it.
Q1:
What are your initial thoughts on the changes?
Q2:
Do you have any concerns/questions/suggestions pertaining to the big picture plan?