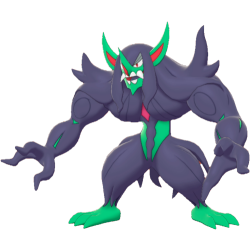 Base Stats
: 95 HP | 120 Atk | 65 Def | 95 SpA | 75 SpD | 60 Spe
Abilities
: Prankster | Frisk | Pickpocket (H)
[Notable Moves]
Level Up Moves:
- [00] Spirit Break
- [01] Spirit Break
- [01] False Surrender
- [01] Bulk Up
- [01] Power-Up Punch
- [01] Fake Out
- [01] Confide
- [01] Bite
- [01] Flatter
- [12] Fake Tears
- [16] Assurance
- [20] Swagger
- [24] Sucker Punch
- [28] Torment
- [35] Dark Pulse
- [40] Nasty Plot
- [48] Play Rough
- [56] Foul Play
- [64] Hammer Arm
TMs:
- [TM00] Mega Punch
- [TM01] Mega Kick
- [TM03] Fire Punch
- [TM04] Ice Punch
- [TM05] Thunder Punch
- [TM08] Hyper Beam
- [TM09] Giga Impact
- [TM14] Thunder Wave
- [TM17] Light Screen
- [TM18] Reflect
- [TM21] Rest
- [TM23] Thief
- [TM24] Snore
- [TM25] Protect
- [TM26] Scary Face
- [TM31] Attract
- [TM39] Facade
- [TM42] Revenge
- [TM43] Brick Break
- [TM47] Fake Tears
- [TM58] Assurance
- [TM60] Power Swap
- [TM63] Drain Punch
- [TM65] Shadow Claw
- [TM71] Wonder Room
- [TM75] Low Sweep
- [TM76] Round
- [TM79] Retaliate
- [TM87] Draining Kiss
- [TM98] Stomping Tantrum
TRs:
- [TR01] Body Slam
- [TR07] Low Kick
- [TR13] Focus Energy
- [TR14] Metronome
- [TR18] Leech Life
- [TR20] Substitute
- [TR26] Endure
- [TR27] Sleep Talk
- [TR32] Crunch
- [TR35] Uproar
- [TR37] Taunt
- [TR38] Trick
- [TR39] Superpower
- [TR48] Bulk Up
- [TR58] Dark Pulse
- [TR64] Focus Blast
- [TR68] Nasty Plot
- [TR72] Power Whip
- [TR81] Foul Play
- [TR90] Play Rough
- [TR92] Dazzling Gleam
- [TR93] Darkest Lariat
- [TR95] Throat Chop
- [TR99] Body Press
All Moves
- Spirit Break
- False Surrender
- Bulk Up
- Power-Up Punch
- Fake Out
- Swagger
- Sucker Punch
- Dark Pulse
- Nasty Plot
- Play Rough
- Foul Play
- Hammer Arm
- Fire Punch
- Ice Punch
- Thunder Punch
- Thunder Wave
- Light Screen
- Reflect
- Rest
- Stomping Tantrum
- Substitute
- Sleep Talk
- Taunt
- Trick
- Darkest Lariat
- Body Press
[New Moves]

Spirit Break:
80 Base Power Fairy Physical Move - 100% chance to lower SpA by one stage
False Surrender:
80 Base Power Dark Physical Move - This move does not check accuracy
[Pros]
- Prankster is still an excellent ability and this pokemon has a wide variety of moves to use, from setting up itself with prankster Bulk Up to setting up its teammates with Prankster screens, to stopping the opponent with Prankster Taunt and Thunder Wave. This realistically means that this pokemon should last at least 1 turn given its potential supporting moves.
- The typing is really interesting offensively, fairy especially has always traditionally and likely still will be an excellent all around type whilst Dark is probably quite solid with all the ghosts running around.
- Its movepool is just excellent and its new move Spirit Break looks really annoying to play against.
[Cons]
- Grimmsnarl is not squishy but it definitely isn't bulky either with 95/65/75 defences, it will have to rely on its movepool to shore up its defences (or lower the opponents offence) as it will naturally be 2HKOed by a lot of attacks.
- Given it has 125 attack, it would really want to use that in some way, but prankster and its supporting movepool really makes you want to use stuff like screens, Twave etc. The pokemon really does pull in different directions.
[Dynamaxing Potential]
- I think this pokemon will end up dynamaxing based on the circumstance and moveset rather than be used as a primary dynamaxer. A support/disrupter type set is more likely to not use dynamax, whereas perhaps a bulk up set may end up dynamaxing.
[Potential Movesets]
Grimmsnarl @ Light Clay
Ability: Prankster
Level: 50
EVs: 252 HP / 252 Def / 4 SpD
Bold Nature
IVs: 0 Atk
- Taunt / Thunder Wave
- Reflect
- Light Screen
- Thunder Wave / Spirit Break
I think this looks to be an interesting looking set for hyper offence teams. Dual Screens allows pokemon like Gyarados to set up multiple times before Dynamaxing or allowing monsters like Darmanitan multiple attacks off. Prankster Taunt/Twave stops opposing setup such as Hippowdon stealth rock/yawn spam. Spirit Break is essentially for opposing dark types that you cant taunt like Hydreigon.
Grimmsnarl @ Life Orb
Ability: Prankster
Level: 50
EVs: 252 HP / 252 Atk
Brave Nature
- Bulk Up
- Spirit Break
- Body Press
- Darkest Lariat / Sucker Punch
Some sort of bulk up set probably also works very well, perhaps you could run rest + sleep talk + bulk up and have mono darkest lariat/spirit break as an option. It would probably be a good stallbreaker. It can also Bulk up alongside setup sweepers like Gyarados DD for example.
Last edited: