RoA Leader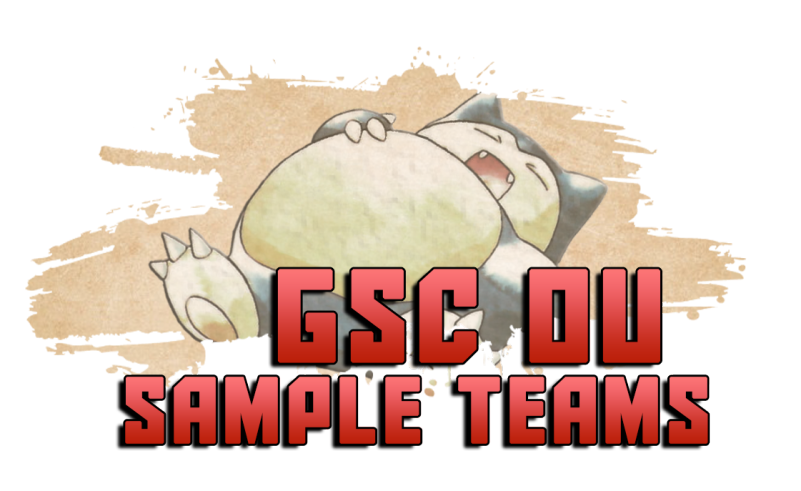 GSC OU Sample Teams Breakdown
Approved by
Earthworm
​
Welcome to the GSC OU sample teams thread! With the recent update of the GSC OU sample teams now is a great time to improve the resources and generate discussion on some of the most popular and influential teams in the meta. Each sample team will have a dedicated post covering four topics:
A general team overview
How the team checks common offensive threats and breaks defensive walls
A breakdown of team member and move set synergy
Example replays of the team in action
Hopefully these resources can be useful to people learning GSC OU, providing a starting point from which they can develop their skills playing the sample teams. The explanation of team and move synergy can also help people in their own teambuilding.
These breakdowns are fairly brief, and I do not expect them to cover everything about any one team. If you have any insight, suggestions or comments to make about the sample teams
please do not hesitate to post your thoughts in this thread
.
Table of Contents:
(Click pictures for the team, click name for the post detailing the team)
​
Offense:






Nidoking + Gengar Offense





Nidoking + Machamp Offense





Jynx + Gengar Offense by Fear





Triple Thief + WW Zapdos by Cased






Vaporeon + Explosions Offense by Borat





Paralysis & Marowak by Earthworm






Heracross + Explosions by idiotfrommars





Growth Pass by D0nut





Houndoom + Golem by TC
Spikeless Offense:




Standard Agility Baton Pass





Rest Marowak + Heal Bell Support





Sunny Day Spam by Siatam






Paralysis + Drum Quagsire






Paralysis + Drum Charizard Offense
Stall:






Double Electric Stall






Spin Tentacruel Stall by Zokuru






Forretress + Umbreon Stall






Double Dog Golem Stall by ABR & BKC






Blissey + Misdreavus Stall






Double Dog & Gengar by M Dragon
Huge shout outs to
Fear
and
Earthworm
for their insight and feedback on this thread as well as
Holly
for her invaluable
replays thread
!
Last edited: