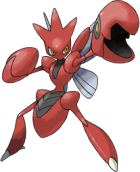 Scizor (M) @ Choice Band
Trait: Technician
EVs: 248 HP / 252 Atk / 8 Spd
Adamant Nature (+Atk, -SAtk)
- Bullet Punch
- U-turn
- Pursuit
- Superpower
We start off with what is known as the standard Choice Band Scizor. His purpose on this team is to act as a defensive pivot on predicted resisted hits, to provide Pursuit support to annihilate Psychic- and Ghost-types that prevent Keldeo's Secret Sword from properly hitting hard, and to provide strong priority in STAB Bullet Punch. Superpower over Quick Attack to demolish Tyranitar, should I need him to. 8 speed EVs are used to outspeed other Scizor and score a nice 2HKO with Superpower if it stays in (which it shouldn't). Also, BP is very useful in getting a little extra damage to ensure that Earth Power or Secret Sword kills or 2HKOs.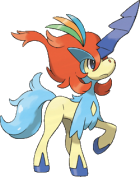 Keldeo (Keldeo-R) @ Choice Scarf
Trait: Justified
EVs: 252 SAtk / 4 SDef / 252 Spd
Timid Nature (+Spd, -Atk)
IVs: 30 Atk / 30 SDef
- Secret Sword
- Hydro Pump
- Hidden Power [Ghost]
- Icy Wind
Scarf Keldeo. It pairs well with Landorus because it has the speed to handle certain threats Landorus can't without Polishing, and it also appreciates the removal of Tentacruel, with whom Landorus deals very nicely. I have Hydro Pump over Surf just for sheer power, since I don't have Life Orb, Specs or rain on my side to boost it. Icy Wind to hit quad-weaknesses, and potentially catch fast switch-ins. HP Ghost for Jellicent, though curiously, I haven't encountered more than a handful of them with this team, and I haven't utilized the Hidden Power yet. Still, it makes me feel safer. I very much want to change this to the Expert Belt/HP Bug set, but I've been told (by Chimpact, no less) that I need the speed.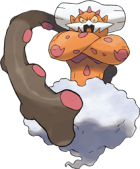 Landorus (M) @ Life Orb
Trait: Sheer Force
EVs: 88 HP / 252 SAtk / 168 Spd
Modest Nature (+SAtk, -Atk)
IVs: 30 Atk / 30 Def
- Rock Polish
- Earth Power
- Focus Blast
- Hidden Power [Ice]
The standard sets keep coming with Rock Polishing special Landorus. There's a reason this is being suspected (though I for one don't think it's
that
overpowered), and that's because it is ridiculously strong. Life Orb + Sheer Force + STAB Earth Power already hits like a freaking truck off of his very good Special Attack, so why go for bulky Modest over the normal Timid? Well, basically everyone assumes the max/max Timid set, so they won't stay in with such Pokémon as non-Scarf Jirachi and Salamence that usually are narrowly outsped and OHKOed by EP and HP Ice, respectively, so I'm able to bluff it, while still retaining all the power of a SpAtk+ nature and not wasting any speed after the Polish.

Skarmory (M) @ Custap Berry
Trait: Sturdy
EVs: 252 Atk / 4 Def / 252 Spd
Jolly Nature (+Spd, -SAtk)
- Stealth Rock
- Spikes
- Brave Bird
- Taunt
This Skarmory is intended to perform as a surrogate Deoxys-D, setting up as many hazards as possible to ensure that my other team members get the crucial, close 2HKOs and OHKOs. Max Speed/Jolly allows me to tie with Jolly Breloom and Taunt the Spore, as well as any slower lead. Max Attack allows me to easily OHKO any Breloom lacking a Sash, and it also is often able to score the OHKO on any Volcarona trying to get inb4, and even if Volc' doesn't die, it's in such a range that either Scizor's BP kills, or it has to switch and die to hazards.

Gengar (M) @ Black Sludge
Trait: Levitate
EVs: 252 SAtk / 4 SDef / 252 Spd
Timid Nature (+Spd, -Atk)
- Substitute
- Shadow Ball
- Focus Blast
- Thunder
Gengar was absolutely necessarily as an offensive spinblocker. Basically every Gengar carries max/max Timid, Sub, Shadow Ball for STAB and Focus Blast for coverage, so they aren't in dire need of expansion. Thunder, however, is quite the addition. Usually, they run either HP Fire, Pain Split or HP Ice, but, since Gengar's main job is beating Tentacruel -- the most threatening spinner -- one-on-one, I gave it Thunder to easily 2HKO (assuming it's raining). That's important because it's simultaneously blocking spin and making a Keldeo sweep more likely. It's especially good against the omnipresent rain, and it's come through several times for me.

Rotom (Rotom-W) @ Leftovers
Trait: Levitate
EVs: 252 HP / 4 SAtk / 252 SDef
Calm Nature (+SDef, -Atk)
- Hydro Pump
- Volt Switch
- Pain Split
- Will-O-Wisp
This is the point at which I deviate from the initial basis for the team. I very desperately needed some special defense on my team, because I knew I could very easily get smashed by a strong Scarfer, and rain in general. It was basically up to Rotom Wash and Celebi, and I chose the burn support over the ability to easily beat Breloom, though Celebi may've been a better decision, in order to handle fighting attacks without risking Gengar's life on a risky prediction. In any case, Rotom has proved useful, since my team appreciates the residual from the burns to ensure 2HKOs and OHKOs. Also, Volt Switch does way more than Celebi's U-Turn does while keeping the momentum up, so that's helpful.






Conclusion!
Any advice would be helpful in how I can make the team better. I know it all seems rather standard and simple, which is why I want to fine-tune it as best I can. Thanks for reading! :]