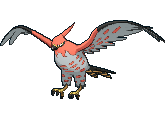 Greetings, traveler, and welcome to the Hills of Abraham. I hear you wanted the secrets of the children's video game Pokemon. And with this team, all will be revealed!
Now come, here are the etchings in which Josiah himself wrote about his process when selecting the truest strengths.
He said that he wanted the needle of the gods to shine, so he found the perfect companions for this holy beetle. "Heracross is not the fastest, my son, but his power is unrivaled even by the Dragons of Yore."
Ah on this wall it details the first member of his court, the artist, Smeargle.
Smeargle @ Focus Sash
Ability: Technician
EVs: 20 HP / 208 Def / 28 SpD / 252 Spe
Timid Nature
- Spore
- Sticky Web
- Stealth Rock
- Endeavor
Stories were told about the master artisan and my father was desperate for his famed skills. "There is no one as versatile as him" he would tell me. "He relies not on brute force to get the job done, but sheer creativity and cunning." Under the tutelage of Arachne he learned the ability to place down slowing webs and help his teammates wreak havoc. This fixes one of the Lords weaknesses. He sought out three other great tutors. Geb who taught him how to surround the enemies forces with powerful rocks. Cernunnos gave him the power to put his enemies into a deep sleep with nature's blessing. Mars trained his weakness into a strength, and allowed him to strike back with a single powerful blow, evening the playing field. He was given a gift of a sash, which allowed him to brace the impact of any hit. That is what makes him powerful.
Talonflame @ Life Orb
Ability: Gale Wings
EVs: 248 HP / 252 SpD / 8 Spe
Careful Nature
- Will-O-Wisp
- Taunt
- Brave Bird
- Roost
The second member of my fathers court was the mighty winged champion Talonflame. It has been said that he was born in fire. The scorching energy that exudes from it is unparalleled. I remember my father telling me "Son, you may think that i'm recruiting Talonflame for his capabilities as a warrior, but you are mistaken. His hidden potential is that of the front line, a skilled tactician that can disrupt even the most sturdy of foes." Talonflame was always considered rowdy, and his skillset reflects that. As you can see he had the ability, just by merely existing, to distract and confuse foes. They had an urge to attack, even if they wanted to run away. He also was a genius outside of the battlefield, he knew exactly how much his body could take and would pace himself. His most interesting tactic though was called "Will-o-wisp" which would make the enemies muscles burn with such agony that they could no longer launch a physical assault. It was vital for the success of the team. Even though he served mostly as a disruptor, his offensive capabilities were also extremely powerful. Whenever he would assault from the sky there would be no change the opposition could hit him before he hit them. This was an extremely vital part of why he was such an asset.
Clefable @ Leftovers
Ability: Magic Guard
EVs: 252 HP / 172 Def / 84 SpD
Calm Nature
- Heal Bell
- Calm Mind
- Moonblast
- Soft-Boiled
Clefable was a mysterious one for sure, one day she just appeared before my father and demanded to join his troops. After months of training her strengths started to present themselves. She could not be scratched by a dragon, in fact, nary a dragon would ever go near her. They all feared this small creature. Her other great strengths were her sheer willpower and willingness to aid the team. Every day Clefable would sit in the shade eyes closed, and every day this seemed to strengthen her latent abilities. She would absorb lunar energy and release it as a powerful blast, not even she knows how it truly works. But what she does know is that with her magical energy she can cleanse the entire team of ailments. She hears a bell chime and suddenly everyone has recovered. Not only can she take care of others, but also herself. My father told me that she had memories of a past life, and people would give her offerings of eggs in order to heal them. And in this life, she carries around eggs as well knowing that their restorative properties will be a tactic not many expect. A peculiar thing about Clefable is that she doesn't get affected by maladies. She may show the symptoms of a powerful poisoning, but it doesn't weaken her composure in any way. A true enigma.
Garchomp @ Rocky Helmet
Ability: Rough Skin
EVs: 240 HP / 176 Def / 92 Spe
Impish Nature
- Fire Blast
- Toxic
- Dragon Tail
- Earthquake
From deep underground we found the behemoth dragon Garchomp. He was a menace to all who entered his domain. My father, being the pure and kind soul that he is, was able to reach Garchomp though. And with that he swore his allegiance. This titan had skin rougher than the rest of them and this lended himself perfectly to be the front line of our team. Although he was mostly reformed, the anger would occasionally well up inside him and cause him to release a mighty stream of fire. It helped him break through other tanks but it was at the cost of his own sanity. There's a technique that is possible to be learned by all, but only select Pokemon are able to unlock the power inside them. Toxic, as it is called by the sage of the Blue Wind is a powerful spray of poison that cripples your foes and allows you to outlast even the sturdiest of walls. Sometimes though, there are even foes Garchomp does not want to face, so he whips them with his powerful tail and sends them flying towards the horizon. His mightiest weapon though is the earth itself, being in tune with the land allowed Garchomp to cause earthquakes at will. This would not only catch the opponent off guard, but also hit them like my father hit me. Garchomps tale ends in tragedy though, as his deteriorating mental state eventually got the better of him and he ended his life by jumping into a freezing lake.
Latios @ Life Orb
Ability: Levitate
EVs: 32 HP / 252 SpA / 224 Spe
Timid Nature
- Defog
- Draco Meteor
- Psyshock
- Roost
This is one of the two legendary Spirit Dragons. For five million years there was no knowledge of them ever existing outside of folk tales passed down from generation to generation. But Latios, sensing something in my father decided to not only show himself, but also aid them. It harnesses the power of the souls of all Pokemon, which it used as fuel for its mighty magical powers. He has one gigantic attack called "Draco Meteor" which allows him to summon down the power of the cosmos and smite his foes with a devastating blow. Using this ability causes Latios great pain though, and his other attacks will not be as strong in the future. His other more reliable attack was a direct shock to the enemies mind, this would damage them both mentally and physically. The benefit to this move is it went right through all magic barriers and would hit as if it was a physical blow. Like Talonflame, Latios is incredibly good at regulating when to retreat and recover off his wounds. But his most valuable asset is the powerful gusts of wind that he employs to rid the battlefield of hazardous traps. When the battle was over Latios retreated, never to be seen by mortal eyes again.
Heracross-Mega @ Heracronite
Ability: Swarm
EVs: 92 HP / 164 Atk / 252 Spe
Jolly Nature
- Close Combat
- Pin Missile
- Rock Blast
- Bulk Up
The existence of megastones have always been mysterious. They contain great power. My fathers partner throughout his life was his trusty Heracross. One day while excavating the cave where he would later find Garchomp, he saw a peculiar green stone. This green stone he later found out was Heracronite, with the power to unlock the hidden potential inside of his partner. What he didn't account for though, was the radical changes to Heracross's Biology. No longer just a simple brawler, he could now snipe from many feet away. This was where my father decided to teach him how to use his newfound range to his advantage. He taught Heracross how to launch his pins from his body and also taught him the ideal way to hurl rocks from afar. That's not to say that he couldn't still fight up close, he definitely could. Heracross's only real shortcoming was the amount of hubris he had after gaining all this strength. Before battle he would spend 5 minutes just doing exercises and pigging out on food. This made him more sturdy, but it also left him wide open to enemy fire.
My father.....
his dreams.....
they were all fulfilled by this team of Pokemon
and now, I am passing it on to you, traveler.
Use it well
​
Heracross-Mega @ Heracronite
Ability: Swarm
EVs: 92 HP / 164 Atk / 252 Spe
Jolly Nature
- Close Combat
- Pin Missile
- Rock Blast
- Bulk Up

Smeargle @ Focus Sash
Ability: Technician
EVs: 20 HP / 208 Def / 28 SpD / 252 Spe
Timid Nature
- Spore
- Sticky Web
- Stealth Rock
- Endeavor

Latios @ Life Orb
Ability: Levitate
EVs: 32 HP / 252 SpA / 224 Spe
Timid Nature
- Defog
- Draco Meteor
- Psyshock
- Roost

Garchomp @ Rocky Helmet
Ability: Rough Skin
EVs: 240 HP / 176 Def / 92 Spe
Impish Nature
- Fire Blast
- Toxic
- Dragon Tail
- Earthquake

Clefable @ Leftovers
Ability: Magic Guard
EVs: 252 HP / 172 Def / 84 SpD
Calm Nature
- Heal Bell
- Calm Mind
- Moonblast
- Soft-Boiled

Talonflame @ Life Orb
Ability: Gale Wings
EVs: 248 HP / 252 SpD / 8 Spe
Careful Nature
- Will-O-Wisp
- Taunt
- Brave Bird
- Roost