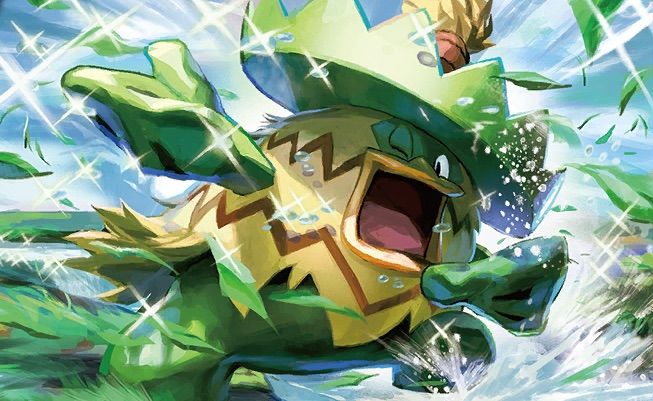 ~
~
~
~
~
~
~
​
Intro:
This team was built at the begining of the Arena Trap Suspect test. I got the impression that Stall was to be much weaker without Dugtrio so I figured the meta would tilt towards the offensive side of the spectrum. The metagame I'm most at home with is BW OU so as I took my first real steps into SM OU I clung to the familiar. The weather wars were something I knew a lot about and when I saw Drizzle+Swift Swim was legal I decided to build around that idea. If the metagame was going to be offensively inclined I believed Rain could win a lot of games on match-up alone. Ludicolo has always been my personal favorite SS abuser thanks to it's unique typing and wide coverage options so I paired him with OU superstar Mega-Swampert.
As I battled with my original Hyper Offensive Rain team I noticed how many absurdly powerful Pokemon call the Overused tier home. 'Mons that come in and you think, "Ok so who am I going to sack next?" I quickly understood why Bulky Offense is such a common archetype; you need a defensive skeleton that can help you maneuver your own threats into winning positions. The defensive core aims to keep the lid on your opponent's threats while maintaining momentum for your side.
The goal of the team was to capitalize on Rain's strengths while limiting its common weaknesses.
The 'Mons:
(
)
Pelipper
@ Damp Rock
Ability: Drizzle
EVs: 248 HP / 24 Def / 228 SpD / 8 Spe
Calm Nature
- Defog
- Roost
- Scald
- U-turn​
Set Details:
When I first saw that Pelipper got Drizzle I thought I had gone to heaven. A Rain setter with reliable recovery, Defog and U-Turn! Rains going to be way too strong! Turns out the power creep of everything else keeps Pelipper in line. Honestly the only thing the bird brings to the team is Rain. Which don't get me wrong is crucial but it can sometimes feel like dead weight.
The 8 Speed EVs let you outspeed Min Conkeldurr. I have used a more offensive variant since Pelipper's defensive utility is niche at best but a third of my team relies of the rain this bird brings. That being the case I went for the bulkier set. Also, Defog is always handy.
Offensive Variant:​
Pelipper @ Damp Rock
Ability: Drizzle
EVs: 28 HP / 252 SpA / 228 Spe
Modest Nature
- Hydro Pump
- Hurricane
- Knock Off
- U-turn
(
)
Magearna
@ Assault Vest
Ability: Soul-Heart
EVs: 252 HP / 208 SpD / 48 Spe
Calm Nature
IVs: 0 Atk
- Fleur Cannon
- Flash Cannon
- Focus Blast
- Volt Switch​
Set Details:
The first part of my defensive backbone Magearna helps patch up weaknesses to many Special Attackers. As I built the team I decided I wanted a strong, flexible, core that would give me breathing room in the early and mid game. Magearna and Landorus-T form a "catch-all" net that lets me pivot in my stronger threats without risking them. Between the two of them they check a vast amount of the metagame.
Magearna's set is pretty standard. The speed EV's put it ahead of no investment Tyranitar and more importantly Mantine. Mantine can be tricky to deal with for my rain sweepers so getting in a sneaky Volt Switch can really help break it. Magearna is your first line of defense against threats like Tapu Lele, Latios, and Greninja. She keeps them from opening up the team and hopefully sets them up to be defeated by our offensive 'mons.
(
)
Landorus-Therian
@ Leftovers
Ability: Intimidate
EVs: 240 HP / 184 Def / 36 SpA / 48 Spe
Impish Nature
- Stealth Rock
- Earthquake
- Hidden Power [Ice]
- U-turn​
Set Details:
Landorus-T, allow with Magearna, does so much for the team. Besides setting up the ubiquitous Rocks he is the physical half of our "catch-all" defensive core. Landorus-T was added for it's ability to handle Pokemon like Zygarde, Mawile, Garchomp, and Pinsir. While keeping the physical half of the metagame at bay he continues our Volt-Turn engine.
In particular he has a habit of bringing in Pokemon weak to Ludicolo so thanks to U-Turn we get serious offensive momentum without Ludicolo being put into harms way. EV's guarantee a 2hko on Offensive Zygardes with HP Ice and outspeed Neutral Max Magearna. 240 HP gives us a Leftovers number and the rest is put into bulk.
(
)
Tapu Koko
@ Electrium Z
Ability: Electric Surge
EVs: 252 Atk / 4 SpA / 252 Spe
Naive Nature
- Wild Charge
- Hidden Power [Ice]
- Taunt
- U-turn​
Set Details:
Tapu Koko has quickly become one of my all time favorite Pokemon. It has an absurd Speed tier and backs it up with some scary offensive power. Electrium Z is such an easy set to use because it turns Koko into a nuke who can check most offensive Pokemon. You need an immunity or a seriously bulky resist to not lose something to Gigavolt Havoc. While not defensive in nature it does slot into our Magearna+Landorus-T core; where Magearna checks a wide variety of Pokemon with it's Sp. Def, Landorus-T with it's Def, Tapu Koko checks Pokemon with it's Spd and Atk without worrying about setting up. Koko also finishes our Volt-Turn engine.
Tapu Koko serves as the main mid-game wall breaker of the team while remaining useful at all points of the game. I rely heavily on Tapu Koko's wallbreaking in match-ups against bulkier teams but its just as helpful against offense where it outspeeds most of the unboosted meta. Mega-Pinsir would be a nightmare to face if it weren't for Koko's resistance to Flying and he
(
)
Swampert-Mega
@ Swampertite
Ability: Damp
EVs: 4 HP / 252 Atk / 252 Spe
Jolly Nature
- Waterfall
- Earthquake
- Ice Punch
- Superpower​
Set Details:
Mega-Swampert does so much for Rain teams. Not only is it offensively terrifying but it's typing helps it check many problematic pokemon, most Notably Tapu Koko and Zapdos. Having an immunity to Electric baked right in makes Swampert close to an auto-include on most competitive Rain teams. The moves are all fairly standard, I wanted it to have as much coverage as possible. The team was built around the two Swift Swimmers so I wanted to make sure that they would be stopped by the fewest things possible. Too many teams rely almost solely on Ferrothorn to stop Rain and find themselves at a lose when both my Swimmers easily 2hko it.
The EVs/Nature are important, not just to give Swampert as much offensive presence as possible but because +Spe +2 Swampert sits just two points ahead of Scarf Kartana. Scarf Kartana is a common threat can can quickly snowball on a weakened offensive team so giving it the smallest amount of breathing room possible is a must.
(
)
Ludicolo
@ Life Orb
Ability: Swift Swim
EVs: 4 HP / 252 SpA / 252 Spe
Timid Nature
IVs: 0 Atk
- Hydro Pump
- Giga Drain
- Ice Beam
- Focus Blast​
Set Details:
While not actually the focal point of the team he is the member that over-performs the most often. A lot of common teams just get swept late game by this dude's coverage. The first thing that drew me to Lud was the fact that he doesn't mind one of Rain's usual nightmares, Ferrothorn. He stops Ferro from spamming Leech Seed and cleanly 2hkos even the bulkiest variants. EV spread is, again, fairly straight forward but important. Sharing the same base Speed as Swampert I found he needs to run the +Spe nature to outrun Scarf Kartana in the rain. Letting Kartana outspeed us opens up the door to too many loses.
Swampert and Ludicolo act as the classic "Water-spam" duo softening up the opponent's core so that the next one can finish the job. Ludicolo also provides some helpful resistances to the team, most notably the 4x Water resist. He's my go to stop against opposing Ash-Greninjas who could otherwise sweep with Water Shuriken.
Major Threatlist:

Greninja-Ash
: Super dangerous. When you see a potential Ash-Gren in team preview make a mental note to keep Ludicolo healthy(otherwise Water Shuriken will mope you up) and try to ensure Gren can't get a kill early. The unfortunate side effect of our rain is that Specs Hydro Pumps are next to impossible to switch into. Will almost always have to be offensively checked.

Kyurem-B
: Realistically this thing is going to get at least one kill. Depending on it's move set different Pokemon can handle it but you'll usually have to sack something in order to take it out.

Volcarona
: With the right move set this 'mon can be a serious pain. When you see it in team preview remember to play carefully with Magearna as it gives Volc an easy set up target. If you do think Volc will have an opportunity to set up play in a way to ensure Rain is on the field. Otherwise your Swift Swimmer's can't Revenge Volc and if you have to switch Pelipper in just for the Rain you're gunna have a bad time.

Venusaur (Mega)
: One of the reasons this team hasn't been performing as well as it used to is the rise in Venusaur usage. Most bulky Grass-types get worn down by my sweeper's coverage but Venusaur can all but shrug off the damage. I had a version of the team with Tornadus-T over Tapu Koko just to help with this 'mon but I found TornT was worse in almost every other match-up.

Kingdra
: Similar situation as Ash-Greninja but worse because it outspeeds everything on my team. Thankfully most people run Specs so the combo of Magearna and Ludicolo often keep it in check. But Z-Water/Dragon Kingdra is a huge threat on paper, thankfully I've never faced one with this team..
Common Threatlist:
~ ~ The Threats ~ ~ My Checks ~ ~
S Rank

Landorus-T :

Magearna :
A+ Rank


Celesteela :

Ferrothorn :

Greninja :

Greninja-Ash :

Heatran :

Tapu Koko :

Tapu Lele :

Toxapex :

Zygarde :
A Rank

Clefable :

Diancie (Mega) :

Kartana :

Kyurem-B :

Latios :

Mawile (Mega) :

Mew :

Pinsir (Mega) :

Tangrowth :

Tapu Bulu :

Tyranitar :

Volcarona :

Zapdos :
A- Rank

Chansey :

Garchomp :

Keldeo :

Lopunny (Mega) :

Magnezone
:

Medicham (Mega) :

Pelipper :

Sableye (Mega) :

Scizor (Mega) :

Venusaur (Mega) :
Outro:
This has been my most commonly used team in the last few weeks and is a lot of fun to play. Thanks to the generous amount of momentum based moves you end up in the driver's seat more often than not. But recently the team hasn't been performing as well as it once did. The top of the ladder is seeing a rise in bulkier, more Stall oriented teams. This team can struggle to break truly fat teams because Landorus-T and Magearna lose a lot of their intended utility. They are on the team to check offensive Pokemon so the match-up against Stall can sometimes feel like an automatic 4-6 situation. Overall though I'm happy with the team and it's helped me learn this new metagame! Hope you enjoyed reading and remember, don't play passively! You might have some defensive Pokemon but you want to utilize them to set up your own offensive threats!

May all your Focus Blasts be hits!
Import:
Pelipper @ Damp Rock
Ability: Drizzle
EVs: 248 HP / 24 Def / 228 SpD / 8 Spe
Calm Nature
- Defog
- Roost
- Scald
- U-turn
Magearna @ Assault Vest
Ability: Soul-Heart
EVs: 252 HP / 208 SpD / 48 Spe
Calm Nature
IVs: 0 Atk
- Fleur Cannon
- Flash Cannon
- Focus Blast
- Volt Switch​
Landorus-Therian @ Leftovers
Ability: Intimidate
EVs: 240 HP / 184 Def / 36 SpA / 48 Spe
Impish Nature
- Stealth Rock
- Earthquake
- Hidden Power [Ice]
- U-turn
Tapu Koko @ Electrium Z
Ability: Electric Surge
EVs: 252 Atk / 4 SpA / 252 Spe
Naive Nature
- Wild Charge
- Hidden Power [Ice]
- Taunt
- U-turn
Swampert-Mega @ Swampertite
Ability: Damp
EVs: 4 HP / 252 Atk / 252 Spe
Jolly Nature
- Waterfall
- Earthquake
- Ice Punch
- Superpower
Ludicolo @ Life Orb
Ability: Swift Swim
EVs: 4 HP / 252 SpA / 252 Spe
Timid Nature
IVs: 0 Atk
- Hydro Pump
- Giga Drain
- Ice Beam
- Focus Blast
Last edited: