:3






Discord Leader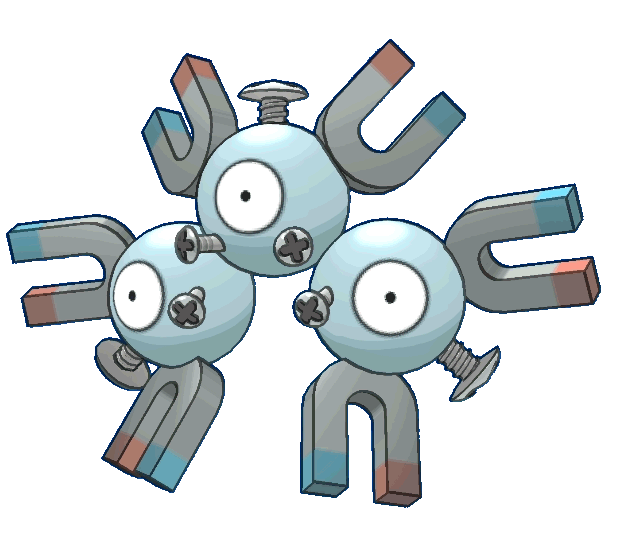 what even is a magnet
[OVERVIEW]
Magneton's collection of unique traits, including the rare Steel typing, gives it an odd spot in the metagame. Its STAB Flash Cannon and high Special Attack let it avoid the main issue other Electric-type Pokemon face offensively, as it can OHKO Rhydon and Golem and heavily dent other Ground-type Pokemon like Nidoking and Sandslash. This makes it difficult for many teams to safely handle Magneton defensively. Magneton contributes more than just its offensive presence to teams thanks to both its typing, which lets it soft-check Zapdos and absorb Toxic and Thunder Wave, and its great support options, namely Thunder Wave and dual screens. Unfortunately, Magneton is plagued with an awful quadruple weakness to Ground, preventing it from checking the likes of Mega Aerodactyl and Mega Beedrill and making it difficult to make use of Magneton's unique quadruple resistance to Melmetal's Double Iron Bash. It also has quite poor overall bulk, which greatly limits how well it can take repeated resisted hits like Zapdos' Thunderbolt, and a mediocre Speed stat that leaves it outsped and easily dispatched of by powerful and common Pokemon like Nidoking, Mega Gyarados, and Dragonite. These flaws often outweigh Magneton's great offensive traits and can make it difficult to use effectively.
[SET]
name: Wallbreaker
move 1: Thunderbolt
move 2: Flash Cannon
move 3: Toxic / Reflect
move 4: Thunder Wave / Light Screen
item: No Item
nature: Timid / Modest
[SET COMMENTS]
Set Information
========
Thunderbolt and Flash Cannon provide Magneton with great STAB coverage, letting it run a variety of utility options in its last two moveslots. Toxic lets Magneton threaten Mew and Zapdos reliably, while Thunder Wave slows threatening Pokemon that Magneton can't KO or otherwise threaten, most notably including Mega Alakazam and Gengar. Magneton can also opt to run Reflect and Light Screen instead to help its teammates with pivoting into its switchins. Teleport is another interesting option that allows Magneton to safely bring teammates in and take advantage of forced switches. A Timid nature is preferred in order to outspeed Nidoqueen and Kingler, but a Modest nature can be used instead to bolster Magneton's wallbreaking capabilities.
Usage Tips
========
Magneton's limited defensive utility means it should be used extremely aggressively. Dealing lots of damage and spreading status early in the battle is the easiest way to make use of its strength- as such, you should aim to switch it in often via U-turn or Teleport, or find opportunities to switch it in on weaker attacks, such as Zapdos' Thunderbolt and Mew's Psychic, or non-Sleep status inducing moves. When facing teams featuring Mega Alakazam, Magneton can be preserved as an emergency check that survives a Shadow Ball and retaliates with a debilitating Thunder Wave.
Team Options
========
Magneton is not a good sole check to Zapdos despite its typing, and as such should be paired with another check. Alolan Dugtrio fulfils this need and appreciates Magneton's capability to break down and status walls, while also being capable of providing Stealth Rock support to help with wearing down Magneton's checks. Nidoqueen and Nidoking offer more consistent Stealth Rock setting to support Magneton, but they lack Alolan Dugtrio's valuable Speed tier that makes it a complementary lategame cleaner. Mega Gyarados can threaten Ground-types that Magneton struggles with, while Magneton in turn checks or pressures Mega Gyarados checks such as Zapdos and Melmetal. Mega Beedrill can bring Magneton in on the likes of Rhydon and Melmetal with U-turn, forcing the opponent to switch out or sustain massive damage on their Mega Beedrill answer. Mega Aerodactyl also benefits from Magneton's ability to pressure these Pokemon in preparation for a lategame sweep, and can switch in on Earthquakes and Drill Runs aimed at Magneton to wallbreak earlier in the battle. Reflect Zapdos enjoys Magneton's tendency to heavily wear down Nidoqueen, affords it more switchin opportunities via U-turn, and checks some threatening Earthquake users such as Melmetal and Mega Gyarados. Mew counters most Fighting-types, can check most Earthquake users, and can also provide Magneton with Stealth Rock support and safe switchins via U-turn or Teleport. Melmetal appreciates Magneton soft-checking Zapdos and wearing down or paralyzing checks, and it can support Magneton by paralyzing Mew and checking the likes of Mega Aerodactyl, Mega Beedrill, and Mega Alakazam.
[STRATEGY COMMENTS]
Other Options
=============
Magneton's shallow movepool doesn't provide many options. Magneton can provide teammates with safe switchins via Teleport- however, its poor bulk and long list of weaknesses mean it typically prefers to not get hit. Hyper Beam is typically a waste of a moveslot but can be used on a turn where Magneton is expected to faint, granting it a stronger hit against Nidoqueen and Sandslash.
Checks and Counters
===================
**Fire-type Pokemon**: Mega Charizard X resists Magneton's dual STAB and can heal off any damage with Roost while threatening to OHKO with either Fire Blast or Earthquake. However, it should be wary of Toxic and Thunder Wave. Mega Charizard Y, Moltres, Arcanine, and Rapidash dislike switching in on Thunderbolt, but they can all easily revenge kill Magneton.
**Nidoqueen and Alolan Dugtrio**: Nidoqueen and Alolan Dugtrio are never 2HKOd by Flash Cannon and are both immune to Toxic and Thunder Wave, allowing them to switch in and dispatch of Magneton. Alolan Dugtrio is better at this as it also outspeeds Magneton.
**Revenge Killers**: Due to Magneton's frailty, plentiful weaknesses, and below-average Speed, it is easily revenge killed by a long list of Pokemon, including Mega Aerodactyl, Mega Gyarados, Mega Beedrill, Nidoking, Dugtrio, Dragonite, Gengar, Hitmonlee, and Nasty Plot Mew.
**Specially Defensive Pokemon**: Chansey, Alolan Muk, Mew, and Snorlax are capable of handling Magneton's attacks, but Mew and Chansey are vulnerable to Toxic and Alolan Muk and Snorlax are unable to stand up to repeated attacks.
[CREDITS]
- Written by: [[Eve, 375272]]
- Quality checked by: [[, ], [, ],]
- Grammar checked by: [[, ], [, ]]
Last edited: