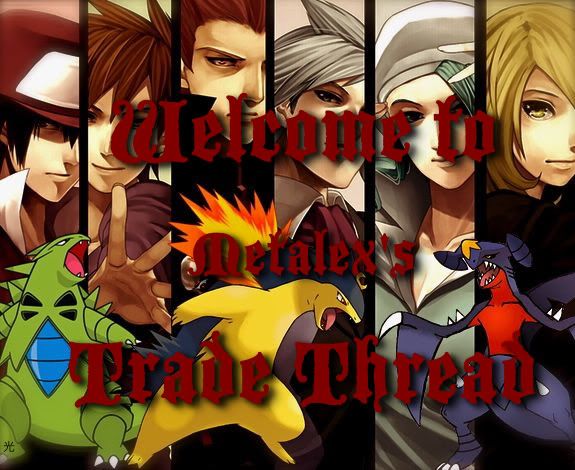 Contents
[Click the Link below to see my Pokemon]
​
A little about me​
Well I will say is that im an 18 year old male, I live in probably one of the coldest places in Canada during the winter season, Im a crazy hockey fan (Duh!) My favourite food is BBQ steak! I also use the RNG abuse method to obtain my Pokemon, I started off like alot of Smogon members with a trade thread trading around peoples fully redistributable Pokemon but after I got denied by CMTs time and time again for not having my own Pokemon I got off my lazy butt to learn how to RNG. I first learned on Pokemon HeartGold by the help of various members around the community that I met and I cant thank them enough. I currently have RNGd 285 Pokemon and counting.
I do not use an Emulator or Flashcard on any of my RNGs, I use a retail game cartridge that I purchased at Gamestop/EB Games, I can be a nice person if you give me the chance and I like to help people around the community to give back to the people who have helped me during the last 2 years or so I have been a member on here, So if you have any questions regarding RNG abuse you can send me a VM and I will help you :) I do have some rules in this thread and I would really like you to follow them.....They are below.....
​
Obviously my number one rule is absolutely no hacks! Hacked Pokemon ruin the fun in obtaining them legitimately and personally also ruin the game for me, If you hack Pokemon then why do you attempt to trade them anyway? I spent quite alot of my time getting my Pokemon myself and I dont appreciate my hard work going to waste, If I find out that any Pokemon I obtain in a trade is hacked I will report you to the blacklist.
​
Im sorry but I will not trade with people on the Smogon Blacklist thread, You were put on there for a reason and until you can get yourself off the blacklist and be a trustworthy member on the Wi-Fi forums or go into the probational list I will not be doing any sort of business with you, This also goes toward members who have the ICBB status
​
Im sorry but my Pokemon are not redistributable, I think theres enough trade threads that have fully redis Pokemon going around so if you want a fully redis Pokemon its better if you ask someone in another trade thread, But I do infact once in awhile give out trading rights to some of my Pokemon to certain members I have done alot of business with and have talked to alot so maybe in the future you can get your hands on some rights :)
​
I will not tolerate any kind of rude/racist comments in my thread, Doing so on my thread will result in a report to a mod so they may handle those type of issues.​
I know alot of members that english is isnt their first language but please try to speak as clearly as you can :)​
As of right now I would prefer you had a trade thread on Smogon in order to trade with me, There has been alot of hacks circulating in other forums (Marriland, Pokebeach Etc) I also do not want any Event Pokemon unless they have usuable IVs/Natures​
My trade thread is not a chatroom so please discuss trades with other people in their own threads or PM/VM.​
I would like see some of your own Pokemon in your thread but dont be shy to post here even if you have a thread full of redis Pokemon :), All CMTs are welcome here I understand how it feels to be denied because of you trading other peoples Pokemon.​
Thats about all except dont be a douche, Pokemon is supposed to be fun dont ruin it for me or anybody else because your having a bad day.​
Have fun and enjoy looking at my trade thread :D​
Trainer Information
[ TID's | SID's | FC's ]
​
Here is my retail game cartridge information. Pokemon with these OTs in this thread are mine and are nicknameable,
Platinum
(Generation 4 Trades)
OT:
MARLIN
TID: 34555
SID:
58318
Friend Code: 4598 6539 1526
HeartGold
(My main game)
OT:
Marlin
TID: 64213
SID:
38407
Friend Code: 4255-1383-4302
Soul Silver
(This game will change as I use this cart to RNG my ID/SID)
OT:

Marlin
TID: 27967
SID:
3448
White
(Generation 5 Battles & Trades)
OT:

Metalex
TID: 49409
SID:
32178
Friend Code: 2279-7683-0866
Black
OT:

Rayver
TID: 35965
SID:
Dont know yet
Friend Code:
​
Pending Trades
Jones115
- Naive Tornadus for my adamant shiny Groudon (nest ball)
Cipher Admin Lovrina
- Bold shiny Feebas (dive ball), Modest shiny Feebas (heal ball), And EE's timid VGC Milotic for my Scizor, Jellicent and Suicune.
Ditto
- Jolly Jirachi and shiny modest Moltres for my shiny timid Pichu (DW) and timid Reshiram.
V4Victini
- Togekiss BP (NN: Gold Wing)
Credit System​
Places where people have credits in my thread and where I have credits in other peoples threads. Each pokemon here cost 1 credit, trophy case Pokemon cost 2. When I get them 3rd Gen and XD Pokemon will cost 2 credits each due the difficulty of getting them.
​
Bowser 5 credits
[EV training]
Dusk252 5 credits
[EV training]
Zerohorus 3 credits
[Breeding Projects]
​
Credits I Owe​
Hozu 1 credit
Luxpluff91 20 Credits
[Banners]
TombStoner 1 credit
[Chansey]
Emerald Ryu 6 credits
[Cyndaquil, Wailmer & Pidgey BP`s]
Justinenough215 3 credits
[XD Zapdos, Hypno & Togepi]
Robovirtuoso 10 credits
[Banners]
Expert Evan 2 credits
[Volcarona & Timburr]
Fenix54 3 credits
[Sawk, Cofagrigus & Darmanitan]
Saeglopur 2 Credits
[Timid HP Ice Joltik CP]
MeGaMaNx 2 credits
[Bold HP Grass shiny Quagsire BP]
​
Action Replay Codes​
I do own a Action Replay and I do use the following codes
​
Cloning
All Items/Medicine/Berries
IV/EV Check
Legend re-battle codes
​
100% Capture rate (Only on safari Pokemon)​
Awesome Banner made by Luxpluff91
​
Breeding Project's -Open​
I will do Breeding/Capture project's in both 4th [HGSS] and 5th [Black and White] Generation games for 3 credit's each and you and me will only be able to redistribute. Please fill out the form below. I will only take 4 at a time since I don't want to get to busy and worked up. I will add a waiting list and the person at the top of the list will be my first priority once one of the 4 slots becomes free. I will not RNG anything I already got in this thread even for a different Pokeball..Please also not that I cannot catch flawless/near flawless shiny Pokemon since I do not have very many shiny spreads. Last but not least follow this rule​
1: You need a trade thread on Smogon
(I don't like my mons traded outside Smogon)
​
Format​
Pokemon:
Shiny:
Nature:
IV's:
Egg/Gen 4 Moves:
Hatch location:
Pokeball (If CP):
Nickname:
​
Slot 1: Open!
Slot 2: Open!
Slot 3: Open!
Slot 4: Open!
​
I can EV train for you in both 4th and 5th Generations. My Ratio is 2 Pokemon Trained = 1 credit in your thread. I don't want or need copies of things I train since I prefer to breed my own Pokemon and im on a limited box space. Here are my EV training guidelines.
​
I will infect your Pokemon with
I do NOT use EV wings or auto EV with an AR/Pokesav
I use power items and medicine only
I do not Little Cup EV train​
Pokemon:
EV's:
Level returned at:
Moves:
​
Slot 1: Open!
Slot 2: Open!
Slot 3: Open!
​
​