come on barbie

Hosted w/ Elliot
​
Welcome to the seventh Monotype Best Leaderboard Tournament (BLT). This is a team tournament featuring players who qualify through the official tournaments in the Monotype room on Pokemon Showdown! Discussion is welcome in this thread, but keep it civil. The Monotype Server will be using #tours-discussion as a channel for BLT & will be offering the @batchas role for anyone who wants to see the BLT Tour games.
How to Qualify
There are 4 qualifier tournaments in the Monotype room on Pokemon Showdown per day at the following times:
2 AM
EST (GMT-5)
8 AM
EST (GMT-5)
2 PM
EST (GMT-5)
8 PM
EST (GMT-5)
Placing within the top 4 of a qualifier room tournament grants you leaderboard points. Placing 1st earns you 3 points, 2nd earns you 2 points, and the two 3rd places earn 1 point each. At the end of each week (Sunday) the
top 15 players
will be entered into the pool as qualifiers for this tournament. The
top 15
on the leaderboard for each week will be guaranteed a spot in the tournament on one of
six ten-player teams
. If someone places in the top 15 for more than one week, they will not be counted twice, therefore 15 players will qualify each week. There will be 4 substitutes each week, if a player opts to drop out, a substitute will take his/her place in the respective week's top 15.
For the sake of logging qualifiers, please only use
1 IGN
when participating in QTs. I will not search through each person to see that they gained points on an alternate account, then add that to their main. Nor will I accept these points if you come complain to me. For example, if I have 6 points for the week through the IGN "a1012" and then win a tournament on the IGN "b1012" I will not gain those 3 points on the "a1012" IGN.
The qualification phase
begins on Monday February 6th 2:00AM EST (GMT-5)
and will
end on Sunday March 5th 8:00PM EST (GMT-5)
. Therefore, 4 weeks of tournaments will count towards qualification and up to 60 players will qualify to play. Each team will have 8 players + 2 substitutes, so
ALL 60 players
that qualify will be drafted!
At the end of the qualification phase, players who qualify to play must express in this thread that they want to participate by posting "in" with the list of formats they would like to play. A draft will follow players expressing their desire to play, the draft date is
Saturday March 11th @ 9:30am GMT-5
. The draft will follow the "snake" format, where managers will choose players for their team one at a time in a randomized order.
Metagames
The metagames included in this tournament are as follows:
SV Monotype
SV Monotype
SV Monotype
SV Monotype
SS Monotype
SM Monotype
ORAS Monotype
BW Monotype
All battles during the tournament season must be played on the Main Pokemon Showdown Server
(play.pokemonshowdown.com)
or Smogtours
(smogtour.psim.us)
Regular Season
The regular season will consist of 5 round robin weeks where each team will play the other 5 teams one at a time.
Playoffs
The 4 teams with the best record will move on to the playoffs, in a single elimination seeded bracket with the victors being crowned the Monotype BLT champions.
The teams that make the playoffs will be decided as such. Week records first are the most important of course. Followed by battle differentials. Finally, if that does not resolve the issue a tiebreaker will happen, which will be a Bo3 of SV Monotype + both teams will choose one tier.
Subs and Trading
Substitutes are allowed each week. Managers must PM me to let me know that they will need to sub out a player during a week. In addition, a post must be made highlighting me, the opposing manager, and the opposing player to let everyone know that there will be a substitute. I reserve the right to veto a substitute given certain circumstances. Trading in this tour will be allowed, however, every team must still have seven players, meaning each trade has to trade one player for one player, or two players for two players. Trading will be allowed before Week 2; after that, teams are fully locked in. Players that are traded during week one can not play a match until week two.
Activity Decisions
Activity decisions will be made by me, the host. I will perform a thorough investigation to determine the ruling of the activity. If both sides do not make an effort to contact, the match will end as a dead game. If one player makes more effort to make the match scheduled and happens, that player will receive the activity win.
Please schedule appropriately. The best means of scheduling is to post on your opponent's profile wall on Smogon stating your timezone and your availability for the week. Rulings stand as is; whatever decision I make regarding activity or disqualifications are set and will not be reversed at a later date.
Qualifiers
Qualifiers
Substitutes
Laza_Beam
Ty102094

Qualifiers
Substitutes
Railu
Qualifiers
Substitutes
Chaengstein
Vortigern=Me
sakuma natsu
Qualifiers
Substitutes
Craves for Crepes
Noxious Smurf
kapiiku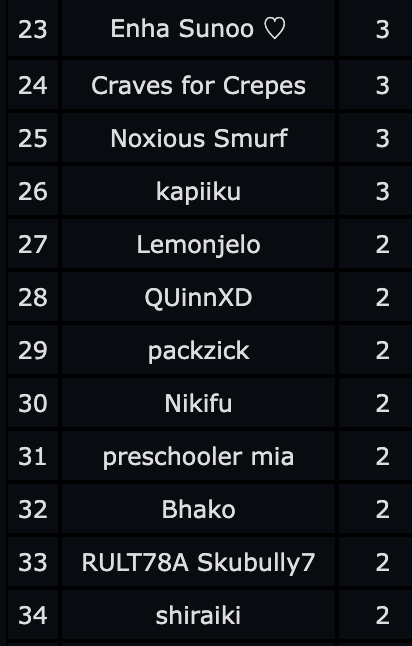 Note:
I will be holding off signups until week 3 for convenience, please do not signup until I tag you for it. Also for the team tournament part of BLT, all matches must have
public replays
that are posted in the appropriate week's thread.
Managers

Bocchi the Rockruffs managed by
LuckyPiper
and
crashy

Inebriated Incineroars managed by
Azick
and
Jojo8868

Megstie Meganiums managed by
Felines
and
Seo.

Rambunctious Rhyperiors managed by
DugZa
and
Neko

SouthPaw Ironfists managed by
Ashbala
and
Chaitanya
Tyrannical Tinkatons managed by
AtraX Madara
and
Rinda
Rambunctious Rhyperiors
Inebriated Incineroars
Tyrannical Tinkatons
Bocchi the Rockruffs
SouthPaw Ironfists
Megstie Meganiums
Inebriated Incineroars vs Megstie Meganiums
SouthPaw Ironfists vs Bocchi the Rockruffs
Rambunctious Rhyperiors vs Tyrannical Tinkatons
Inebriated Incineroars vs Rambunctious Rhyperiors
SouthPaw Ironfists vs Megstie Meganiums
Bocchi the Rockruffs vs Tyrannical Tinkatons
Inebriated Incineroars vs SouthPaw Ironfists
Rambunctious Rhyperiors vs Bocchi the Rockruffs
Megstie Meganiums vs Tyrannical Tinkatons
Inebriated Incineroars vs Tyrannical Tinkatons
Megstie Meganiums vs Bocchi the Rockruffs
Rambunctious Rhyperiors vs SouthPaw Ironfists
Inebriated Incineroars vs Bocchi the Rockruffs
SouthPaw Ironfists vs Tyrannical Tinkatons
Rambunctious Rhyperiors vs Megstie Meganiums
Managers will not be allowed to play in the tour.
OP stolen from
Monotype BLT VI
Last edited: