Own a doghouse?

Approved by The Immortal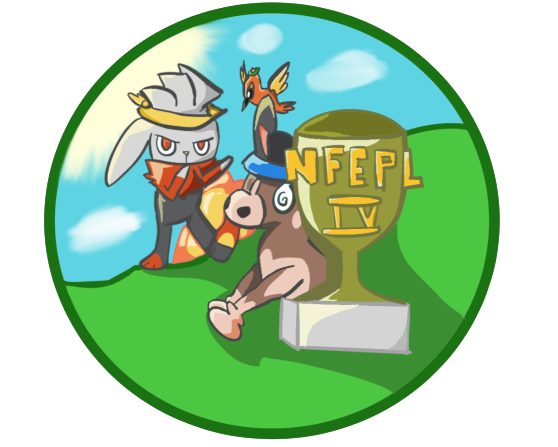 Art by Zephyr2007
Manager Sign-ups
​
With the recent release of the Isle of Amour DLC, introducing a lot of new and cool Pokemon to the tier, it's time to bring back NFE's best and most exciting tournament, NFEPL. There have been a lot of format and slot changes from last year; you can read the
Announcements and Administrative Decisions thread
to find full details of the new format.
When signing up, you can either opt to take charge of a team name from the previous year or sign up with a new team name entirely. However, if you do want to take over a name from the previous year, make sure you have permission to do so from last year's manager. YOU MUST SIGN UP WITH AN ASSISTANT MANAGER and state who they are when signing up. Managers and Assistant Managers will be able to purchase themselves for 15k credits each prior to the draft if they wish to do so. Quick note, but returning managers are not guaranteed a managerial slot on their old team.
The 6 teams from last year are listed below. Currently, the tour will be 6 teams, 8 slots. However, this may change to 8 teams and 8 slots if there are enough player sign-ups within the first 3 days of that thread going up to justify an additional 2 teams.
The Monferno Mafia
The Ravenous Roselias
Bayern Munchlax
The Ferrocious Ferroseeds
The Traitorous Trumbeaks
The Sliggoons
Here is the sign-up format:
Manager:
Assistant Manager:
Team Name:
If taking over an existing team name, are you a returning Manager/Assistant Manager for that team? If not, do you have permission from the previous manager to take over the team name?:
Managers will be chosen based on experience in NFE tournaments, especially previous NFEPLs, their level of involvement in the community and knowledge of the playerbase, their general competence, and prowess in managing in other high level tournaments in other tiers. If you do sign up, it would be worth explaining why you and your assistant manager would be good picks with relation to the above criteria.
The 8 slots this year are:
SS NFE / SS NFE / SS NFE / SM NFE / SM NFE / ORAS NFE / BW NFE / DPP NFE
Manager Sign-ups will be open for one week, til June 28th 11:59 PM EDT, and player sign-ups should go up shortly after on the 29th June.
Last edited: