Hey guys Broken Phobias Here! So I've been playing on ladder and writing down notes in a google doc about what I think about the current PU Beta state. Look guys I get that its still Beta and that we're going to have to wait for more bans but like the meta is so not healthy. I'll just synthesize the notes below from the Google Doc on what should be banned in my opinion. These are just the Pokemon that I have been having trouble with personally. There is a good handful potent threats and I believe this should be addressed I will start with Most borked and go to Least Borked so please Enjoy!
As most of you may already know Gallade in the PU Beta tier is probably one of the scariest things out there currently. I often find myself wondering if I should switch and let it get the Swords Dance up or stay in and hopefully get some chip damage. This however is often a fruitless task because almost always does the opposite of what I wanted to do. I have had to rely Choice Scarf Scyther to revenge kill Gallade 70% of the time, 25% percent it wins the game, and the last 5% is the player making terrible decisions and letting this thing die. When Gallade is at +2 it becomes one hell of a KO'ing machine adding to the already incredible amount of offensive pressure it puts on the opponents team. Another thing to note is that Gallade is capable of OHKO'ing the likes of Regirock and 2HKO'ing the ORAS GOAT Defensive Tangela at +2. The only thing that kind of checks it is Twinkle Tackle Musharna which Musharna in and of itself is another mon that needs to go. If that doesn't say this thing is unhealthy then I'm not really sure what does.
Checks & Counters
Musharna
Choice Scarf Scyther
Sableye
Max Defense invested Rotom-Fan
Gourgiest-Super
Musharna got worse with ban on Baton Pass but that does not stop it from putting in massive amounts of work against Opposing teams. Its terrific bulk in conjunction with its access to Calm Mind and Moonlight make it very good. Another thing to add is that it can successfully make quick work of
ALL
of its Dark-type checks thanks to its Z-move Twinkle Tackle. Not to mention Musharna can run several sets such as the Stored Power goddess and it function as an all around decent Bulky Pivot even without Baton Pass. It is almost impossible to tell which set Musharna is even running in the first place because of its versatility on Balance and Bulky Offense. It is recommend to be running to at least one Dark-type check and one Steel-type check in my opinion just to keep this Pokemon at bay which is very restricting when building Musharna is very unhealthy and should be dealt with accordingly.
Checks & Counters
Bronzor
Metang
Ferroseed
Skuntank
Vullaby
Personally I remember in very late ORAS when everyone was theorymoning and we brought up Gurdurr and everyone was like "There is no way that pokemon is coming here and staying," well guess what its here. This clown is actually one of the scariest Pokemon in the Tier in my opinion. Gurdurr hits like a truck and is able take almost any physical hit you throw at it. It has a great base attack stat of 105 and has Guts, and extremely sought after ability in Generation 7. Gurdurr is one of my least favorite Pokemon to deal with in my opinion because of its above average defenses thanks to Eviolite and its access to Bulk Up, this furthers its offensive presence even more. This Pokemon is able to provide nasty chip damage on whatever comes in and lets be honest with ourselves nothing really wants to take a Guts boosted Knock Off. Gurdurr becomes a lot scarier with its access to Mach Punch which allow to pick up KO's after the target has already been worn down. For all these reasons this is why I think Gurdurr should should leave this tier.

Checks & Counters
Max Defense invested Rotom-Fan
Vivillion
Sableye
Weezing
Granbull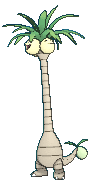 Alola Exeggutor is on a whole new level of what it means to be a Nuke in PU. Thanks to its base Special Attack stat of 125 and mediocre defenses it hits extremely hard breaking through opposing walls, not to mention Devastating Drake OHKO's 90% of the tier. It is able to successfully nuke any non Fairy, or Steel-type the tier, even then due to its fantastic movepool Steel-types still have to be able to stomach a Flamethrower and Fairy-type might have to take a Sludge Bomb. Because of its access to Synthesis, Alola Exeggutor is able to further improve its longevity throughout the match making it an even bigger pain deal with. One thing I haven't talked about yet is it being the best Trick Room user and abuser in the tier in my opinion thanks to it being able to use it independently without needing to be supported by other Pokemon. Alola Exeggutor should be banned due to its offensive versatility, its stand alone Trick Room capabilities, and its incredibly powerful STAB attacks.
Checks & Counters
AV Ice Punch Hitmonchan
Abomasnow
Musharna
Clefairy
Roselia
Granbull
Muk
Honorable Mentions
(Pokemon that are good but actaully aren't broken lol)


Last edited: