Introduction​
Years ago, when I was a stupid child who didn't realise that Ebay sellers don't always tell the truth, I unwittingly made one of the greatest purchases ever.
Let me set the scene. Pokemon Emerald had only just come out in Japan, and we in the West were hooked on sites like Serebii, Psypoke, and PKMN.net for information about all the new and exciting features contained within. Today's cossetted children, with their simultaneous worldwide releases, just don't understand the pain us English-speaking Pokemon fans used to have to go through - while Emerald was released in Japan in September 2004, it didn't come out in English until May 2005 - and that was only in the USA. If, like me, you were in Europe, it didn't arrive until October. More than a whole year later.
But, ever the impatient type, I was determined to beat the odds. Christmas was incoming; I looked on Ebay and saw someone advertising an English copy of Pokemon Emerald.
"How can this be?" I thought. "Did they break into a warehouse and steal it? Did they just translate it themselves?" Well... kind of.
Enter... Pokemon Chinese Emerald. Also variously known as Vietnamese Emerald or, perhaps more accurately, Engrish Emerald.
A bootleg copy which someone (very, very badly) transliterated before there was an official English release.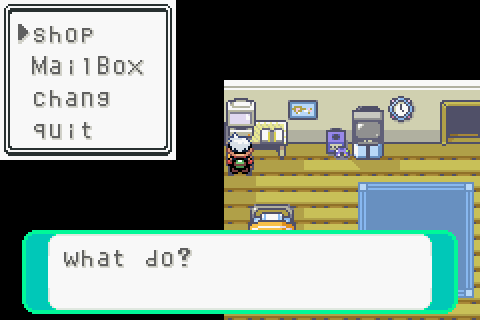 In addition to being a spectacularly poor English translation with bizarrely-named characters and locations, Pokemon Engrish Emerald also appears to have been made from an earlier development version than the finished game. There are numerous minor glitches that point to it being unfinished: the jingle that plays when registering a trainer in the PokeNav cuts off if a button is pressed, Carvanha's sprite is glitched, and the Vigoroth at the start of the game still make Machoke noises.
Despite this, however, it still plays like an ordinary copy of Pokemon Emerald in most respects. It is not recognised by the DS or Gamecube games as a real game, but is capable of trading with the legit versions. However, the save data is pretty unstable (as with any game that displays the "the save file will be loaded" message) and has a tendency to delete itself when rebooted.
But the most notable aspect of this game is, of course, the text and dialogue. It's a pretty sloppy translation, in which a lot of the dialogue from NPCs borders on gibberish and, in stark contrast to the mainline Pokemon games, occasionally strays into profanity. Despite this, unlike in Vietnamese Crystal, there is a surprising amount of consistency and you can just about follow what most of the important characters in the story are saying (to the point where, if you'd never played Pokemon Ruby, Sapphire, or Emerald before, you could probably just about manage to get by).
None of the characters or locations retain their standard English names, even though Ruby and Sapphire had long since been out in English when this was first made. Littleroot Town is "Tianyuan Town" and Slateport City is "Ka Yi City", while Rustboro is "Old Water", "Gold Water", or "Kingshui" depending on who you talk to. Petalburg Woods is rather simply called "The Forest", while Mt Chimney is "The Hill", and the Safari Zone is "The Eden". Mt Pyre is "Sunset Mountain". Sootopolis City is my absolute favourite, as it's called "Double Deers". All gyms are referred to as "Training Fields" and all land routes are known as "Roads" while sea routes are referred to as "Canals".
Much as in the Japanese games, names of Pokemon and characters can only be 5 letters long, though some NPCs have names that break this rule. Many of them have names that sound vaguely Chinese. Professor Birch is "Dr Odd" (or "Aode" in some instances), May is "Chunzi" (though referred to as Chuzi in-battle), Wally is "Daofu", Maxie is "Songbu" and Archie is "Qingbu".
As for the Pokemon themselves, they're referred to as "mons" or "the pocket mon" singularly. Due to the character limit, most of them have simplistic and descriptive names:
Treecko is "Frog", Grovyle is "BFrog", and Sceptile is "0Frog"
Torchic and Combusken are both called "Fbird", presumably meaning "fire bird", while Mudkip is "WMon", presumably meaning "water mon".
Taillow is "TSwlw", presumably meaning "Tiny Swallow", while Swellow is "BSwlw", presumably meaning "Big Swallow".
Skitty is "Sqrel", Nincada is "Earth", Zigzagoon is "Erat" while Marill is "Wrrat" (presumably earth rat and water rat) and Magikarp is "CarpK" (Carp King, I'm guessing). Mew is "Illus", presumably short for "Illusion".
Some unrelated Pokemon share names, too: Geodude and Aerodactyl are both "Stone".
Some names are much more abstract: Numel is "Niqi", Tentacool is " CnAca", Slakoth is "VGMon" (very good mon?). Latias is "Bupi" and Latios is "Xigqi".
Anyway, that's enough of that. Let's get to what we're all here for - the playthrough.
I tend to play with a vague idea of what I want to use so this won't be a Nuzlocke challenge; however, I'm open to taking suggestions for rules to make the experience a little more fun if people can propose some good ones. Otherwise, it'll just be a bog-standard Let's Play. I can only apologise for the poor quality of the photos from here on out, as I'm using my phone camera.
_______________________________________________
Part One - The Journey Begins
I start up the game and meet Professor Birch - sorry, I mean Dr Odd. It's going to be fun remembering to call everyone by their new names. After telling me a bit about himself, he prompts "Boy? Or girl?" Well, he's nothing if not direct. I choose to play as a girl, and Dr Odd barks "Name!" at me like I've just started some ultra-strict military academy. I think for a moment before giving myself the rather quirky-sounding name of Chizz.
​
I zoom down into the game world and am transported to the back of the moving truck where, upon hopping out, mother (referred to hereafter as Ma) informs me we've made it to Tianyuan Town, where I, lucky child that I am, get to have my own room! Makes you wonder what their previous house in Johto was like. Probably a one-room hovel like most houses in the Pokemon world seem to be.
After saying hello to a pair of Vigoroth who sound oddly like Machoke, setting the clock, finding a spare Potion lying around in my PC, and narrowly missing seeing my Pa on the TV, I get to know the neighbours. They seem nice enough, although their son Yuki is incredibly abrupt.
Oh, well. Maybe I just got a bad first impression.
I decide to explore my new hometown some more. The nearby Pokemon lab is empty except for one lonely worker, so I head out north but quickly am stopped by a concerned child.
Turns out it's not just "like" help, it
is
"help"! After venturing onto Road 101, I'm alarmed to see a man being chased by what appears to be a small brown raccoon. Of course, it's a Zigzagoon. Or as this game calls it, an
Erat
. I never got why Emerald made this change, Zigzagoon is about 50 times less threatening than Poochyena. It just makes Professor Birch look like even more of a massive wimp than before (and doesn't he have any Pokemon of his own on hand...?)
Anyway, that's not important. What's important is that I'm a big damn hero. So I promptly step up and choose my first Pokemon to defend him with.
​
I decide to go for Mudkip because reasons. There's not really an optimal starter choice in the Hoenn games imo; Torchic struggles a bit against Roxanne but beyond that they're all fairly decent. If you take Team Magma and Aqua into account, Mudkip is probably the best choice in Ruby while Treecko is probably the best choice in Sapphire. But I'm just going with who I haven't used recently.
Oh hey, it's a female! Nice.
I swiftly despatch this menacing Erat using Bump, this reality's name for Tackle.
Back at the lab, Dr Odd tells me I can keep the Mon as a thanks for saving him, and asks if I'd like to nickname it. Given that
WMon
is a hugely uninspiring name, I choose yes. Stumped for a decent nickname, I decide to go for a nice non-controversial theme and name all of my team members after British political parties. Since Mudkip is blue, it naturally follows that she should be called Tory.
Dr Odd tells me he's going to visit his son, Yuki, and asks if I'd like to come with him. Despite me saying yes, he remains in the lab as I head out. I'm expecting many more miscommunications of this nature to come.
I wander up through Road 101, encountering a new Pokemon on the way: the curious red
BRbug
(Wurmple) before reaching Dao Ji Town, a slightly larger settlement which is home to a big building with a red roof - "the center of the mon". No, really, that's what its called. There's nothing else of particular interest here except from a nerd who won't let me leave and a man who excitedly informs me he's the clerk of the store with the notable blue roof, and gives me another Potion, which the game rather generically dubs "medicine".
Out on Road 103 I encounter a
PIdog
(Poochyena) and
Sgull
(Wingull, shockingly). Battling a couple of them lets Tory grow to level 7, learning a strange new move in the process: Conf. What could this possibly do? Well, funnily enough, it doesn't confuse the foe, so I've no idea why it's called that instead of something more logical like Sweep or Fling. But fair enough.
Yuki is up at the top end, standing aimlessly in a patch of grass, so I go over and say a friendly hello. He instantly demands a battle, which I feel is quite forward, but as I'm given literally no option but to accept I shrug and go with it. He sends out
Frog
, a green lizard-like Pokemon. It goes down within a couple of hits. Not one to let this get him down, Yuki proclaims "so, go back to institute!" which I decipher to mean he intends to return to the lab. I follow him back to Tianyuan.
Inside, without so much as a hello, Dr Odd tells me to take the Mon Map to facilitate my research efforts! Perplexed, I take the Mon Map. It seems that it's some sort of listing which will add Mons when I encounter them. Interesting. Yuki kindly gives me five mon balls, telling me that if I meet "lovely mons", I should use the balls to catch them. Righto, gotcha. I resolve to catch lots of mons. But only the lovely ones.
Oh, okay. I guess I'm dismissed.
Outside, Ma stops me and asks if I want "to be an adventure". Um... come again?
She then strips me naked without warning.
The people in this universe really need to take some lessons in consent.
Still, her assault had a silver lining: new shoes, with which I can run. Someone should really think of a catchy name for that.
I run north to Dao Ji Town and buy some extra mon balls. Something tells me I'll need them. I buy 10, and get given a freebie: the B Ball, which is entirely white rather than half red. Cool! The nerdy boy who was blocking the way west has wandered off so I proceed to Road 102 unimpeded. This route is full of interesting mons - a leafy blue and green creature known as
Dmon
, and a mysterious little white thing known as
Perce
. It seems rather weak, but the Mon Map has this tantalising insight to offer:
It's not long before I'm challenged to do battle by a small child - the brilliantly-named Heshu of PantsChild! It seems that all trainers in this game follow the style "[name] of [trainer class]". Very formal, I'm sure. He only has a weak PIdog, which I see off with ease. I'm also spotted shortly after by a young girl, whose name turns out to be Qiaji of MiniSkirt. Interesting. Are all the trainers in this region grouped by the clothes they wear? If so, I'm not sure the miniskirt would be the band to which I'd ally myself.
There also appear to be some plants growing in this area. The orange tree has something called an OrFrt growing on it (sounds tasty) while the green tree contains the terrifying-sounding PSNFrt! I take both and store them in my bag, hoping they'll come in useful later on.
All the catching and battling has left my team somewhat ragged, so I head for the bright lights in the distance - the city of Tianyuan. Wait, wasn't my hometown called that? Ah, I see. My hometown was Tianyuan Town. This is Tianyuan City. Ironic, since Google informs me that Tianyuan means "rural" in Chinese. So this is a rural city.
A woman is pacing around outside this city's center of the mon. Something about her screams "worried", so I approach her and see if she's alright.
But...? Oh okay, you're just going to leave me hanging. Fair enough.
To the west, I can hear the cries of gulls and the gentle sound of the waves - it seems like we're near a beach! Excited to go paddling, I make for the city's western exit, but some busybody gets in my way and informs me that "when trainers arrive at a new place, their first job is to check out the training field!" But I haven't even said I
want
to be a trainer, you fruitloop. Regardless, he marches me over to the big building in the north of the city, and informs me that this is Tianyuan's training field, and that I should go in once everything is neat. I get the impression he's not going to leave me be until I go in, so I dutifully make sure my hair's lying flat and my collar's straight before I make my way inside.
Current team:
Tory the Mudkip - Level 9
Perce the Ralts - Level 4
BRbug the Wurmple - Level 4
PIdog the Poochyena - Level 3
Stay tuned for part 2, coming soon.
Last edited: