Introduction
Hello, welcome to this RMT. I built this team a long time ago, before the Zama-C suspect, and it's become one of my favourites to use for casual play, so I figured I'd share it here. Something I love to do is take garbage mons from lower tiers and try to make them usable in OU, and this team is built around everyone's favourite electric doggo, Raikou (No-one cares about Boltund). I stopped using this team during the suspect because Zama-C absolutely destroys it, but picked it up afterwards and it still works in the current meta.
Please note that the entire purpose of this team is to make Raikou usable in OU. Therefore, any replies saying 'use Koko' or 'use Zeraora' or likewise will be ignored.
Teambuilding Process

Obviously we start with Raikou. We're using it as a setup sweeper because it's completely outclassed by Koko and Zeraora as a pivot.


As a special sweeper, Raikou naturally gets walled by Blissey, so I added Heatran to help remove it, along with other special walls.



Since both Raikou and Heatran are weak to ground, I needed a flying-type, and Corv seemed like the obvious choice.



Gastrodon is a mon that I think is criminally underrated as a special wall, and it also provides the mandatory ground type.




During early testing I noticed that Corv was often getting overwhelmed by team with a lot of physical attackers, so Clef was added to help take pressure off Corv.




For the last slot I wanted speed control, Knock Off and a physical breaker. I picked Weavile over Rillaboom since Weavile has a higher natural speed tier while also having priority.
The Team
Raikou @ Shuca Berry
Ability: Pressure
EVs: 4 Def / 252 SpA / 252 Spe
Timid Nature
IVs: 0 Atk
- Calm Mind
- Aura Sphere
- Scald
- Thunderbolt
I knew when creating Raikou's set that I needed to focus on the advatages it has over Koko-power and coverage, two qualities which make it a usable setup sweeper. Calm Mind is for setup, Thunderbolt for STAB and then Aura Sphere and Scald for coverage. Aura Sphere is good for things like Ferro and Kyurem, while Scald is excellent for ground types like Lando-T. The only common mons which wall Raikou are Dragapult, Blissey and Swampert, and Dragapult can be overpowered with a few Thunderbolts while Swampert has no recovery. In early playtesting, I found that +1 Scald failed to OHKO Lando-T, while EQ OHKOed back, so I used Shuca to solve this problem. Provided you Calm Mind on the switch, a second CM on the EQ lets you OHKO back while putting Raikou in a powerful position to sweep. Shuca can also be useful for tanking non-STAB ground moves form things like Heatran. Raikou's solid natural speed tier allows it to outspeed most common offensive mons, and special speed control such as Dragapult struggles to revenge kill after CM. Raikou is obviously not the best mon in OU, so the rest of the team focuses on putting it in the best possible position to sweep.

Heatran @ Leftovers
Ability: Flash Fire
EVs: 252 HP / 128 SpD / 128 Spe
Calm Nature
IVs: 0 Atk
- Magma Storm
- Taunt
- Toxic
- Earth Power
This is a pretty standard Specially Defensive Trapper Heatran, nothing too clever here. Heatran can put great pressure on opposing teams, removing and weakening key checks to Raikou, such as Blissey and Glowking. Toxic is great for punishing bulky waters and Garchomp if they try to switch in. Taunt blocks Teleport and healing, Earth Power for Pex and opposing Heatrans. Heatran is also a solid check to Clef and can act as a backup special wall for Gastrodon.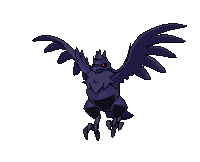 Corviknight @ Rocky Helmet
Ability: Pressure
EVs: 252 HP / 168 Def / 88 SpD
Impish Nature
- Defog
- U-turn
- Body Press
- Roost
This is also a common Corv set, with enough Spdef to check Lele while retaining as much Defense as possible. This is our defogger and counter to Rillaboom, Kartana and other powerful physical attackers. U-turn is excellent for gaining momentum and can help bring in Raikou safely, while Roost is for recovery. Body Press is preferred over Brave Bird because otherwise this team gets absolutely taken apart by Bisharp.

Gastrodon-East @ Leftovers
Ability: Storm Drain
EVs: 252 HP / 4 SpA / 252 SpD
Sassy Nature
IVs: 0 Spe
- Scald
- Earthquake
- Toxic
- Recover
Gastrodon is one of my favourite mons to use in OU, it's so underrated and provides excellent utility. It acts as a blanket check to all special attackers that don't have Freeze-dry or a grass move, and can take on some top tier threats like Specs Pult, Heatran, Torn-T and Hydreigon. Scald is nice for burning physical attackers as they switch in, while EQ is preferred over Earth Power since it does more to Heatran and lets Gastrodon beat Glowking and T-Tar. Toxic is always a nice move and Recover is for...recovery. Gastrodon forms a nice core with Corv as they can both cover each other's weaknesses. We're running Storm Drain over Sticky Hold in order to better deal with rain teams, which could otherwise present a problem. Teching min speed might seem strange, but it actually lets Gastrodon outspeed a bunch of relevant mons under Trick Room, most notably Alolan Marowak.

Clefable @ Sticky Barb
Ability: Magic Guard
EVs: 252 HP / 228 Def / 28 SpA
Bold Nature
IVs: 0 Atk
- Trick
- Stealth Rock
- Moonblast
- Soft-Boiled
Clef is another valuable support mon for Raikou, as Trick Sticky Barb can cripple a lot of strong walls and is nearly impossible to remove. Even after Tricking Sticky Barb, Trick can still put in a lot of work messing up enemy items. Clef is also our rocker and helps take some of the pressure off Corv by handling certain physical threats. The extra special attack Evs are for a kinda niche purpose-they increase Clef's damage output so that it can (most of the time) beat SubRoost Kyurem without running out of PP. This is absolutely required because SubRoost Kyurem is nearly impossible to stop otherwise.

Weavile @ Choice Band
Ability: Pressure
EVs: 252 Atk / 4 Def / 252 Spe
Jolly Nature
- Ice Shard
- Knock Off
- Icicle Crash
- Low Kick
Weavile is the only other fully offensive mon the team besides Raikou, and the two complement each other quite nicely, with Weavile beating a lot of the mons Raikou struggles to break past and vice versa. Ice Shard acts as speed control and, in conjunction with Corv, can reliably shut down SD Scale Shot Garchomp. Weavile also provides the team with a Knock Off user and can put on considerable pressure that can clear the way for Raikou to sweep. Icicle Crash is preferred over Triple Axel because Rocky Helmet sucks to deal with and the flinch chance can sometimes be helpful. Low Kick is solid coverage and lets Weavile beat Ferro and Bisharp on the switch.
Threats
Thankfully this thing is falling off at the moment, but it's an absolute nightmare to deal with. Try to stop it setting up if possible. If it does get setup, go Clef and try and kill it with Flare Blitz recoil.

This one is also pretty uncommon, but can also be dangerous. Clef and Corv can just about handle it with good prediction, but it's best to use Raikou to stop it from setting up if possible.
These two are easier to deal with-use Gastrodon to block water moves and Clef to tank CC. Prediction is sometimes required, but often you can use Corv to scout against Banded sets. If you can remove Urshifu-R's Band with Weavile, Corv can handle it easily.

There's nothing on the team that can hard wall Specs Kyurem, but Scizor is the only thing in the tier that can. Just use Heatran and Corv To play around it. Clef can outright beat SubRoost and and can scout Specs sets if required.
Tips
Importable:
https://pokepast.es/8993a12d876e36dc
A few quick tips if you're interested in using this team:
Don't expect Raikou to sweep every game. Even with team support, some teams are easier for Raikou to sweep than others, like any setup sweeper. Raikou should sweep maybe 1 in 3 games you win. In the other 2 out of 3, sometimes Weavile will get a kill every time it comes in, sometimes you can grind down all your opponents threats with the four defensive mons.
If Raikou isn't sweeping, it's not a deadweight. It can revenge kill stuff like Kartana and pressure offensive teams with Thunderbolt. Sometimes a surprise Aura Sphere or Scald can pick off mons if your opponent isn't familiar with Raikou.
Be careful what you Trick with Clef. This is more general advice, but it can be really important. NEVER Trick against a team with Glowking otherwise you'll lose Clef.
Don't sack Corv if you can help it. Corv is a real important glue mon that can protect the team from powerful physical attackers. Always think twice before sacking Corv.
​



Conclusion

Thank you for reading my RMT, I know it's a bit long. Please feel free to offer improvements or tell me how the team performed for you, although like I said, don't tell me to replace Raikou. This was a really fun team that I loved using, although this RMT took way too long to write (I need a life). I hope you enjoyed.
​