Ability: Light Power

Approved by Ludicrousity.
This Pet Mod is made with the authorization of AquaticPanic, the creator of the Regional Variants Pet Mod.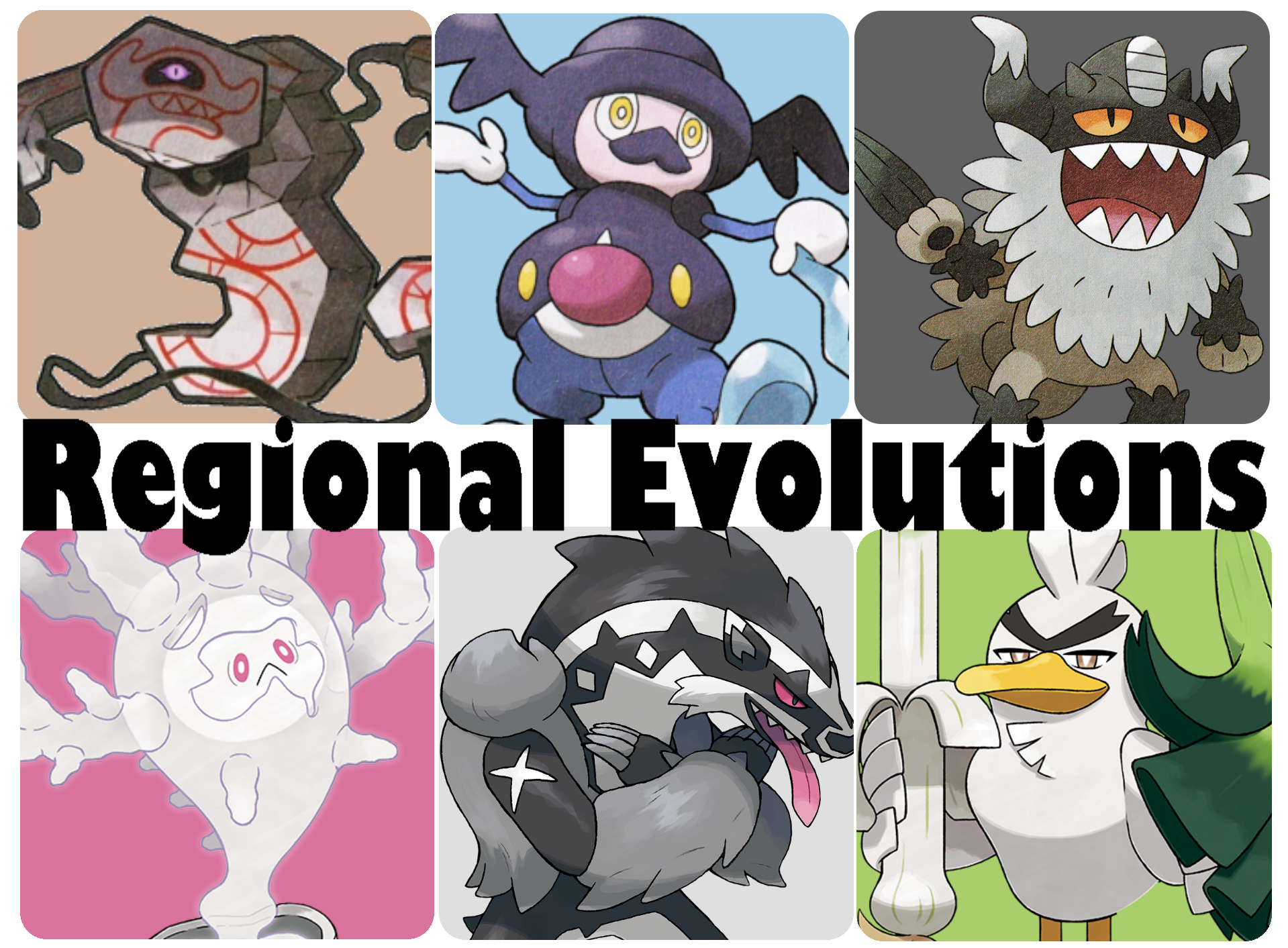 Welcome to a new addition to the Regional Variants, namely the Regional Evolutions! The Pet Mod's premise is all around Regional Evolutions, as well as Regional Variants that gets one. An unexpected but well-receive addition to the Regional Forms concept, it allows the Regional Forms to take a "logical conclusion", allowing some to become stronger akin to traditional cross-gen evolutions (like Obstagoon and Sirfetch'd), or simply being a completely different evolution than the original one (like Runerigus instead of Cofagrigus, as well as Perrserker instead of Persian), allowing for more creativity.
The rules here goes as it follows:​
You may submit for any legal line you'd like as long as you included either a New Stage Evolution or a Replacement Evolution. This includes Branched Evos, except for Eevee and Tyrogue themselves (their respective evolutions are okay). Any other branched evo line will count as a single submission (so feel free to make a whole Ralts line, for an example). Giving just a New Stage Evolution to a canon RV that doesn't have one or the accepted submissions from the Regional Variants Pet Mod (preferably yours) is also permitted.​

You may submit for up to a total of 6 lines. Adding a New Stage Evolution for a pre-existing Regional Variant or an accepted submission (preferably yours) counts as a full line.​

Two people may make a Regional Variant of the same evolutionary line, or a New Stage Evolution for a pre-existing or accepted submissions, as long as they are different from each others.​

Do not make a regional "counterpart" to existing Regional Evolutions, which are as Perrserker, Obstagoon, Mr. Rime, Sirfetch'd, Runerigus and Cursola, as well as accepted New Stage/Replacement Evolutions.​

You also cannot submit an evolution of the original counterparts even if their regional variants have one. This is Regional Evolutions, not just Evolutions.​

You may vote for up to 7 lines per slate. You cannot self-vote more than two submissions, and if you do self-vote, vote for at least three more submissions that aren't yours.​

Minimum BST for the New Stage Evolutions will be 500, with the maximum will be 600. However, try to aim for 500-530 BST range unless you have a good flavor reason for the New Stage Evolution to have a higher BST.​

Pokémon with BST at 486 or higher should not be given a New Stage Evolution. Exception will be given for Regional Forms that are exceptionally poor in competitive scene, or that you honestly think it wouldn't perform so well. Even then, consider a New Stage Evolution as an option in this case instead of mandatory. Otherwise a Replacement Evolution is always an option. Unlike the other rules starting from 3rd March 2022, this is not the hard rule anymore, but I do recommend to stick with the BST lower than 486 unless your submission have bad, bad typing, and will be judged by case-by-case basis.​

Pokémon that is already a three-stage evolutionary line (i.e. Pichu to Raichu, Cleffa to Clefable) are not allowed to received a New Stage Evolution. However, a Replacement Evolution is always possible for these.​

Obviously, don't go with the min-maxing. New Stage Evolutions tend to much stronger than their pre-evolution, so be cautious of what Abilities you will give (remember, only pre-existing Abilities allowed).​

New Stage Evolutions can have up to six new Moves that their pre-evolution(s) cannot learn. If you decided to give it a new Type and that the Pokémon was single-typed, then ten extra Moves (preferably for STAB and flavor) will be added instead.​

Original branched evolutions can each receive a New Stage Evolution as long as it respects the conditions required for one. Otherwise, it's Replacement Evolutions instead. A New Stage Evolution or Replacement Evolution can be branched as well, but no more than two branched evolutions per line.​

For Flavor/Design, be sure to give Height and Weight to your New Stage Evolutions. Weight is especially important does to moves like Low Kick and Grass Knot.​

Not every canon Regional Variant with BST below 485 and are single-stage or stage 1 evo needs a New Stage Evolution. Things like Alolan Marowak and especially Galarian Darmanitan will go overkill with a New Stage Evolution. The rest that would be compatible for a new evolution are fine.​

Replacement Evolutions follows the same rules as standard Regional Variants, but with a new name instead of "[Regional Pre-Fix] Pokémon", and be sure that the design is drastic from the original evolution. They must share the same BST as the original evolution of the Pokémon, like how Perrserker (the Replacement Evolution) and Persian (the original) shares the same BST.​

Does to taking place in NatDex (where Mega Stones and Z-Moves can be used), no Moves goes "unusable". However, unlike Regional Variants Pet Mod, you cannot give a Mega Evolution to any submission regardless if the original counterpart had any. The original Regional Variants Pet Mod is where you can do so, anyways.​
Full Regional Variant submission rule, directly used from AquaticPanic's Regional Variants. This only concerns for new Regional Variants in here.
Pokémon
:
New Typing
:
New Abilities
:
New Stats
:
New Moves
:
Removed Moves
:
Flavor/Design
:
New Typing
: One may shift it around as much as desired. The evolutionary family must share at the least one typing, unless only the evolved form is recieving a Regional Variant (Akin to Cubone).
New Abilities
: Must keep the same amount of abilities as the original or less. They must be already-existing abilities or a clone Ability (new Ability that works a bit differently from the original in term of interacted Type, Stats, Weather or Terrain).
New Stats
: Net change must equal 0. No more than +/- 30 in any single stat. You cannot increase a Pokemon's higher attack/defense if the difference between both attacks/defense is more than 50. For example, Tauros has an attack "gap" of 60 (100 - 40), so you can't add to its higher Attack stat. You can deduct from it, however, to put toward other stats. Also, try not to go too crazy with boosting already powerful stats; Just because you can make a Tyranitar forme with 164 base Attack doesn't mean you should. You may swap a Pokemon's stats before modifying them, but the gap rule still applies to the new higher stat. For New Stage Evolutions, you may add also up to +50 for any (and more than one) stat as long as the attack/defense gap doesn't make more than 50.
New/Removed Moves
: You cannot add more moves than you remove unless you're adding a dual type to a single typed Pokemon. Then you can double the new moves total. If you're just adding a secondary type to a single-typed Pokemon, you can add 10 moves for free. Only clone moves (i.e. a Ghost-type Play Rough) can be created. Please do note that Sketch is banned from being added to a Pokémon. New Stage Evolutions can gain up to six additional moves.
Flavor/Design
: Give flavor and/or design on how the Pokémon adapted to the environment. Giving height or weight is optional to Regional Variants of existing Pokémon or Replacement Evolutions, but for New Stage Evolutions, it is mandatory.
The rules on Flavour are the following:
- All New Stage Evolutions must keep the same theme and Type for their respective "Pre-Evolutions". That said, you may add a Type if the "Pre-Evolution" is single-typed, or change one of the two types (not both). Obviously, New Stage Evolution and Replacement Evolution should be given to only pre-evolutions that are Regional Variants, and not standard variants.
- You may not give Legendary Pokémon, Mythical Pokémon or UBs regional variants. Those will receive their own special slates in the original Regional Variants Pet Mod.
- You may not make a regional variant for a Pokémon based around on the region it debuted. For an example, it would not make sense for Bisharp to get an Unovan Form, since it already is from Unova. The only exception to this rule is the Gumshoos line due to it not being originally from Alola, and the Crawdaunt line for similar reasons.
- Justify the changes done. Explain why the Pokémon has changed types and learned the moves it does. Also please explain how it would look in this new forme. You must give new Height and Weight for a New Stage Evolution while also making it sound more distinct than it's "pre-evolution".
- An evolutionary line must be entirely based on the same region. In other words, please don't make a Kalonese Riolu evolve into a Hoennian Lucario. The only exception to this rule is with Kantonian / Johtonese forms evolving into one another due to the regions being right next to one another.
- It is important to note that you should make the Regional Evolution more like a "logical conclusion" to the Regional Variant form, and not something of an hypothetical Evolution for the original counterpart. This is done in order to keep the regional line unique and interesting.
The name of each region's variants go as it follows:
Kanto - Kantonian
Johto - Johtonian
Hoenn - Hoennian
Sinnoh - Sinnohan
Hisui - Hisuian
Unova - Unovan
Kalos - Kalosian
Alola - Alolan
Galar - Galarian
Orre - Orrean
Ultra Space - Ultra
Note
: For being entirely new species, Regional Evolutions does not have the pre-fix name of the respective region.
----
Spreadsheet:
https://docs.google.com/spreadsheets/d/1GeImWY4trEWs4J3D2MbKbXi0tvkD0SRPEU5XXYGQau0/edit?usp=sharing
It is important to read the spreadsheet as to not repeat ideas, as well as not giving a Pokémon line that already got two Regional Forms + Regional Evos in this Pet Mod.
----
Council (Two open slots left)

Samtendo09


alephgalactus

Have fun with the new era of Regional Variants!​
Last edited: