taken over by me and op stolen from Arifeen
banner done by NB402141
approved by phantom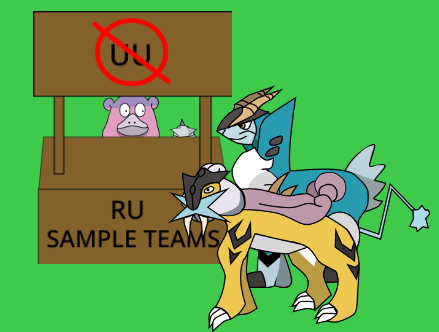 Hello! This thread serves as a place for successful RU teams intended to help new players get acclimated to the metagame and different playstyles. The subtle differences in each tier can make RU seem overwhelming, even to seasoned veterans of other tiers. Here, you can post and archive your own team for new RU players to use.
Posting Guidelines
Give a short explanation of the role that each member of your team plays, and how the team works.
Provide an importable.
You must have some experience with your team before posting. Don't post a team you just made in the team builder and thought looked good. Providing replays is a good way to prove that you have used your team a fair bit and that it's viable; it will also give us an idea of how to play with the team.
Your team must represent the current metagame.
You must PM me here or on Discord (Expulso#7025) with the above criteria for approval.
Do not post a team without approval.
1-liners are not allowed. If you have a question, PM over Discord (My Discord is above) with any questions, I can guarantee I will provide an answer quickly. Posting them here simply clogs the thread and makes it harder for new players to find samples, don't do it.
======
Current Metagame Samples (updated March 11 2022):
CB Lucario JelliGuzz BO by
Feliburn






https://pokepast.es/bee774de1a2e15fe
Now this team is epic. Featuring Guzzlord and Jellicent, 2 mons who have picked up usage recently, due to their usefulness in the meta. I wanted a fun core of CB Lucario and Celebi to break teams, as they are underrated picks. Jellicent was mainly to handle Reuniclus and Metagross. While Guzzlord provided the defensive backbone of a fat dark type. This set is different from the usual rest one, as it's meant to chip at mons like Cobalion, Incineroar, the fairies, etc. And finally the usual Crobat + Steelix.
CM Suicune DemonGross Balance by
Punny




https://pokepast.es/ca1555c8cb0be358
This double-setup team focuses on winning with one of Rest+CM Suicune or "DemonGross" (Cosmic Power) while having a sturdy defensive core of SpDef Umbreon, PhysDef Nidoqueen, and Weezing-Galar and using Scarf Togekiss as speed control. Spammed throughout SCL and RU Circuit Playoffs, the team is quite reliable and can outlast most opponents. Fighting types must be played around with caution, though: particularly against Cobalion and Lucario, make sure to keep Nidoqueen healthy.
Double Ghost CurseLax BO by
Expulso




https://pokepast.es/cc63604132d43536
The basic idea of this team is to spread paralysis for Chandelure and Togekiss while also threatening to win with Snorlax, who also provides plenty of defensive utility against threats such as Volcanion and special Necrozma. Chandelure is Scarfed in order to better check Cobalion for Snorlax, who lets it in fairly freely. I initially had Hex to take advantage of paralysis and more strongly threaten DemonGross, but Energy Ball may now be more useful for Rhyperior and Seismitoad. Dhelmise spins for it, and Coba and Togekiss answer Dark-types well (with Heal Bell Togekiss making Snorlax's Rest less inconvenient). Scarf Flygon is on the team to serve as a great cleaner as usual.
NP Celebi MRise Cobalion BO by
Punny





https://pokepast.es/5a79ef0c0b6bfb3f
NP Life Orb Celebi and Magnet Rise Cobalion give this team two potent wincons that are difficult for the opponent to play around. SubTox Volcanion is able to weaken Noivern for these two to more easily sweep, and Registeel + Gastrodon + Crobat forms a sturdy defensive core that checks most of the meta.
Rhyperior Obstagoon BO by
odr





https://pokepast.es/4a3d998b6fb3c892
Posting my Rhyperior team so my guy can get more usage I hope. We are using an offensive rocks set with enough attack to be able to ohko bulky Starmie with Megahorn and bulky Nasty Plot Togekiss with Stone Edge. The teams biggest weakness is opposing scarf Togekiss as it outspeeds everything besides your own togekiss and your flying resist has no spdef investment, so somebody needs to not get flinched to bring that guy down. Calm Mind Raikou also is likely just gonna 6-0 you if you run into it but luckily everyone thinks that mon is bad. Starmie also lacks Psychic in favor of Teleport here so things like Heracross and Volcanion are a bit more tricky to handle, but teleporting into goon is usually the solution.
Last edited: