taken over by me and op stolen from Arifeen
banner done by NB402141
approved by phantom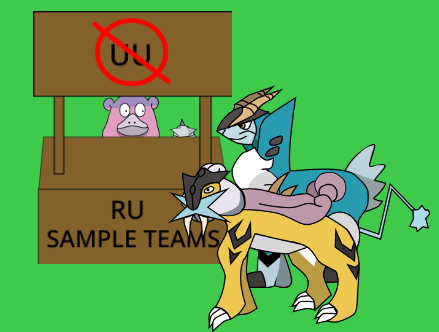 Hello! This thread serves as a place for successful RU teams intended to help new players get acclimated to the metagame and different playstyles. The subtle differences in each tier can make RU seem overwhelming, even to seasoned veterans of other tiers. Here, you can post and archive your own team for new RU players to use.
Posting Guidelines
Give a short explanation of the role that each member of your team plays, and how the team works.
Provide an importable.
You must have some experience with your team before posting. Don't post a team you just made in the team builder and thought looked good. Providing replays is a good way to prove that you have used your team a fair bit and that it's viable; it will also give us an idea of how to play with the team.
Your team must represent the current metagame.
You must PM me here or on Discord (Expulso#7025) with the above criteria for approval.
Do not post a team without approval.
1-liners are not allowed. If you have a question, PM over Discord (My Discord is above) with any questions, I can guarantee I will provide an answer quickly. Posting them here simply clogs the thread and makes it harder for new players to find samples, don't do it.
======
Current Metagame Samples (updated May 27 2021):
Last edited: