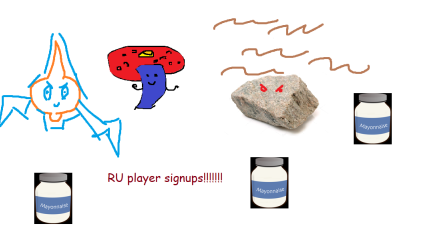 Shoutouts
lighthouses
for the art​
Welcome to the 7th edition of the #Rarelyused Premier League. We will once more be working with eight different teams, working to a traditional 4-team bracket after the regular season. Again we will be following the precedent of no midseason sign-ups, so be sure to get in on these A$AP. The tiers that will be played in this tournament will be the following:
(x4) SWSH RU
(x2) SM RU
(x1) ORAS RU
(x1) BW2 RU
As per the tier discussion prior, we will be omitting the manager slot as a traditional role, however once again managers will be allowed purchase themselves for 10k +1.5k*win in last rupl
Sign-ups:
Those looking to participate should post in this thread using the following format:
Name:
Metagames Played:
Foreseeable Inactivity:
If possible, adhering to this format rather than delving into 'meme'-centric posts would be ideal, as it would make formatting them for spreadsheet purposes far more convenient and I can all but guarantee it will not be as funny as you think.
Managers:
The following users have been selected to manage for this year's rendition of RUPL:
Speaking generally, many managers will choose to open a Discord chat with which to talk with players and potentially hold try-outs, and if that is the case then I will be sure to include links to their respective channels in this thread for your convenience.
With all that said, gl to all players looking to participate, let's have a fun season!
AND FOLLOW THE FORMAT!
- Edit by MrAldo who thinks he's entitled to edit other people's threads
Last edited by a moderator: