Hi Smogon, I'm back with another VGC RMT! This is a team that has gone through many iterations and revisions up until this point. Series 8 allowing one restricted legendary on your team has been quite an enjoyable format - certainly a healthier metagame than allowing 2. When I built it, I had a simple goal in mind: get as high on the ladder as possible using Ho-oh - it's always been one of my favourite legendaries, and now that it gets access to Regenerator again, it fits my switch-heavy playstyle extremely well. Currently, the team is standing at 2,548th place in the world - not an amazing benchmark, but enough that I feel confident enough in the team's structure to post this RMT.
Overall, this team wins battles by outmaneuvering opponents and taking advantage of positioning. Lapras's Perish Song forms an effective win condition, but if the game progresses in a way that prevents me from using it, it's still perfectly effective.
Team at a Glance






Sunset (Ho-Oh) @ Safety Goggles
Ability: Regenerator
Level: 50
Shiny: Yes
EVs: 180 HP / 252 Atk / 76 Spe
Adamant Nature
- Sacred Fire
- Brave Bird
- Earthquake
- Recover

Plessie (Lapras-Gmax) @ Weakness Policy
Ability: Water Absorb
Level: 50
EVs: 204 HP / 4 Def / 196 SpA / 4 SpD / 100 Spe
Modest Nature
- Freeze-Dry
- Hydro Pump
- Perish Song
- Protect

Fume-Shroom (Amoonguss) @ Coba Berry
Ability: Regenerator
Level: 50
EVs: 236 HP / 156 Def / 116 SpD
Sassy Nature
- Spore
- Rage Powder
- Pollen Puff
- Protect

Hobbes (Incineroar) @ Figy Berry
Ability: Intimidate
Level: 50
EVs: 252 HP / 252 Atk / 4 SpD
Adamant Nature
- Fake Out
- Flare Blitz
- Lash Out
- Parting Shot

Nikola (Raichu) @ Focus Sash
Ability: Lightning Rod
Level: 50
EVs: 4 HP / 252 SpA / 252 Spe
Timid Nature
- Fake Out
- Nuzzle
- Eerie Impulse
- Volt Switch

The Boss (Urshifu) @ Life Orb
Ability: Unseen Fist
Level: 50
EVs: 252 Atk / 4 SpD / 252 Spe
Jolly Nature
- Wicked Blow
- Close Combat
- Sucker Punch
- Detect



As mentioned before, the team started with Ho-oh. I did a bit of research online and found that it formed a strong FWG core with Lapras and Amoonguss.




Ho-oh and Amoonguss enjoy switching out to each other for Regenerator, so I decided that I may as well lean hard into the advantageous-board-positioning playstyle with Gothitelle and Incineroar.




I don't really know what I intended to do with Azumarill - not Perish Song, that's for sure, since I tried to do a Belly Drum set that could work in Trick Room.





Quickly realizing that it's no longer 2015, I dumped Azu in favour of Rillaboom. It was... alright, but I couldn't figure out how to use it effectively. The doubling up on types with Amoonguss was also awkward (as was Azu and Lapras).



(



)
The team had some problems. First of all, it was too support-heavy with not enough offense. Second, my win rate against Thundurus was almost zero. To fix the first issue I tried Urshifu, and then for the second, Raichu. The team went through various iteration of the main four and then two of Incin, Raichu, and Urshifu, but never had all that much success.






Finally, I came to see the writing on the wall that Gothitelle actually isn't very good on this team, and that preventing the opponent from switching doesn't mean much if it's also just sitting there. After getting rid of Gothitelle, I finally started winning games again. And so stands the team in its current state.
Oh, and I
still
haven't figured out how to make custom EV spreads. One of these days, I promise...
Set details
Sunset (Ho-oh)
@ Safety Goggles
Ability: Regenerator
Adamant Nature
EVs: 180 HP / 252 Atk / 76 Spe
Shiny: Yes
- Sacred Fire
- Brave Bird
- Earthquake
- Recover
First, one thing must be made clear: Ho-oh has the best Shiny in the game. That agreed upon? Yes? Good. Ho-oh is the entire point of the team - as stated in the introduction, Ho-oh wasn't chosen for its benefits, but rather the team was built around Ho-oh. That's not to say that it doesn't bring anything to the table - it has a fantastic matchup against Zacian and sun, enough SDef to laugh in the face of most other restricteds even without investment, and amazing survivability due to Regenerator. Obviously Ho-oh is brought to nearly every battle due to opportunity cost, but there are two ways that I typically play it. The first is to lead with it and turn 1 Dynamax, especially to match the opponent's, spamming Airstream and Quake and sponging hits so that it can switch out and Regenerate once Dynamax expires. The second is to bring it in the back once its threats have been taken out so that it can clean up in the lategame.
The choice to not run Protect was not made lightly, and I definitely find myself wishing I had it sometimes. That said, I think Recover is still a better move on Ho-oh because in the lategame, many opponents will try to Protect against it, and Recover is fantastic to punish that. Safety Goggles were chosen as the item because, frankly, I hate Venusaur and Goggles Ho-oh is such a hard counter to it. Ignoring Rage Powder and sand/hail damage are also nice bonuses. I was running Jolly with max Atk/Spe for awhile, but switched to a bulkier spread to better take advantage of Regenerator and Dynamax.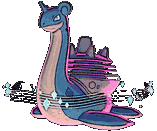 Plessie (Lapras-Gmax)
@ Weakness Policy
Ability: Water Absorb
Modest Nature
EVs: 204 HP / 4 Def / 196 SAtk / 4 SDef / 100 Spe
- Hydro Pump
- Freeze-Dry
- Perish Song
- Protect
I was a bit skeptical of Lapras at first, which is strange considering how badly I always lost to it in Series 7, but it has been nothing but amazing. Near-impossible to OHKO when Gigantamaxed and supporting its whole team with Resonance, Lapras is probably the most important Pokemon on this team. It's usually used as a lead and turn-1 Dynamax, especially if the opposing team looks particularly unfriendly to Ho-oh. Perish Song is still as reliable a win condition now as it has always been; it's not uncommon for Lapras to pick up two KOs when Gigantamaxed, and then immediately use Perish Song once it returns to normal to win the game. The EV spread is a bit more offensive than usual, but works well with Weakness Policy to pick up KOs.
Fume-Shroom (Amoonguss)
@ Coba Berry
Ability: Regenerator
Sassy Nature
IVs: 0 Spe
EVs: 236 HP / 116 Def / 156 SDef
- Spore
- Rage Powder
- Pollen Puff
- Protect
Literally unchanged since my last RMT on this site, Amoonguss STILL does the same job it's always done. That said, it's darn good at its job - counters Trick Room, puts things to sleep, redirects, Regenerates, and sometimes heals its ally as well. On this team in particular, Amoonguss's resistance to Electric is especially useful because of the prevalence of Regieleki and Thundurus, and Lapras's and Ho-oh's shared weakness to the type. Amoonguss is a common lead alongside Ho-oh or Lapras for this reason, and having one of Amoonguss or Ho-oh on the field and the other switched out is especially powerful because of Regenerator. Overall, Amoonguss is the glue that holds the team together.

Hobbes (Incineroar)
@ Figy Berry
Ability: Intimidate
Adamant Nature
EVs: 252 HP / 252 Atk / 4 SDef
- Fake Out
- Flare Blitz
- Lash Out
- Parting Shot
Incineroar was chosen, quite simply, because it is the best Pokemon in the format. Its set is also unchanged since my last RMT other than the held item, but it's such a consistent Pokemon that there's not really much to be changed. In the Series 8 metagame, Incineroar is frequently brought as a more passive counter to Calyrex and Zacian-C thanks to Intimidate. Furthermore, Parting Shot + Fake Out + Intimidate is an incredible combination; as mentioned before, my playstyle is very switch-heavy and focused on getting an advantageous board position, so being able to switch in, drop the Attack of both opposing Pokemon, Fake Out, and then drop an opponent's attack power even more while switching out is so, so useful. Intimidate support is also great for Ho-oh, who has great SDef but doesn't enjoy physical hits all that much.
Nikola (Raichu)
@ Focus Sash
Ability: Lightning Rod
Timid Nature
EVs: 4 HP / 252 SAtk / 252 Spe
- Fake Out
- Eerie Impulse
- Nuzzle
- Volt Switch
The most recent Pokemon to be added, Raichu was chosen to address the team's crippling weakness to Electric, and is brought to most games in which the opponent has one or more of Thundurus and Regieleki. It's also a natural counter to Galarian Moltres, another matchup my team struggled significantly against. Raichu is similar to Gothitelle in that it was primarily chosen for its ability; unlike Gothitelle, however, it can actually do things on its turns. Paralysis, while nerfed, is still a crippling status condition on most opponents, especially in a metagame where Calyrex-Shadow, Zacian, and Max Airstream exist, and helps shore up my team's lack of speed control. Eerie Impulse is a move that I frankly forgot existed until gen 8, but a -2 to SAtk is very strong, especially against opposing Dynamax, and complements Incineroar's Intimidate well. The final two moves are fairly self-explanatory, and again support good board positioning - come in, Fake Out, spread some paralysis or SAtk drops, and get out.
The Boss (Urshifu)
@ Life Orb
Ability: Unseen Fist
Jolly Nature
EVs: 4 HP / 252 Atk / 252 Spe
- Wicked Blow
- Close Combat
- Sucker Punch
- Detect
First of all, yes, I know that Life Orb isn't the best item for Urshifu. Unfortunately, Raichu already has the Sash, and frankly needs it more. Beyond that... what else is there? Urshifu is so frail that most fairly strong neutral hits are going to OHKO it, with or without LO recoil, so I'd rather have power than survivability.
That said, I'm going to be frank and say that I have absolutely no idea how to use Urshifu. I understand that it's most effective lategame when things are weakened, and that it benefits from a speed boost or paralyzed opponents, but I have yet to figure out how to really make it work well. If anyone has suggestions either for a replacement or for how to play Urshifu better, I would love to hear them.
Conclusion
Please let me know what feedback you have for this team so that it can be improved even further! Overall, there aren't a ton of matchups that this team struggles against; the only thing that stands out to me right now is WP Solgaleo + Bulldoze Spectrier, but even that is manageable.
Last edited: