Won SPL Predictions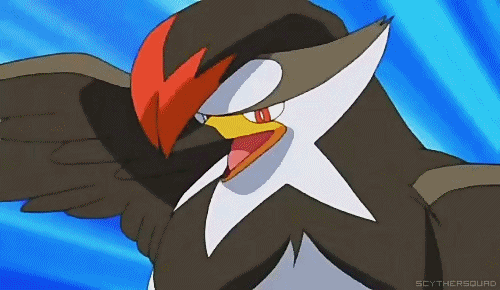 [OVERVIEW]
For the most part, Staraptor is outclassed by other revenge killers and late-game cleaners in the tier, such as Kartana and Landorus-T, due to the extreme detriment of constant recoil damage from its STAB attacks, which easily puts it in range of priority from Pokemon such as Mega Mawile and Ash-Greninja. Additionally, Staraptor's extreme frailty with no notable advantage over other hard-hitting revenge killers such as Tapu Lele and Kartana ensures that it's a fringe option at best.
[SET]
name: THUNDER P
move 1: Brave Bird
move 2: Double-Edge
move 3: U-turn
move 4: Final Gambit / Defog / Tailwind
item: Choice Scarf
ability: Reckless
nature: Jolly
evs: 252 Atk / 4 Def / 252 Spe
[SET COMMENTS]
Staraptor attempts to be a revenge killer that can take out offensive threats such as Greninja and Mega Alakazam, and it also aims to be a late-game cleaner with Brave Bird against weakened offensive teams. Staraptor is a niche but usable wielder of Choice Scarf due to the obscene power of its STAB moves when boosted by Reckless, as well as its unique options for its filler moveslot. However, this set is still poor at accomplishing its job because it succumbs quickly to recoil damage, has a horrible typing, is weak to Stealth Rock, and doesn't have any notable advantages over other Choice Scarf users beyond just being strong. On the other hand, Landorus-T is much bulkier and has better coverage, while Kartana has Beast Boost and a higher Speed tier, making Staraptor more useful only in niche situations.
[CREDITS]
- Written by: [[<LL>, <144451>]]
- Quality checked by: [[<exploudit>, <303291>], [<talah>, <248449>]]
- Grammar checked by: [[<P Squared>, <168392>]]
Last edited: