Team Ichigo Mashimaro
I find it very difficult to build a strong defensive team, and I'm also not a huge fan of stall play (experiencing restalk Bronzong vs. Psychic/Ice Beam restalk Cresselia ruined me for that game). You might find it easy to imagine my dismay at the predominantly stall-based UU metagame, where very few offensive teams have displayed the ability to succeed on a competitive level. This is my attempt at an offensive UU team.
The focus of this team is absorption: in order to avoid being slowly worn down by opposing attackers, each of these pokemon carries at least one immunity which are used to make constant switching a non-issue. Most, if not all of the team members possess enough offensive capability to force switches, which leaves me time to cause my own bits of damage in the early- to mid-game, and free setup turns for sweeping in the late-game.
The reason I named this team Ichigo Mashimaro is that each team member resembles a character from the rather loli-tastic anime quite closely, either in function or appearance. I also got into the habit of naming my favorite working teams after anime, so this is my first one for UU. Feel free to skip the descriptions, if that's not your thing; I do think that fans of the anime would appreciate them, though.
The Team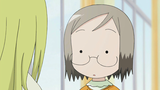 "Sakuragi Matsuri"
Claydol
@ Leftovers
Bold
Ability: Levitate
EVs: 252 HP / 144 Def / 104 SpA / 8 Spe
- Stealth Rock
- Rapid Spin
- Earth Power
- Shadow Ball
Matsuri wears glasses, and Claydol has a whole bunch of eyes. That's really the only connection I could make, but I do think they look a little similar.
Very basic Claydol. It's my main Aerodactyl and Steelix switch-in as it resists QuakeSlide, and serves as a defensive buffer and team supporter. Ninetales and Swellow can't afford to take 25% on each switch-in, and they're doing that more often than they would on a typical team. Earth Power threatens Steelix, Shadow Ball hits ghosts trying to block Rapid Spin (and definitely helps to wear down Rotom for swellow to sweep in lategame). Claydol is overall a lackluster team member who doesn't really do anything other than spin and set up rocks, and I think there is much I can do to improve it, if not replace it.
"Matsuoka Miu"
Poliwrath
@ Leftovers
Adamant
Ability: Water Absorb
EVs: 252 HP / 252 Atk / 6 Spe
- Substitute
- Focus Punch
- Ice Punch
- Hypnosis
The picture hopefully explains it all. Miu is the only one brash enough to take on the role of the ever-angry Poliwrath, anyway.
Also a very basic team member. I have no idea about significant EV benchmarks for Poliwrath, so I maxed HP, letting her take some pretty powerful hits, and maxed Attack, since she is offensive. There is probably a better way to maximize Poliwrath's defenses though. I also am concerned about Poliwrath's speed, because she should ideally be outrunning Meganium (as I've found through experience), but without that bit of speed, there's not much to do against the plant, dinosaur thing. As for gameplay goes, Focus Punch and Ice Punch give me very good coverage; Substitute is obviously there to let Focus Punch be a viable, multiple-use move, and Hypnosis is wonderful for team support, though I'm a little displeased with its accuracy and wish my strategy didn't rely on it that much. Nevertheless, I have VERY few problems using this moveset effectively; as I've stated, my concern lies mostly with the EV spread.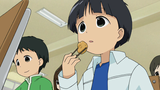 "Sasazuka"
Lanturn
@ Leftovers
Modest
Ability: Volt Absorb
EVs: 40 HP / 136 Def / 252 SpA / 80 Spe
- Confuse Ray
- Discharge
- Surf
- Ice Beam
Token dude. There are really only 5 main characters in Ichigo Mashimaro, and I was kind of pressed for names, so Sasazuka is the only one who fit the bill. He really has nothing to do with Lanturn at all, but he is a pretty cool guy overall anyway and so is Lanturn. It'll have to do.
Here's a somewhat offensively oriented parafusion set. I tend not to send Lanturn in against unresisted special attacks so extra SpD is unnecessary. With a little bit of hax on my side (which honestly isn't too outlandish here), I can manage to beat most Hypno and Clefable one-on-one, though Grumpig is still a full stop. I did end up borrowing this ev spread from the analysis, since I wanted to utilize the leftovers number; I found that there were no significant benchmarks in between using 80 evs and 216 Spe EVs, so I dumped the rest in Def to let Lanturn take physical and special hits equally well.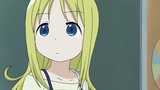 "Ana Coppola"
Ninetales
@ Life Orb
Timid
Ability: Flash Fire
EVs: 6 HP / 252 SpA / 252 Spe
- Nasty Plot
- Dark Pulse
- Flamethrower
- Energy Ball
The prettiest one of the bunch (no pedo). This one was pretty easy.
With Poliwrath, I'm already carrying sleep support, so I ran Dark Pulse here to 2HKO Hypno and Grumpig after a Nasty Plot. Clefable is also 2HKOed by a boosted Flamethrower, although I do have to watch out for Thunder Wave. I can usually rely on Ninetales to pull off a reliable lategame sweep, and if Lanturn has proven successful at drawing out the opponent's special wall midgame, I don't even need to boost in order to clean up.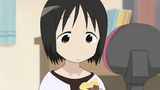 "Itou Nobue"
Swellow
@ Flame Orb
Jolly
Ability: Guts
EVs: 6 HP / 252 Atk / 252 Spe
- Pursuit
- U-Turn
- Facade
- Quick attack
The (much) older of the Itou sisters, Nobue is a heavy drinker and smoker. I guess that has enough to do with Swellow's Toxic/Flame Orb usage. Besides that, both Swellow and Nobue have nothing really special going on, so they're kind of alike.
I usually find myself switching Swellow in on ground attacks, so I've omitted the common Protect in favor of all-out offense. Pursuit and U-Turn cause a little bit of damage each turn I use Swellow, hitting the fleeing opponent for 80 and the incoming counter for 80 as well. Pursuit also prevents Rotom from walling me into oblivion lategame, dealing near-KO damage on most variants. Guts + Facade's power isn't something to be taken lightly, either, as it easily 2HKOs Weezing, meaning rock and steel types are the only definitive stop; all five other members of the team, fortunately, have answers for these. Quick Attack takes care of choice scarfers who otherwise give me a lot of trouble, and can occasionally revenge kill a weakened Aerodactyl if really necessary.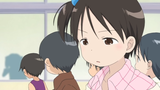 "Itou Chika"
Absol
@ Life Orb
Naive
Super Luck
EVs: 252 Atk / 16 SpA / 240 Spe
- Swords Dance
- Sucker Punch
- Psycho Cut
- Fire Blast
Chika has a funny thing coming out of the right side of her head, so it stands to reason that she'd be an Absol. Besides that, Chika is my favorite Ichigo Mashimaro character, and Absol is definitely my favorite UU pokemon overall, making this one a real no-brainer.
Technician Scyther, Manectric, and Aerodactyl scare this team pretty badly. Scyther can threaten absol with Quick Attack, but otherwise, the ever-handy Sucker Punch takes care of all three. Fire Blast solves my Weezlix problems, 2HKOing them both easily. Psycho Cut takes care of the ever-threatening fighting types. It plays a little like Chain Chomp; I Swords Dance first turn, switch out if it's Weezlix. Second time around, ridiculous surprise! Here, have a Fire Blast. The Life Orb Boost gives me that extra kick in the lategame, when I might not have enough time to swords dance, but if I manage to grab that Attack boost (usually on kids trying to dodge Sucker Punch) the results are devastating. This Absol takes a spectacular amount of prediction to use effectively, but provides very satisfying damage output to make up for all the hard thinking work. :3
Unresolved trouble spots:
Status
- Without an Aromatherapist or a resttalker, I lack a true all-purpose status absorber. Hypnosis is pretty debilitating in the early game, when Swellow isn't burned yet; I do have trouble dealing with the likes of Jumpluff or Persian leads. Most of the time I let Poliwrath sleep in order to activate Sleep Clause, and play from there. Thunder Waves are kind of easy to predict, easily handled by Lanturn; Will-o-wisp and Toxic are obviously going straight to Ninetales and Swellow.
Grass Attacks
- Grass-type attacks hit 3/6 of my team super effective. Fortunately, Ninetales is my number one switch-in, and usually forces grass-type attackers out. I usually don't have many issues playing around these, but HP Grass is the main reason I sometimes have issues with Manectric.
Swellow
- My only "counter" is my own Swellow, to be honest. Basically I choose Facade and hope that I win the coin toss for speed. If Poliwrath manages to get a Sub up, Swellow obviously won't dare to stay in, but otherwise, opposing Swellow Brave Birds it into oblivion. Having Rotom here instead of either Lanturn or Claydol would definitely work, but the former is important for 100% electric absorption, and the latter for Rapid Spinning.
Scyther
- While I can beat it midgame with loads of prediction and some rocks up, lead Scyther, on the other hand, is a super problem. Obviously it doesn't take Stealth Rock damage, and even though Swellow outspeeds it, she's not at all powerful enough to KO a full health Scyther, and from there it's 6-0. Again, to wall Scyther, i've considered running Rotom over Lanturn. I've also considered placing Swellow in the lead, but she lacks protect and thus has no strong opening move (granted, sometimes, neither does Claydol). If I don't run Rotom, would using a lead Protect/Facade/Quick Attack/Pursuit swellow be viable? Or in that case, should I run U-Turn over Quick Attack, as useful as a priority move may be? This is perhaps the most daunting problem I've got.
I hope that covers it all, and through posting this I hope to get both specific advice for this team, and a little bit of general advice for offensive UU team building. Please rate my team!