aloha





Moderator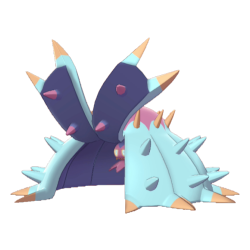 [SET]
name: Defensive
move 1: Scald
move 2: Recover
move 3: Toxic / Toxic Spikes
move 4: Haze
item: Black Sludge
ability: Regenerator
nature: Bold
evs: 252 HP / 252 Def / 4 SpD
[SET COMMENTS]
Set Description
========
Toxapex's massive bulk allied with a strong defensive ability in Regenerator allows it to check a myriad of threats, such as Choice Band Aegislash, Dracovish, Kommo-o, Cinderace, and others. Its role is very pronounced, although it does leave many openings for the likes of Conkeldurr, Hydreigon, and Clefable, as well as being trapped by Dugtrio.
Toxic is preferred over Toxic Spikes to immediately get a Toxic off on the likes of Life Orb Hydreigon and Dragapult, the former of which can set up on Toxapex, and the latter that can be a nuisance with Will-o-Wisp + Hex. However, Toxic Spikes also brings some hefty benefits, directly hampering the longevity of Pokémon like Seismitoad, Tyranitar, and Hippowdown, should the opponent fail to remove Toxic Spikes before sending them in. Haze is the ideal last move as it denies opportunities for the likes of Substitute Corviknight, Calm Mind Clefable, and Tauntless Hawlucha to set up on Toxapex. Knock Off can also be used it its stead, to help cripple threats like Clefable, Hydreigon, and Dragapult by removing their items. Baneful Bunker is also an option on the last slot that can help Toxapex 1v1 Dracovish outside of rain, as well as nab an easy poison on Zeraora and scout moves from Choice item variants of Aegislash, Kyurem, and Dragapult.
Toxapex can play rather recklessly thanks to Regenerator, thus going for a Scald or a Toxic as your opponent pivots around might be preferred to clicking Recover in most circumstances. Hex Dragapult appreciates a teammate that can spread Toxic. Sylveon and Clefable are also great allies helping check opposing Dragapult, Hydreigon, and, with speed investment, even Conkeldurr. Steel-types like Excadrill, Aegislash, and Jirachi are also welcomed to force out Clefable. Rotom-H and Rotom-M are also great allies as they can pressure Defog users like Corviknight and Mandibuzz to help keep Toxic Spikes up. Defog users like Corviknight and Mandibuzz are crucial, as Toxapex can easily get overwhelmed if the opponent sets up Spikes. In turn, they also provide a Ground immunity. Just pack something for the Rotom formes, such as a Rotom-H of your own, Hydreigon, or Dragapult, if you go with either of these.
[CREDITS]
- Written by: [[, ]]
- Quality checked by: [[, ], [, ], [, ]]
- Grammar checked by: [[, ], [, ]]
[OVERVIEW]

Toxapex's massive bulk allied with a strong defensive ability in Regenerator allows it to check a myriad of threats that can't hit it for super effective damage, such as Choice Band Aegislash, Kommo-o, Cinderace, and others. The utility provided by Toxic Spikes or Toxic is very nice for Toxapex as few Pokémon have access to these moves in S&S OU, and it can still threaten some Toxic immune Pokémon with a Scald burn, such as Corviknight and Ferrothorn. However, Toxapex gets taken advantage of by a lot of Pokémon in the current meta, such as Conkeldurr, Hydreigon, Life Orb Clefable, Hatterene, and countless others. Being a Water-type unable to reliably check Dracovish also brings a lot of problems that the likes of Seismitoad and Gastrodon don't have to worry about. Making Toxapex constrain building a bit in that sense. Lastly, Toxapex is easily trapped by Dugtrio.

[SET]
name: Defensive
move 1: Scald
move 2: Recover
move 3: Toxic / Toxic Spikes
move 4: Baneful Bunker / Haze
item: Black Sludge
ability: Regenerator
nature: Bold
evs: 252 HP / 252 Def / 4 SpD

[SET COMMENTS]
Set Description
========

Toxic is preferred over Toxic Spikes to immediately get a Toxic off on the likes of Life Orb Hydreigon and Choice Specs Dragapult, which can set up and fish for drops otherwise, as well as to prevent Substitute variants of these two from switching in freely, as they would if Toxapex were to run Toxic Spikes. However, Toxic Spikes also brings some hefty benefits, especially if Toxapex is paired with teammates that can take advantage of Corviknight and Mandibuzz, such as Rotom-H, Seismitoad, and others. Toxic Spikes allow Toxapex to directly hamper the longevity of Pokémon like Seismitoad, Tyranitar, and Hippowdown, should the opponent fail to remove Toxic Spikes before sending them in. It should be noted that still, a good number of teams only have a few Pokémon vulnerable to Toxic Spikes between normal Poison immunity and Levitate or Flying-type. Baneful Bunker makes it pretty much guaranteed for Toxapex to beat Focus Sash Dugtrio one-on-one if Stealth Rock isn't up. It's also the preferred choice to help the matchup against Choice locked users, most notably Dracovish, allowing Toxapex to always beat it out of rain, even with Stealth Rock up. But can also help to scout versus both Choiced Aegislash variants as well as Choice Band Tyranitar. Nevertheless, Haze can also be used not to give opportunities for the likes of Substitute Corviknight, Calm Mind Clefable, and Tauntless Hawlucha to set up on Toxapex. Black Sludge along with 252 Defense EVs and a Bold nature is instrumental for the Dugtrio and Dracovish matchup. But Eject Button and Shuca Berry can also be of consideration.

Usage Tips
========

Baneful Bunker variants of Toxapex should also be healthy if it intendeds to actually check Dracovish, avoid letting your opponent get up Spikes if they pack it, as well. Avoid letting Pokémon come in for free on Toxapex though, if you don't need Toxapex very healthy for your opponent's team, Scalding or Toxicing Pokémon (such as Hydreigon or even Conkeldurr before Flame Orb activation) as they come in instead of recovering could be very useful, especially since Regenerator helps keep Toxapex healthy and gives it a lot of freedom if it isn't constrained to check Dugtrio or Dracovish.

Team Options
========

Ferrothorn is a great teammate, especially if Toxapex is Baneful Bunker, that way they deal with Dracovish relatively safely, as Ferrothorn's Spikes and Iron Barbs can help wear it down if need be. Though keep in mind this core isn't failproof versus it as Dracovish can still overwhelm the core if it has Spikes support from its allies. Without Baneful Bunker, though, it's important to have Dracovish checks as teammates. Seismitoad formes a great core, setting up Rocks and providing an Electric immunity, very important for Rotom-H. While both are Water-types they don't actually stack any weaknesses and Toxapex covers some Pokémon Seismitoad can't. Just be careful about Rotom-M with this core. Other Water Absorb Pokémon like Gastrodon could be considered, but the core is pretty passive and fitting Stealth Rock could become a problem. Rotom-H and Rotom-M are also great allies as they can pressure Defog users like Corviknight and Mandibuzz to help keep Toxic Spikes up as well as provide a Ground immunity. Rotom-H deserves a special mention as it can check Rotom-M pretty handily. Defog users like Corviknight and Mandibuzz are crucial, as Toxapex can easily get overwhelmed if the opponent sets up Spikes. In turn, they also provide a Ground immunity. Just pack something for the Rotom formes if you go with either of these. Hydreigon and Dragapult, albeit more offensive in nature, can help check Rotom-M as well, and can take advantage of Toxic and Toxic Spikes helping wear down their checks, especially Hex Dragapult. Speaking of Hydreigon, checks to it, such as Sylveon and Specially Defensive Clefable to defensively check it, or Infiltrator Dragapult and Choice Scarf Hydreigon to revenge kill it, are very important, as Toxapex is complete Hydreigon bait, especially Toxic Spikes variant.

[STRATEGY COMMENTS]
Other Options
=============

Shed Shell can be used for Dugtrio, but the added utility of Black Sludge is too good to pass up, helping with close calls like Choice Band Aegislash's Head Smash and Dracovish's Choice Band Fishous Rend.

Checks and Counters
===================

**Magic Guard and Magic Bounce**: Courtesy of their abilities, Life Orb Clefable and Hatterene really don't mind anything Toxapex can do and can force it out with ease. The former can threaten it with a Thunderbolt or Psychic, whereas the latter can set up on Toxapex or just 2HKO with Psychic.

**Dugtrio**: Dugtrio can beat Toxapex one-on-one with Stealth Rock up if it manages to avoids a Scald burn. The rarer Choice Band variant can also always beat Toxapex regardless of burns.

**Substitute Users**: Substitute users like Dragapult, Hydreigon, and Corviknight can take advantage of Toxapex thanks to Scald's low power coming off of Toxapex's low Special Attack stat, as well as Toxic being shielded by Substitute. Haze means Corviknight and Hydreigon can't set up on Toxapex, but Dragapult and Hydriegon can still beat it one-on-one most of the time.

**Super Effective STAB**: Toxtricity, Excadrill, and Dracozolt are strong enough to severely dent Toxapex, however, only the former can safely switch in, and they're prone to get worn down quickly.

[CREDITS]
- Written by: [[, ]]
- Quality checked by: [[, ], [, ], [, ]]
- Grammar checked by: [[, ], [, ]]
Last edited: