Approved by Eevee General and The Immortal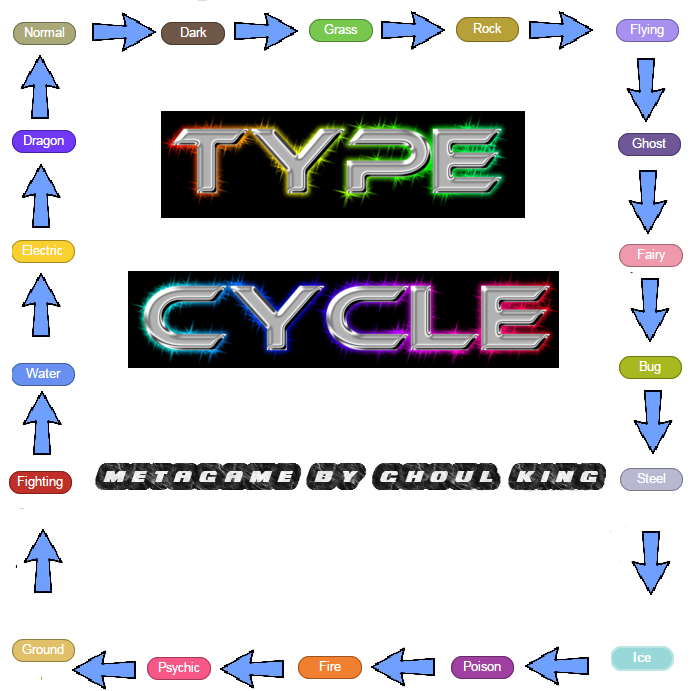 Type cycle is an OM unlike almost all others- instead of changing abilities, moves, or game mechanics, it changes something different- typing. The above image illustrates the rotation of the cycle of types of
Moves
and
Pokemon
in
Type Cycle
:
Of course, you might be thinking, What does it mean? That image is somewhat confusing- what is it talking about? The answer is simple- the type changes, that's all. It doesn't modify the types in any way, it only changes who has what type. As you can see, Arceus' type has just changed from Dark to Grass.
Now at this point, might be wondering about damage outputs without STAB to back it up. Will this metagame only favor those pokemon with deep movepools? Well, worry not- because your moves change type as well. Fire Blast, which formerly hit steel types and was some of the best coverage with flying out there, now hits Fighting and Poison types- the former Ice and Ground types
A few Abilities work a bit differently from what you're used to, as well. Specifically:
Normalize converts all moves to the
type.
Pixilate converts
moves to the
type. (eg Hyper Voice)
Aerilate converts
to the
type. (eg Return)
Refrigerate converts
moves to the
type. (eg Explosion)
Blaze bolsters
type moves when low on health. (eg Fire Blast)
Torrent bolsters
types moves when low on health. (eg Waterfall)
Overgrow bolsters
type moves when low on health. (eg Giga Drain)
Swarm bolsters
type moves when low on health. (eg Megahorn)
Gale Wings adds +1 to
type moves. (eg Brave Bird)
Dark Aura bolsters the damage of all
type moves. (eg Knock Off)
Fairy Aura bolsters the damage of all
type moves. (eg Moon Blast)
Sand Force boosts
,
, and
moves during a Sandstorm. (eg Iron Head, Earthquake, and Stone Edge, respectively)
This is to ensure the Abilities behave "as intended", especially as most of these Abilities would be useless or nearly useless for the Pokemon that get them if they kept their original behavior.
Scrappy
is excluded because no type is immune to Dark or Water anyway. Note that, for instance, Kangaskhan can still benefit from Scrappy via Earthquake, which is now Fighting-typed, so Scrappy is not left entirely in the lurch.
All other Abilities behave as in Standard.
Of course, move typing has changed, so Levitate protects from Psyshock rather than Earthquake, because Psyshock is now
while Earthquake is
type. One way of thinking of it is that Abilities with type-specific
offensive
modifications are adapted while
defensive
modifications are not. The effects of items are completely unchanged, as are most other effects that interact with typing, such as Gravity still disabling immunity to
, though don't expect them to do their thing to the same moves or Pokemon.
The one other special-casing is
Stealth Rock
: not only is the move itself
typed, but the rocks it sets derive their effectiveness from the
type, rather than the
type.
Other than these points, everything's behavior logically follows from the cycle being imposed on
Pokemon
and
Moves
: Arceus's default typing is
, while granting it the Splash Plate will convert it to the
type -but the plate itself still boosts
type moves, because items are excluded from this effect. Venusaur gets 50% more Special Defense when in a Sandstorm and is immune besides, while Golem is sad-faced and hurt by the sand. Moves that benefit from weather, unrelated to their type, still benefit -
Hurricane is still rain-loving- while type-based benefits and penalties apply to the newly re-typed moves, such as Close Combat failing in Desolate Land while Sludge Wave gets a 50% boost to its damage.
Hidden Power, however, remains unchanged
Ruleset
OU-based
Additional Bans: Metagrossite.
Unbans: Not yet.
Last edited: