Judge a Pokemon: The Smog's 4th Art Panel
Introduction
Welcome everyone, to the fourth installation of Judge a Pokemon, where commentators from the Smeargle Studio community come together to give you our brutally honest opinions of Game Freak's Pokemon designs! I promise this will be another delightful round of judging!
Reference: Kinneas's comments are in red, Swaggersaurus's are in yellow, Chou Toshio's are in green, Alchemator's are in blue, and Fatecrashers's are in beige.
1. Reuniclus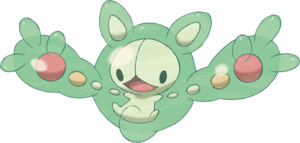 That time again already, huh? Alright, let's get to it. Reuniclus is an excellent mon. Hell, it's probably my favourite design of the fifth generation, so this is a great place to start. When the design emerged, a lot of people seemed oblivious to the source of its inspiration, the water bear. At a glance, you can see why. How did that terrifying microscopic octopod become the cute bubbly little fella we know and love today? Well, through a little process that made Game Freak successful all those years ago with Red and Green -- imagination and creativity. The fundamental elements of a water bear (or a tardigrade, sorry) have been simplified, with a few quirky design elements fabricated (cutesy segmented teddy bear ears, anyone? D'aww) and a simple, attractive color scheme. 10/10. Now c'mere and gimme a hug!
People are divided on whether they like Reuniclus or not. Get it? Divided, cell division?
Anyway, my opinion on Reuniclus changes from day to day. There's something very cute about it at least, kind of like a teddy bear in lime jelly. It's not so cute when you consider what it's based on, the tardigrade, which is a little organism which bumbles around, giving it the nickname the 'water bear.' I like the use of red to add some color to the otherwise desaturated design, but overall it doesn't move me in any particular direction.

So...what is this thing? Seriously, if anyone would like to explain it to me, I'm all ears. It's a ball of plasma? Is it a cloud of...I don't even know where I was going with that. Yeah, I just really don't get this thing at all. Well, whatever it is, it's kind of cute and kind of cool looking. I wouldn't say it's a bad design but I'm just stumped. Scratch my noggin.
I have no idea what this thing is supposed to be. A fetus? A rabbit? A pudding experiment gone wrong? All I know is that it's cute as heck, what with its squishy looking 'aura,' petite body, cute visage, and big ol' 'hug me' paws. The overall greenish color scheme gives it an ethereal quality that is well suited to its Psychic typing, and complements the odd nature of its body composition. The shiny version's weird purple and blue scheme leaves something to be desired, but that is a small blemish on an otherwise well done Pokemon design.

I don't care if Reuniclus is a Tardigrape or a Water Beaver or whatever, it's adorable. So squishy, soft... hug it when sleeping... Those big paws, cute button eyes. It looks like something I would draw. I can't really think of any negatives of Reuniclus' design, it's just overall a very fun and cute Pokemon.
2. Alomomola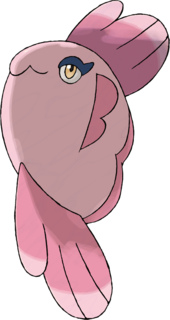 Has anyone seen a real sunfish? Little lesson, the name Alomomola comes from another common name for the sunfish, the mola mola, whereas a sunfish is called a Manbou in Japanese and the Pokemon's name is Mamanbou. Those people at GF sure are creative, but sometimes not with their Pokemon. For anyone who has seen a real sunfish, you know they are some of the most bizarre and mysterious looking creatures ever! Despite being extremely primitive fish, with a mostly cartilage skeleton and completely lacking a swim bladder (much like sharks), they possess round eyes that show the "white" of the eyes, and round gaping mouths on a flat face...the result is they look, well, almost human in a very bizarre sort of way. Question then: How did such an amazing and bizarre creature beget something as typical and dumpy looking as Alomomola? >3> A Pokemon based off something as cool as the sunfish should not have ended up as one more typical bulky Water-type version 32.1 that looks like a Luvdisc evolution? All I can say is GF really missed out on making something really cool here. Too bad.
By the way, as an interesting final anecdote, sunfish belong in the same family as trigger, balloon, and pufferfish. This means that Alomomola's closest relative isn't Luvdisc, it's Qwilfish.
Everybody is going to mention the travesty that is Alomomola not being a Luvdisc evolution, but I don't have the heart to do so. I actually quite like this design, it brings out my feminine side nicely in fact. While a pink heart is hardly original, the fins are certainly a welcome addition, especially the different colorations. I'm not exactly a fan of the strange eye, but I suppose it can't all be pink (as much as I'd like that).

Obligatory Luvdisc evo comment. What an ugly looking pink blob of mediocrity. Not only did this hideous halibut troll everyone into thinking Luvdisc was getting a mighty evolution, but it fueled even more hype about what OTHER Pokémon might be evolving too. Well we all know what happened there: we got nothing. As Swaggersaurus said, we've gone straight from the best to the worst here, so I'm trying to think of some positives for Alomomola. It's name is a Palindrome? Girafarig did it better. It sports the 5th highest base HP stat of all Pokémon? Heh, it's not even the 5th best bulky Water-type.

And straight from the best to the worst. What is there to say about this design? It looks too much like Luvdisc to be wholly new mon. Hell, it would have looked too much like Luvdisc to be an interesting enough evolution to have. Both fish, both shaped like hearts, both in some gaudy girly color scheme, both hideous, both not helping us stem the tide of generation one fanatics raising their signs high at the picket line, where you can try to cover your ears, but you can't help but hear the chant: "GIVE... US... A FUCKING FARFETCH'D EVOLUTION." W- We're sure they're working on something totally inspired. Please, uhh, stay indoors.
The once rumored Luvdisc evolution has lost its claim to fame, and thus is forever doomed to be another mediocre Water-type. There really isn't that much to distinguish this Pokemon from Luvdisc, from the pink coloring to the feminine heart motif. It does have those goofy baseball glove-looking fins, but that isn't nearly enough to redeem this yawn-inducing design. The shiny version suffers from the same ugly shade of purple as Reuniclus, which certainly doesn't help.
3. Elgyem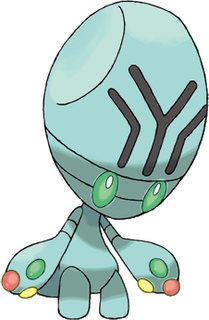 Elgyem is the best thing ever. It's both cute and cool and especially in my incarnation. It could be quite British too - it would look superb holding up a cup of tea and a scone (scohne) with those hands, which are lovely and varied in color. The eyes are perfect for an alien - not creepy, but definitely different from the general style of eyes of other Pokemon. The little tail balances the design nicely, especially against the head. The black patterning, though I don't know its meaning if it has one, nicely fills the forehead, allowing it to get away with a big head without looking unnatural. This design is out of this world!
Another cute 5th Gen Psychic-type that unfortunately has to compete with the Reuniclus family in that category. We've got a head too big for its body, and eyes too big for its head, in addition to the cuddly paws. The blue / green color scheme is also reminiscent of Reuniclus, and I'm sorry to say that if it weren't for a certain Smeargle's Studio moderator, Elgyem would be another one of those Pokemon relegated to the back of people's memories, along with the likes of Finneon and Delcatty. Sorry bud, the cutesy alien was already perfected back in 1st Gen, and its name was Clefairy.

And it doesn't get much better! Here's an excerpt from the Bulbapedia article on Elgyem: 'Elgyem is a corruption of the abbreviation LGM, a common term used to refer to aliens, meaning "Little Green Men.' Man. Really? And the transition from the inspiration to the design suffers, too. Supposedly all its colorful little stony appendages are supposed to resemble Stone Henge et al. Frankly, in a world full of psychic kittens, dogs that breathe fire and birds that command storm clouds, this little rock can't help but underwhelm you when you are told it is an alie-- Hold on. I mean, actually stop the presses. Why even make those comparisons? We had a perfectly badass and spooky alien in generation three, fellas! No mon is going to top Deoxys for spookiest Pokemon alien of all time any time soon. That is, of course unless you read Staryu's Pokedex entries...

Oh Elgyem, is there an artist on Smogon who hasn't had a request to draw you? Elgyem is pretty cute with that big oversized head and puppy dog eyes. I especially like its little stubby legs. It also appears to be asking for a hug, or maybe it's saying "come at me bro?" I doubt that, but if Elgyem is supposed to be an alien then there's a possibility that it could be planning an invasion. Hmm... Unless it's planning to hug us all to death then I don't think there's much chance of that being successful.

Eh, little green men from mars aren't very creative. I was pretty underwhelmed by this thing's design in-game. Admittedly, thanks to Sugimori's cute official art, and a certain Smeargle Studio moderator, this little guy has grown on me a bit. He's a weird freaky little alien, but he still makes me go dawwww for some reason. I dunno it's cute. Too bad its evolved form is so outclassed by Reuniclus; but at least this one is easier to understand.
4. Durant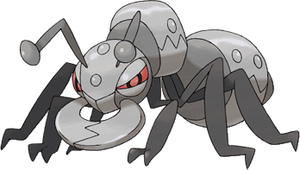 If you recall, back in Issue #14 I declared myself a member of team Aianto, or Durant, as they're now known. Nothing's changed! Here's why: beastly insects have been briefly touched upon by Game Freak in the past, with Scyther, Heracross, and Pinsir (totally more awesome than Heracross, don't let anyone tell you any different. Even if it's you) and the ant itself has had brief encounters with featuredom (seriously, I'm going somewhere with this) in Scizor as a red ant, but that's all. Durant changes all that, and in style. An enormous steel-armoured badass, Durant gives you the impression it's a part of some awesome ant army (which befits the source material) in an endless war against its evil Heatmor overlords, with the weight of the world borne on its enormous killer jaw. Oh, you and me both, Durant, you and me both... This is a badass design.
Though things have evidently turned out differently, when I first saw a sprite sheet for Black & White I called this fella as my favourite Pokémon of the new generation. Of course, it's only a tiny ant thing, but that's what makes it so cool. The eyes are menacing, and the armor-plating makes it clear that you don't want to mess with this bug. The rivets and the teeth-like texture on its segments make what could be a very bland design intricate. Unfortunately I can see the others having a bit of a [Du]rant, but it's pretty clear I'm right, right?
Ugh...look at this ugly thing. Game Freak basically took an ordinary ant, colored it silver, slapped on some cartoony menacing eyes straight from Stewie Griffin's face, and called it a day. Its legs and antennae are just so boring; its one redeeming feature is the powerful looking jaws, but it's still underwhelming when you consider Pinsir's original badassery. If you're looking for a Bug / Steel, forget Durant, Scizor and Forretress are where it's at.

Eh, I'm kind of disappointed that it looks so... real? I don't know, for me this Pokemon is kind of like Hippowdon or Zebrastrika in that it's just a bit too much like the actual animal for my taste. I will admit that it is a very cool looking steel-plated ant thing, looking like it's ready to tear some heads off. Very bad ass. I just wish that it was just a bit more "Pokemon-ized," and a little less like a carbon-copy of a real ant. Still cool though.
@Fate-- I'm still waiting for my Forry evo; come on, it's a bag worm (a type of moth larvae), how does it not evolve? >3>

Yes. Sankey Ant. Here in the UK we had this TV Program called Robot Wars. The premise was as simple as the name: people built robots and the robots smashed each other up. If you ever watched Robot Wars then Durant is clearly the robot Dead Metal. Aside from that comparison, Durant has gained quite a following in the VGC community and is often dangerously underestimated as it's capable of outspeeding Terrakion and hitting like a tiny metal truck. Durant is definitely one of the better looking Bug-types, even if it does look slightly too much like a real ant.
5. Deerling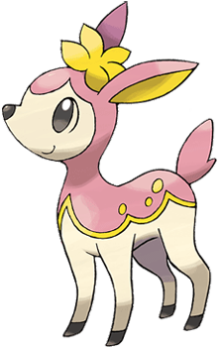 Well if we're going to get at Durant for being too ant-like then I don't know what to say about Deerling. It's a Deer, or fawn to be exact. I don't find it particularly cute either. And is it just me or does it look a bit like Shaymin? I think with the seasonal changes to this particular evolution line's appearance, Game Freak could have been more creative than a simple recolor. Sawsbuck was done well but Deerling seems like a second thought. Wholly underwhelming. Oh deer indeed, Alch!
Oh man, Sawsbuck is great! I love its elegance in its Winter incarnation, and its colors in the Autumn version and- wait, we're not talking about Sawsbuck? If I'm honest, this terrible excuse for a pre-evo to such a great Pokémon is heartbreaking. While it could be seen as cute, the design is effectively Bambi in Pokémon (as was the common name for it pre-release), and slapping some wide-eyes on some baby doesn't make something automatically cute. This is less "Deerling" and more "Oh deer."

Alch... If you have nothing nice to say, don't say anything at all... Thumper the bunny and all his woodland friends would be very mad at you! >:( (I'm joking, here at JAP we give everything shit). Yeah, so Deerling is basically Bambi in Pokemon form... what would you expect from a baby dear? Seriously, what other route could you possibly take this thing in? I don't think there's any creativity here, but really there's no real room for it either. GF gave us a cute baby deer, and that's it. Hey, anything to get our hands on Sawsbuck right!
By the way, petting a baby deer has got to be one of the most disappointing experiences ever. You pet a domestic kitty or puppy and you get squishy and fluffy. Pet a baby deer and you feel like you're running your hand through iron wool coming out of a skeleton! Too much bone! :( Expecting a deer to be cuddly is like expecting Flygon's Outrage to hurt things.

Couldn't get through this issue without a little more d'aww, could we? Well, I mean it is pretty adorable, but... There's not much to it, is there? I mean, it's a pretty cute fawn, but it isn't anything Disney haven't already done. I guess, though, to look at a static image of Deerling and criticize the various design elements is to miss the point. What makes this design great (maybe the only thing, but it is substantial) is the tie to the seasons and the game mechanics involved with this. It looks pretty bland now, but get some levels under its belt in the right season (psst, Autumn), and prepare to meet Sawesomebuck Sawsbuck.
I applaud Game Freak for its seasonal changes gimmick with regards to this Pokemon's evolution line, but whereas Sawsbuck's design undergoes significant changes, all Deerling gets is a boring recolor, I mean, they could've at least made the flower on its head change or something! I have a feeling that Game Freak came up with Sawsbuck first, and then designed the obligatory cutesy pre-evo. It's adorable, but there's nothing particularly special about it either.