Tournaments Coverage
Introduction
Smogon's Tournaments section is the place to be for those who wish to challenge themselves and play against the best of the best. Elite players from all over the world gather in our forum to play in a great variety of challenging formats and interesting metagames. Anyone is welcome to join most tournaments, so if you aren't already a regular, join tournaments today!
New in Tournaments
The Smogon Grand Slam has now been officially announced and a subforum has been made where all Grand Slam-related threads will be posted. Iconic has posted the list of tournaments, hosts, and dates in his introductory thread, so check it out to find out when your favorite tier's Open tournament is going to start.
If you're looking for more casual live simulator tournaments, check out the new #pokemon Cups thread, which you can find stickied in the tournaments forum. Playing in these tournaments and talking in #pokemon is a great opportunity to get to know the community.
The new Major Tournament Schedule has also been posted. You can find out when your favorite official tournament is going to start by viewing it here.
Expect more exciting new developments soon!
Current Official Tournaments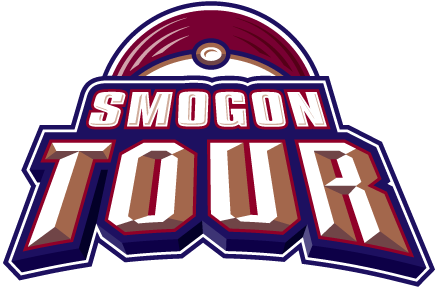 Smogon Tour Season XIII
The Smogon Tour's thirteenth season is about to draw to a close, and the fight for a spot in the top 16 is really heating up. Some players, such as reyscarface, DracoMalfoy, and Bloo (all three of whom made top 16 in the previous season) have secured their places, while others are either barely top 16 or barely outside. With only one more week left, many of these players will be desperate to earn as many points as they can to ensure they make the season finals. Good luck to everyone!
While making the season finals is an impressive achievement in itself, the sixteen qualifiers will still have a difficult path ahead of them before they can win the coveted Smogon Tour trophy. Only one of the sixteen players that qualify will survive the four elimination rounds that follow the conclusion of the season and win the entire tournament. To all those who make the top sixteen: I both congratulate you and wish you good luck for the remainder of the tournament.

Smogon's VGC 2012 Tournament
Smogon's second-ever official VGC Tournament is well underway, with the quarterfinals just around the corner. We have been witness to quite a number of early upsets, with some big VGC names going down early; however, among the remaining players, there is certainly some talent to be found. There is a relatively even distribution of players known for their success in other Smogon tournaments and players who focus on The Pokemon Company International's live events. Among those still in the tournament are tournament veterans Bluewind and Heist, as well as an old-school veteran, Fish.
Keep a close eye on the remaining rounds: in just a few weeks, a new Smogon VGC champion will be crowned and join Tyler as a holder of the orange VGC trophy.
Upcoming Tournaments
The World Cup of Pokemon VII: easily one of Smogon's most anticipated tournaments, this year's World Cup signups are due to be posted on May 27.
The No Johns Tournament: DPP Edition: hosted by Bloo, this tournament will be yet another No Johns-style tournament with extremely short deadlines, this time in the DPP OU metagame.
The Trading Places Tournament: hosted by vonFiedler, this tournament involves determination of skill from team advantages by having the players exchange their teams after their first battle.
Showdown Randbats Tour!: hosted by Steamroll, this tournament will be played on the in-development simulator, Pokemon Showdown!, using its random battle system.
The Single Pokemon Tournament: hosted by FireMage, this tournament involves players using six of the same Pokemon, with the option to use different movesets and configurations on each individual Pokemon.
Mirror Match Tournament II: hosted by Steven Snype, this tournament completely removes team advantage from the equation by forcing players to use identical teams against each other.
Recently Completed Tournaments
Official Tournaments
Smogon Premier League 3
In last edition's Tournaments Coverage article, the SPL had just reached its most exciting stage: the playoffs. The semifinalist teams included, in order of seeding, The Ever Grande BIGs, The Indie Scooters, The Alpha Ruiners, and The Team Raiders. In two extremely close match-ups, the BIGs beat the Raiders 6-5 and the Ruiners beat their archrivals the Scooters, also 6-5.
In the finals, xtrashine kicked it off for the Alpha Ruiners by beating idiotfrommars in BW OU. Ojama was quick to even the score for the BIGs, beating Folgorio in another BW OU match. Earthworm then brought the lead back to the Alpha Ruiners by ousting HalloweeN in ADV OU. Crystal_ extended the Ruiners' lead to 3-1 by beating Tiba in RBY OU, and pi face brought the score to 4-1 to the Ruiners by beating Syrim in BW Ubers. McMeghan brought the Ruiners a single victory away from winning the entire competition by beating Limitless in BW OU. Closing it out for the Ruiners, Bad Romance defeated zdrup15 in BW RU, bringing the score to an impressive 6-1. The remaining matches were also completed (Kevin Garrett > Blightbringer, Sixonesix > Sapphire Birch, FlareBlitz > MarceloDK, and kael > Jorgen), giving a final score of 8-3 to the Alpha Ruiners.
Congratulations to the Alpha Ruiners! After losing in the grand finals of the past two Smogon Premier League renditions, they finally managed to pull through and take home the championship. Members of the winning team can easily be spotted on the forums brandishing their red trophies: they include General Manager The_Chaser, Assistant Managers Scofield, Sk, and whistle, and players Anna, Bad Romance, Blightbringer, Crystal_, Earthworm, FlareBlitz, Folgorio, kael, kokoloko, McMeghan, pi face, Sapphire Birch, and xtrashine.
For those interested, there are some interesting posts made by members of The Alpha Ruiners to celebrate their victory, including a post by kael.
The Smogon Premier League could not have been a success once more without the efforts of LonelyNess and especially Synre, who took over for LonelyNess after he decided to retire from his position as host on short notice. A special thanks also goes out to idiotfrommars for his entertaining and informative Inside the SPL series, and sirndpt for taking over the SPL statistics thread and keeping it up to date.
Interview with The_Chaser

How confident were you feeling going into the playoffs, given the outcome of the past two years for the Ruiners?

I always thought we could win each week and I was pretty confident except when we were 5-4 / 5-5 vs Scooters.

What do you think your team had that the other teams didn't that allowed you to prevail?

Less bad luck / choking and having a player win in RBY.
Other Tournaments
Smogon Superstars III was the third edition of the annual invite-only Smogon Superstars tournament. This year saw new hosts take over the tournament: ENZ0 and undisputed. As in the last version of the tournament, the format was changed considerably and this year focused on the ADV / DPP / BW OU metagames. After each participant played eighteen matches over three rounds, the sixteen players who were the most successful advanced to the playoffs. xtrashine was the highest-seeded player going into the playoffs, with a 15-3 record. The rest of the top sixteen consisted of Ojama, IronBullet93, wilson46, Philip7086, Krack, 6A9 Ace Matador (the previous edition's champion), Aeroblacktyl, M Dragon, Iconic, Eo Ut Mortus, DracoMalfoy, Taylor, Heist, McMeghan, and Stone Cold.
After five rounds of double elimination playoffs, the final pairing was Loser Bracket champion Eo Ut Mortus and Winner Bracket champion Aeroblacktyl (aka MoP). Eo managed to defeat MoP in one best-of-three series 2-1-1 (after the first DPP match was drawn), rendering the two on even grounds for the final series. Finally, MoP managed to defeat Eo by winning ADV OU and BW OU, winning the tournament. Once a tournament star, MoP was one of the major players in the tournaments scene during the 2006-2008 period. While he never fell off most top players' radars, he had not had much success in tournaments recently. By winning Smogon Superstars, MoP has proved that he still has the talent to take out a major tournament for himself. Congratulations MoP! Good job to ENZ0 and undisputed too; while the usual drama surrounded this tournament at various times, you two managed to steer the tournament to success.
Sinnoh Cup was a successor to Umby's successful Hoenn Cup, but as the name suggests, it was based on the DPP OU metagame rather than ADV OU. Hosted by Bloo, the tournament was modeled to be nearly identical to Umby's, keeping the same point system and testing some of the best DPP OU players against each other over a prolonged period. The most successful player during the first part of the tournament, which involved ten matches per player, was tobi10 (aka legendary_07), who managed a very impressive record of 9-1. The other seven slots in the 8-man playoffs went to wilson46, Kevin Garrett, Snunch, Bluewind, Ojama, reyscarface, and TV-Rocka. After two elimination rounds, the final two battlers were determined: reyscarface, the winner of the Hoenn Cup, and tobi10, the #1 seeded player.
The two Latin Americans duked it out, and tobi10 came out on top, winning the best-of-three series 2-1. While many people were aware of the abilities of tobi10 after he represented team Latin America in the World Cup of Pokemon and succeeded on the ladder, he had never won a tournament for himself until this one, so congratulations on winning the tournament with such a fantastic record! Thanks also to Bloo, who did a fantastic job hosting this tournament.
Late Night Tournament Season 5 was the fifth season of the Late Night Tournament, where hosts bojangles, reyscarface, and undisputed picked unusual and gimmicky themes for battlers to compete in over a season. Players earned points based on their performances throughout the season's tournaments, and the top 8 played in an elimination bracket to determine a season champion. The finals of this bracket featured Earthworm, who won the previous LNT season, and McMeghan, one of the most successful tournament players of 2011. The two played a best-of-three series with three themes: the first where only Pokemon introduced in BW could be used, another where five 1v1 matches would be played to determine a winner, and lastly the format played in The Reverse Tournament. Earthworm won all three, and successfully defended his LNT title. Congratulations Earthworm! The replay for the BW battle is here and the Reverse battle is here. Thanks to the hosts for running this tournament.
Random Pokemon Tournament IV was the fourth edition of a fun tournament that involves the players building a team of six from seven randomly generated Pokemon. The finals were between Heist and idiotfrommars, two very successful tournament-goers. Heist had to build a team from Jolteon, Kyurem, Crawdaunt, Mightyena, Cresselia, Reuniclus, and Primeape, while idiotfrommars chose from Volbeat, Breloom, Zoroark, Fearow, Abomasnow, Venomoth, and Pachirisu. The matchup was decidedly in Heist's favor, although the gap between the strengths of the Pokemon was not entirely insurmountable. Heist managed to successfully capitalize on his matchup advantage, and won the battle convincingly. The replay of the battle can be viewed here. Congratulations to Heist on yet another tournament victory! Thanks also to Earthworm, Rodan, and kd24 for hosting.
The Beginning of B/W was a tournament hosted by Tobes designed to take players back to the metagame from when BW OU first came into existence. The finals of the tournament were between Novaray and Lamppost. Lamppost had been on a team that won a tournament before, but had never won a tournament for himself, whereas Novaray had no tournament wins under his belt whatsoever. However, it was Novaray who came out on top, as you can see by watching their battle here. Congratulations to Novaray on your first-ever tournament victory! Thanks to Tobes for hosting.
Weather Monopoly was a tournament designed to see what would happen if only a single weather was allowed in the BW OU metagame. Each round, three weathers were completely banned, leaving the remaining weather to dominate. The finals were between D4RR3N, a player who had never before won a tournament, and Bloo, Smogon Frontier winner and very successful tournament player with a large number of titles to his name. The finals was a best-of-five, where all four possible metagames were played, plus one extra decided by the player who had the fewest Pokemon KOed during the first four battles. D4RR3N managed the upset and took the series 3-1, winning the sandstorm, hail, and sun matches, while losing the rain match. Congratulations to D4RR3N on your first tournament win! Thanks to New World Order for hosting.
A Dreamy Dream World Tournament was a tournament played in the Dream World OU metagame, a spin-off metagame of BW OU based on unreleased Dream World abilities and Pokemon. The metagame features many Pokemon that, though unusual sights in the standard BW OU metagame, might one day become mainstays, such as Shadow Tag Chandelure and Regenerator Amoonguss, as well as unreleased Pokemon such as Keldeo and Genesect. The finals of the tournament were between McMeghan and MikeDecIsHere. McMeghan is a well-known name by now, given his widespread tournament success, including many victories in 2011 and numerous other finals appearances. MikeDecIsHere, on the other hand, is yet another up-and-coming player who had yet to win a tournament. In the end, MikeDecIsHere's experience in the metagame overcame McMeghan's general Pokemon prowess, allowing him to win his first tournament. Congratulations MikeDec! The replay of the finals can be viewed here. Thanks to Matthew and macle for doing a good job of hosting this tournament!
Lady Luck's Lottery was a tournament hosted by Ditto where players submitted a list of 30 different Pokemon from which six were chosen each round. The players then had to construct a team from the six randomly chosen Pokemon, and play against six similarly chosen opposing Pokemon. The finals of the tournament were between Floppy, Krack, and SOMALIA. Krack is a very successful tournament player, while Floppy and SOMALIA have each won one or two Smogon Tour season tournaments. SOMALIA won both of his matches in the round robin finals. The replay of the match against Floppy can be viewed here, and the match against Krack is here . Congratulations to SOMALIA on your first tournament victory outside of the Smogon Tour! Great job to Ditto on hosting.
Regional Tournament III was a tournament where players could only use Pokemon that were introduced in a specified region or generation. Past editions were hosted by Colonel M, while the new edition was hosted by NatGeo. wilson46 and SoulWind advanced to the finals, where a new format was introduced: instead of being restricted to a single region's Pokemon, they were each assigned two. SoulWind could only use Pokemon from Unova and Hoenn, while wilson46 was restricted to Johto and Sinnoh. wilson46 managed to come away with the win in convincing fashion, as you can see here. wilson46 has won numerous past tournaments and has a great tournament record in general. Congratulations wilson46 on your latest victory! Thanks to NatGeo for hosting too.
The Helping Hand Tournament was a tournament where players each submitted a unique Pokemon with a specific moveset upon signing up. During the tournament, players would have to construct their teams from the movesets submitted by players, nicknaming each Pokemon after the player who submitted it. As the tournament progressed, the most popular Pokemon were gradually banned to encourage use of as many submitted movesets as possible. The round robin finals of the tournament were between longtime tournament veteran Krack, and two dark horse players in WhiteQueen and Bartman101, neither of whom had won a tournament before; both have had some solid tournament performances in the past, however. This tournament left both of them empty-handed as Krack defeated them both to win the tournament. Congratulations to Krack on your tenth tournament win! Great job hosting this tournament, KnightoftheWind.
The Forgotten OU Tournament II was a tournament adapted from the DPP era for BW OU play, where the top half of the OU tier is banned from use. This effectively enables strategies that would not otherwise have been as viable to come to the forefront of the metagame. As clearly displayed in the final match between Heist and Eo Ut Mortus, one of the major effects of the bans was to make the tier a lot more defensive. In a battle between two players who have each won quite a number of tournaments, Heist defeated Eo Ut Mortus to add yet another to his total. Congratulations Heist! Thanks to H-C and Bloo for hosting this tournament.
Riding the Metronome! THE TRIFECTA was the third edition of JabbaTheGriffin's Riding the Metronome! tournament, where players cannot switch and are only allowed to use Pokemon that have a single move: Metronome. This annual event is a lot of fun to participate in, as everything is left entirely up to chance, and a lot of quirky events and move combinations tend to appear that aren't normally seen in competitive play. This year, players had to create three different kinds of Metronome teams: one team that would be legal in Little Cup, one that would be legal in BW OU, and one where anything goes, except breaking Species Clause and the item rules set for all matches in the tournament. giara defeated Pedrock in the finals 2-1. Congratulations giara! Thanks to JabbaTheGriffin for maintaining the tradition.
The Counterpick Tourney 2 was the second edition of RBG's Counterpick Tourney, where players take turns to select Pokemon based on their opponent's selections, and then build a team based on their knowledge of the opponent's available Pokemon. This edition was different from the first in that instead of picking six Pokemon, nine Pokemon were chosen from which the player would make a team of six, leaving some uncertainty in which Pokemon would be faced. The final round was a round robin between idiotfrommars, SoulWind, and Eo Ut Mortus. SoulWind and Eo Ut Mortus have both been in several finals lately without actually winning anything, and this was a great opportunity for one of them to break the trend. After SoulWind defeated Eo, it looked like SoulWind would be the first to do so. However, idiotfrommars then went and defeated both SoulWind and Eo, winning the tournament. Congratulations to idiotfrommars on your fourth tournament win! Thanks to RBG for hosting.
The Little Cup Tourney VI was the sixth standard LC tournament we have seen on Smogon so far, the first being hosted way back in 2006 in the ADV era. This edition was a BW tournament, and the final was between Eo Ut Mortus and Raseri. Eo Ut Mortus finally managed to break his finals-losing streak and defeated Raseri 2-0 in their best-of-three series, ignoring the pleas of the Little Cup community and beating Raseri with Little Cup stall as well as another of his teams. Congratulations to Eo Ut Mortus on your first tournament win since 2010, and good job breaking your finals-losing streak! Thanks to iss for hosting.