The Smog Awards 2012: Voting Stage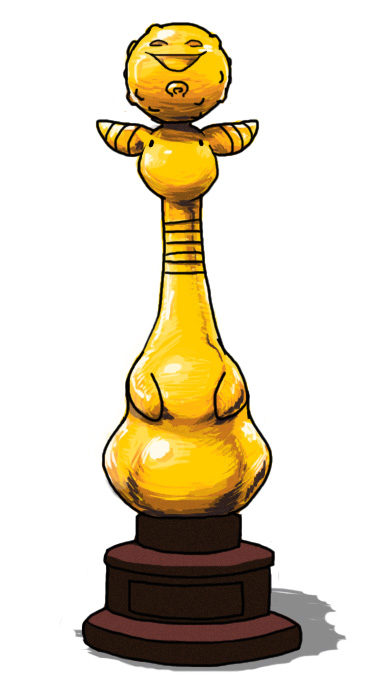 Alright, everyone, the nominees are up. We received a lot of nominations, but these were the cream of the crop. When voting, be sure to only send in one (1) nominee for each category. Please note that you do not have to vote for all the categories; vote only where you feel comfortable. All nominations should be sent directly to The Smog, along with any questions you might have. Good luck to all of the nominees!
Votes must be cast before the release of Issue 25 of The Smog. Remember that we've moved to a monthly release schedule, so be sure to send those votes in early!
Battling
Best OU Battler

BKC
Lavos Spawn
McMeghan
Ojama
Rurushu

Best UU Battler

blarajan
FlareBlitz
kokoloko
reachzero
RT.

Best Ubers Battler

bojangles
Furai
Hugendugen
pi face
Poppy

Best RU Battler

blarajan
Molk
SilentVerse
Windsong

Best NU Battler

CrashinBoomBang
Django
FLCL
Raseri
Zebraiken

Best VGC Battler

BlueCookies
Cybertron
muffinhead
R Inanimate
Sixonesix

Best Little Cup Battler

blarajan
Elevator Music
Furai
iss
Raseri

Best Tournament Player

BKC
Ciele
Heist
MarceloDK
McMeghan

Best Ladder Player

FLCL
Lavos Spawn
Princess Bri
ShakeItUp
Windsong

Best Team Builder

6A9 Ace Matador
kokoloko
McMeghan
Molk
Ojama

Best Old-School Player

Crystal_
Draco Malfoy
Earthworm
Floppy
M Dragon

Most Influential Player

Lavos Spawn
McMeghan
Molk
Ojama
Stone_Cold

Most Gimmicky Player

Great Sage
Molk
PenguinX
Sweet Jesus
Theorymon

Biggest Upset

Brazil beating France in WCOP
Nelson-X defeating McMeghan in Grand Slam
Snunch winning OST8
soviet winning BW1 Ubers Tournament
USA East defeating Oceania in WCOP

Luckiest Player

blarajan
Cherub Agent
Django
ShakeItUp
yan[sogeking]

Most Intimidating Player

Bloo
Earthworm
Heist
M Dragon
McMeghan

Best New Player

CrashinBoomBang
CTC
DestinyUnknown
Princess Bri
Lavos Spawn

Best Overall Player

Bloo
Ciele
Earthworm
Heist
McMeghan
Users
Nicest User

Birkal
Jellicent
jumpluff
sandshrewz
sirndpt

Meanest User

Aldaron
blarajan
Fatecrashers
Great Sage
TropiOUs

Wittiest User

Fatecrashers
Rodan
Vader
Woodchuck

Cutest User

ium
Jellicent
jumpluff
sandshrewz
Solace

Most Helpful Poster

Birkal
Delko
Mikel
Pocket

Most Improved User

BKC
Faint
Lavos Spawn
Molk
TheMantyke

Most Overlooked User

Antar
Bond697
Level 51
Marty D
Nexus

Most Deserving User

Birkal
Jellicent
Marty D
Oglemi
Zarel

Most Persuasive User

Aldaron
capefeather
Deck Knight
Eo Ut Mortus
Great Sage

Most Influential User

Aldaron
Birkal
Bloo
DougJustDoug

Most Promising New User

CBMeadow
ium
Joim
Lavos Spawn
Princess Bri

Most Awesome Veteran

Earthworm
Glen
Pocket
tennisace
Vader

Up-and-Coming User

Birkal
Harsha
Poppy
sandshrewz
Zebraiken

Best Avatar

Bad Ass's spinning Dozz meme
Birkal's Mario cake toss
Mekkah's cheek-flapping soccer player

Best Signature

Birkal's Mario cake toss
Haunter's Setsuna quote
PK Gaming's creepy anime dolls
Scimjara's Bert gif

Best Custom Title

alkinesthetase's "I have never been disappointed in Tentacruel, only in myself"
Great Sage's "that's a very buff squirrel"
Jirachi's "n_n"

Member of the Year

Birkal
Jellicent
jumpluff
Marty D
Oglemi
Community
Best Forum Staff Member

Birkal
Bloo
Delko
Jellicent
Oglemi

Best Leader

Birkal
DittoCrow
Jellicent
Oglemi
Setsuna

Best Pokemon SHOWDOWN! Staff Member

Frizy
Hugendugen
Mikel
The Immortal
Zarel

Best Discussion Sparker

Birkal
DittoCrow
DTC
Huntofthelion
shrang

Best Pokemon Poster

DittoCrow
Pocket
Poppy
shrang
Sweet Jesus

Best IRC Presence

alkinesthetase
jonathanrp
mostwanted
Steamroll
Theorymon

Best Warstory

Best Wi-Fi User

Nexus
religiousjedi
Wild Eep

Best CAP Poster

Birkal
capefeather
DougJustDoug
jas61292
Quanyails

Best a forum Poster

cookie
Fatecrashers
Rodan
shade
Vader

Best Mafia Player

Agape
billymills
Crux
Da Letter El
Ditto

Best Mafia Game

billymills Mafia
LoL Mafia
Persona Mafia
Red Panda Mafia
Underground Mafia

Best Team Rater

Harsha
Jimbon
Jirachi
Poppy
WhiteDMist

Best RMT Thread

Best Tournament

Battle Royale Act IV
Late Night Tournament
The kind of a BIGger deal Tournament
The No Johns Tournament: ADV Edition
The Unscrupulous Tiering Director

Best Thread

Best Post

Best Trou du Cul Thread

Best Poster

Birkal
Fatecrashers
Lee
Swaggersaurus
Vader
Contributions
Best Set Poster

AccidentalGreed
alexwolf
ginganinja
Seven Deadly Sins
Triangles

Best Editor

Jellicent
Oglemi
sirndpt
SuperJOCKE

Best Quality Control Member

Django
DittoCrow
Pocket
Raseri
Theorymon

Best Writer

Birkal
Eo Ut Mortus
Jellicent
Layell
Oglemi

Best Contributor

DittoCrow
Jellicent
Oglemi
Poppy
shrang

Best Forum Project

Dark Horse
NUlympics
NUzlocke
The Orange League
TUberculosis Bridge

Best Smogon Media Contributor

Birkal
MikeDecIsHere
Oglemi
sandshrewz

Best Programmer

Antar
DougJustDoug
Sarenji
ToastPlusOne
Zarel

Best Researcher

Bond697
Marty D
poccil
V4Victini

Best New Artist

CBMeadow
ium
Juicy Fruit
nov

Most Improved Artist

Danmire
Juicy Fruit
RitterCat
Yilx

Best Piece of Art

Click on the thumbnails to view the full versions.

Best Artist

ToxicPhox
Volmise
Yilx
Zracknel

Best Contribution

Honko's 1v1 Damage Calculator
Pokemon SHOWDOWN! Replay Viewer
The Competitor's Layout
The Form
Please use the form below when sending in your votes. It makes it a lot easier and faster for us to compile later! Thank you.