Questions and Answers: Ask the Admins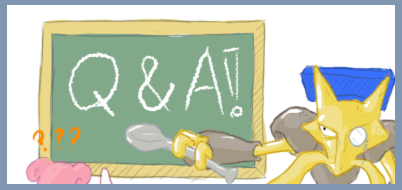 Hello, everyone, and welcome to Ask The Admins #10! In this article, various Smogon Admins answer the questions you put forth in the thread posted in The Smog's subforum. This time, it took us two issues to gather enough questions for the admins to answer, but here it is!
The admins answering these questions are chaos, Haunter, and Joim. chaos (mind the caps!) is the site founder and a programmer, as well as an active member in the community on both IRC and Pokémon Showdown!. Joim is one of the lead developers of Pokémon Showdown!, and a leader of the official Doubles metagame. Haunter is one of the leaders of the OU tier, as well as a leader of the Rate My Team forum and a Pokémon Showdown! admin. Now, for the questions!
How do you plan to lead the site at the inception of Generation VI, at which a flood of new users is likely to be expected, and how will Pokémon policy be dealt with before, during, and after this certain-to-be hectic period?
Joim
In Doubles, where I lead, we are patiently waiting for things to be clear before switching generations. Once all the mechanics and learnsets are known, we'll start tiering it. It's not a good idea to deal with a tier until everything's working fine; you need Pokémon base stats, abilities, moves—everything to be worked out. We'll welcome any new battler and we encourage anyone interested in Doubles to visit our forum, lurk a bit, and participate.
What is your favorite suspect stage round (all gens included)?
Joim
Gen 5 OU Genesect one. It was really fun to play with and against it, but it's well placed at Ubers. :p
Haunter
Probably Latias's stage 1 suspect test in gen 4. That's when I started to actively contribute to Smogon.
Hi Smogon Admins, I'm curious how you got into the competitive scene. I got into Showdown! and Smogon because a friend suggested it to me last year. I'm sure my story isn't the most exciting, but what about you guys?
Joim
I used to play Gen 1 in local tournaments and against neighborhood people. Then, after some Pokémon-less years, I organized Wi-Fi tournaments on a website and one of the participants found out about Showdown! and Smogon, where I immediately started learning and playing competitively.
chaos
2001, my brother played the cart games. I thought it would be cool to play online, so I Googled it, and after much searching found a shitty geocities page detailing how to play Pokémon on IRC. My first team had a Return Jolteon, and I lost 6-0 to a Dunsparce.
Haunter
I was linked to Smogon from an Italian Pokémon site. I started lurking in C&C looking for competitive sets to use in-game, then eventually discovered Shoddy Battle and started to play there. My involvement into the competitive scene was really casual.
Also, what did you guys do on Smogon when you were starting out? Did you jump into C&C, write Smog articles, or contribute somewhere else?
Joim
At first, I just was on PS!, then I jumped onto C&C because I was interested in articles.
Haunter
Lurking in C&C and later posting in suspect threads. Then tried RMT and loved it.
How much time do you spend on Smogon each day?
chaos
I work this job full-time.
Joim
Depends on the day, the workload, free time, etc. From 10 minutes to 12 hours.
Haunter
Way too much, lol. Probably 2-4 hours on average.
How do you feel Smogon's systems (i.e. suspect tests, C&C, articles, etc) work? Do they go smoothly? Take too long or get done too quickly? Any changes you'd like to see made on a personal level?
Haunter
I'm personally involved in the tiering process, and, while I understand that people would want to see it run faster, I believe that tiering is quite possibly the most important aspect of competitive Pokémon, therefore I'm never in favor of suspecting stuff before we (council members) have a clear view of the various components of the metagame.
How good are you actually at competitive battling?
Joim
From 1 to 10, probably just a five.
Haunter
This is mostly subjective, but I think I'm decent. I'd say 6.5.
Are you capable of banning yourself, and have you ever been tempted to try?
Joim
Yes. Once Haunter had to unban me from PS! and another time I had to use some admin magic to unban myself from Smogon while testing the "banned user" strike names.
Haunter
1) yes; 2) no (I don't think I'd be able to unban myself).
For admins who are/were programmers: what is the longest amount of time you've spent coding at one time? Bathroom and food breaks allowed, but no sleep.
Joim
All my all-nighters are either MMO or travel related, since any programmer knows a rested mind works better. However, I've been several days waking up at 6, programming while I take the first coffee of the day for an hour, going to work, program for 8 hours, go back home and keep programming for personal projects until it's sleep time at 23 or so.
Opinions on user reyscarface?
Haunter
He's not as bad as people make him sound. He also has excellent taste when it comes to football (soccer). Just needs to relax a bit.
What is it like being all-powerful? Has all that power gone to your head at any point?
Haunter
I've tried to stay the same as when I was an non-badged member. I tend to treat everyone (from random users to fellow admins) with the same respect and try to be friendly with everyone. I think people overestimate what having power in a Pokémon community means.
Joim
Pride is one of my biggest flaws, so probably, but I wouldn't notice the difference because I was prideful even as a regular user.
And that's all the questions that were answered! Normally, this would be the place to say "See you next time!" or something similar, but due to the consistency and quality of the questions, I'm going to put Ask The Admins back into the "Retired" box. To anyone wanting to ask the administrators questions, or anyone really, most of them are normal users just like you and me—just go up to them and ask! If you need more general Smogon help, you can always try the Mentorship program!