More of just the same




Moderator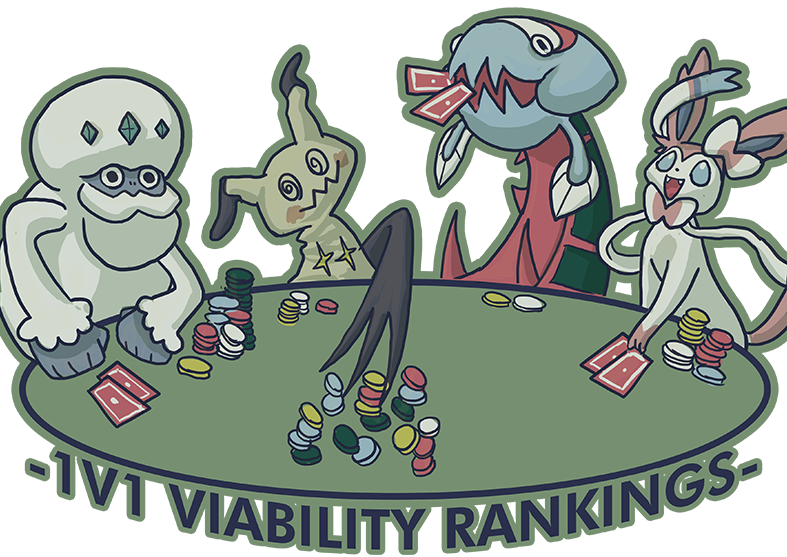 Art by AmirAlexander
Welcome to the 1v1 Viability Rankings thread! This thread is used to discuss how good we think various Pokemon are in the current 1v1 metagame.
As with any resource, these notes should be kept in mind:
​
- post smartly; this isn't a set dump thread where you just throw in whatever random set you like using on ladder, this is meant to be a resource dedicated to sorting out the Pokemon that perform the absolute best in the current metagame.
Shitposts and one liners will be deleted.
- words only go so far when it comes to making a convincing case to rank something; showing calcs and replays says a lot more about a Pokemon's interaction with others than simple speculation.
- discussion isn't necessarily frowned upon, but if it's a one line response to someone's nomination or something, it'd probably be better just to bring it up to the person in pms or the room or somewhere that won't clutter the thread.
S Rank
S- Rank
Togekiss

Zeraora
A+ Rank

Celesteela

Metagross

Porygon-Z
Regidrago

Tapu Fini
A Rank

Aromatisse

Darmanitan-Galar

Dragapult

Primarina

Sylveon

Urshifu-R

Urshifu-S
Volcanion
A- Rank

Cresselia

Entei

Ferrothorn

Garchomp

Haxorus
Landorus-T
Spectrier

Tapu Bulu

Tapu Koko

Tapu Lele

Volcarona

Zapdos-G
B+ Rank
Crustle

Dracovish

Goodra

Heatran
Kyurem

Landorus

Magnezone

Moltres-G
Naganadel

Registeel

Rhyperior

Rillaboom

Tyranitar

Venusaur

Zapdos
B Rank
Aggron
Arcanine

Avalugg
Azumarill

Chansey

Corviknight

Dracozolt

Glastrier
Kartana

Kommo-o

Nihilego

Pheromosa

Regieleki

Steelix

Whimsicott

Zarude
B- Rank

Clefable

Corsola-Galar

Gardevoir

Hydreigon
Sawk

Suicune

Swampert
C+ Rank

Aegislash

Diancie

Gastrodon

Ninetales

Ninetales-Alola

Porygon2

Pyukumuku

Raikou

Roserade

Rotom-Heat
Type:Null
C Rank
Archeops

Blissey

Buzzwole

Carracosta

Darmanitan

Incineroar

Jellicent

Nidoking

Regice

Rotom-W
Salazzle

Slowking-Galar
Thundurus-T
C- Rank

Blastoise
Blaziken

Celebi

Conkeldurr

Diggersby

Durant

Gengar

Grimmsnarl

Gyarados

Latios

Mamoswine

Marowak-Alola

Quagsire
Raboot

Salamence

Silvally

Tentacruel

Toxapex
D Rank

Bellossom

Blacephalon

Chandelure

Escavalier

Excadrill

Keldeo

Krookodile

Moltres

Regirock

Reuniclus

Shedinja

Skarmory

Slowbro-Galar

Talonflame

Terrakion

Torkoal

Toxtricity
Weavile

Zygarde
VR Shift History [12/19 - 10/22]:
https://pastebin.com/FFpBBrit
12/01/2020: Zapdos C -> C+
12/01/2020: Gastrodon C -> C+
12/01/2020: Weavile UR -> C+
12/01/2020: Mandibuzz UR -> C-
12/11/2020: Noivern UR -> D
12/11/2020: Tsareena UR -> D
12/11/2020: Gyarados UR -> C-
12/11/2020: Vaporeon UR -> C-
12/11/2020: Mandibuzz C- -> C
12/11/2020: Landorus B- -> C+
12/13/2020: Suicune B+ -> A-
12/14/2020: Genesect A > A+
12/14/2020: Zygarde A > A+
12/14/2020: Regieleki B > B+
12/14/2020: Diancie B- > B
12/14/2020: Latios B- > B
12/14/2020: Sawk B- > B
12/14/2020: Goodra C+ > C
12/14/2020: Incineroar C > C+
12/14/2020: Nihilego C > C+
12/14/2020: Aromatisse C- > C
12/14/2020: Chansey C- > C
12/14/2020: Darmanitan C- > C
12/14/2020: Nidoking UR > D
12/16/2020: Suicune A- > B+
12/16/2020: Sylveon B+ > A-
12/16/2020: Kartana B > B+
12/16/2020: Raikou B- > B
12/16/2020: Celesteela C > C+
12/20/2020: Landorus-Therian B > B+
12/20/2020: Kommo-o C+ > C
12/20/2020: Carracosta C- > C
12/25/2020: Dracovish C+ -> B-
12/27/2020: Victini S -> Banned
12/27/2020: Primarina A+ -> S-
12/27/2020: Corsola-G C+ -> C
12/27/2020: Darmanitan C -> C-
12/27/2020: Swampert C -> C+
12/27/2020: Tyranitar C -> C+
12/27/2020: Zarude C+ -> B-
12/27/2020: Chansey C -> C+
12/27/2020: Clefable C -> C+
12/27/2020: Scizor C -> C-
12/27/2020: Mandibuzz C -> C-
12/27/2020: Noivern D -> UR
12/27/2020: Togedemaru UR -> D
12/27/2020: Torkoal UR -> C-
12/27/2020: Toxapex UR -> C-
12/27/2020: Quagsire UR -> C-
12/29/2020: Togekiss A -> A+
12/29/2020: Rhyperior B+ -> B
12/30/2020: Zapdos-G B- -> B
12/30/2020: Volcarona C+ -> B-
12/30/2020: Whimsicott C+ -> C
12/30/2020: Venusaur C -> C-
12/30/2020: Torkoal C- -> C
12/30/2020: Aurorus UR -> D
12/30/2020: Tyrantrum UR -> D
12/30/2020: Stakataka UR -> C-
12/30/2020: Weavile C+ -> C
12/30/2020: Goodra C -> C+
12/30/2020: Gigalith D -> UR
12/30/2020: Spectrier B+ -> A-
12/30/2020: Sylveon A- -> A
1/01/2021: Primarina S- -> A+
1/01/2021: Buzzwole C+ -> B-
1/01/2021: Gardevoir C+ -> C
1/01/2021: Regidrago C+ -> B-
1/01/2021: Nihilego C+ -> B-
1/01/2021: Aurorus D -> UR
1/01/2021: Drampa D -> UR
1/01/2021: Xurkitree D -> UR
1/01/2021: Snorlax A+ -> S-
1/09/2021: Togekiss A+ -> A
1/09/2021: Durant C+ -> C
1/11/2021: Volcanion B+ -> A-
1/11/2021: Latios B -> B-
1/20/2021: Togekiss A -> A+
1/20/2021: Spectrier A- -> A
1/20/2021: Arcanine B -> B-
1/20/2021: Blaziken B -> B+
1/20/2021: Azumarill B- -> B
1/20/2021: Hydreigon B- -> C+
1/20/2021: Regidrago B- -> B
1/20/2021: Zarude B- -> B
1/20/2021: Ferrothorn C+ -> B-
1/20/2021: Zapdos C+ -> B-
1/20/2021: Articuno C -> C+
1/20/2021: Entei C -> C+
1/20/2021: Regice C -> C+
1/20/2021: Stakataka C- -> D
1/20/2021: Nidoking D- -> C-
1/20/2021: Tsareena D -> UR
1/20/2021: Salazzle UR -> C
1/20/2021: Toxicroak UR -> C-
1/27/2021: Garchomp B+ > B
1/27/2021: Avalugg B- > B
1/27/2021: Nihilego B- > B
1/27/2021: Zapdos B- > B
1/27/2021: Glastrier B > B-
1/27/2021: Pheromosa B > B-
1/27/2021: Gardevoir C > C+
1/27/2021: Nidoking C- > C
1/27/2021: Venusaur C- > C
1/27/2021: Tyrantrum D > C-
1/27/2021: Tsareena UR > D
1/28/2021: Zapdos B > B+
2/3/2021: Aron D -> UR
2/3/2021: Necrozma A -> A-
2/3/2021: Pyukumuku D -> C-
2/3/2021: Turtonator UR -> D
2/3/2021: Jellicent UR -> D
2/3/2021: Turtonator UR -> D
2/3/2021: Bewear UR -> C-
2/3/2021: Cradily UR -> D
2/3/2021: Grimmsnarl UR -> C-
2/3/2021: Zeraora B+ -> A-
2/3/2021: Porygon-Z B+ -> A-
2/3/2021: Merged S- and S
2/17/2021: Genesect A+ -> S-
2/17/2021: Spectrier A -> A+
2/17/2021: Porygon-Z A- -> B+
2/17/2021: Regieleki B+ -> A-
2/17/2021: Zapdos B+ -> A-
2/17/2021: Regidrago B -> B+
2/17/2021: Sawk B -> B+
2/17/2021: Arcanine B- -> B
2/17/2021: Glastrier B- -> B
2/17/2021: Pheromosa B- -> B
2/17/2021: Volcarona B- -> B
2/17/2021: Articuno C+ -> C
2/17/2021: Clefable C+ -> B-
2/17/2021: Aromatisse C -> C+
2/17/2021: Carracosta C -> C+
2/17/2021: Kommo-o C -> C+
2/17/2021: Torkoal C -> C+
2/17/2021: Weavile C -> C+
2/17/2021: Chandelure C- -> C
2/17/2021: Darmanitan C- -> C
2/17/2021: Moltres C- -> C
2/17/2021: Pyukumuku C- -> C
2/17/2021: Quagisre C- -> C
2/17/2021: Salamence C- -> C
2/17/2021: Vaporeon C- -> D
2/17/2021: Regirock D -> C-
2/18/2021: Urshifu-R A- > A
2/22/2021: Blacephalon C+ -> C
3/16/2021: Togekiss A+ > A
3/16/2021: Cresselia A > A-
3/16/2021: Jirachi A > A-
3/16/2021: Moltres-Galar A > A-
3/16/2021: Necrozma A- > A
3/16/2021: Zapdos A- > A
3/16/2021: Registeel A- > B+
3/16/2021: Kartana B+ > B
3/16/2021: Arcanine B > B+
3/16/2021: Tapu Koko B > B+
3/16/2021: Volcarona B > B+
3/16/2021: Aromatisse B- > B
3/16/2021: Clefable B- > B
3/16/2021: Archeops B- > C+
3/16/2021: Goodra C+ > B-
3/16/2021: Incineroar C+ > B-
3/16/2021: Entei C+ > C
3/16/2021: Latias C+ > C
3/16/2021: Skarmory C+ > C
3/16/2021: Weavile C+ > C
3/16/2021: Corsola-Galar C > C+
3/16/2021: Venusaur C > C+
3/16/2021: Corviknight C- > C
3/16/2021: Grimmsnarl C- > C
3/16/2021: Regirock D > C-
3/16/2021: Stakataka D > C-
3/16/2021: Aurorus UR > D
3/16/2021: Marowak-Alola UR > C
3/16/2021: Krookodile UR > D
3/16/2021: Tapu Bulu UR > C+
Last edited by a moderator: