Byd o arswyd!




Moderator
Art by
ausma
Introduction
Pokemon Stadium is a well-known Pokemon spin-off, being the first time children of the 90s were able to see their little pocket monsters in 3D. This game quickly became a cult classic for many reasons: the unique formats, playing Pokemon games on the big screen, and the Kid's Club. However, among hardcore RBYers, it's become a classic for another reason: the mechanics that make for an entirely different metagame compared to cartridge gameplay, giving it a "Generation 1.5" feel.
Unbeknownst to many, a Japanese Pokemon Stadium game came before the international game, which has been called "Stadium Zero" within the RBY Community, and it is known for being the first instance of "Dexit" in a Pokemon game. This also means there are actually three games! While we won't delve deep into it in this guide, "Stadium Zero" does contain some key differences that got imported over into this game.
Differences to RBY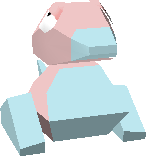 For those unfamiliar with RBY, it's recommended to read
the RBY Mechanics Guide
prior to this to better understand what's going on. Pokemon Stadium makes numerous changes to battle mechanics, removing many controversial glitches to make the game feel much like later generations. Whether it improved the game is arguable, with some players heavily disliking the Substitute change, while others praise it for being less buggy.
Game Mechanics
Accuracy and Evasion
The infamous 1/256 uncertainty was removed, giving attacks their stated accuracy in-game. Secondary effect chances also experienced a similar change; for example, Thunderbolt's paralysis chance is now 10%, rather than 10.2%.
Accuracy and evasion also received changes to their stat stage multipliers, becoming the same as in GSC. This makes accuracy and evasion much less potent.
| | | | | | | | | | | | | | |
| --- | --- | --- | --- | --- | --- | --- | --- | --- | --- | --- | --- | --- | --- |
| Stage | -6​ | -5​ | -4​ | -3​ | -2​ | -1​ | 0​ | +1​ | +2​ | +3​ | +4​ | +5​ | +6​ |
| Fraction | 1/3​ | 36/100​ | 43/100​ | 50/100 | 66/100​ | 75/100​ | 100/100​ | 133/100​ | 166/100​ | 200/100​ | 233/100​ | 266/100​ | 300/100​ |
Confusion
Confusion will show the move you attempted to use even if you hit yourself in confusion. If a move like Thrash induces self confusion, it will say so once this occurs.
Critical hits, High-crit moves, and Focus Energy
Critical hits were completely reworked, with the base critical hit ratio becoming (Base Speed + 76) / 1024, rounding down and capping out at 99%. This means Pokemon with base 75 Speed and above will receive worsened critical hit rates, while slower Pokemon will have increased critical hit rates. For example, Snorlax goes from 5.86% to 10%, while Electrode goes from 27.34% to 21%.
High-critical hit rate moves like Slash also received a different equation, that being (Base Speed + 76) / 128. While this doesn't change the result for most Pokemon due to the 99% cap, it does slightly help slower Pokemon with the moves. For example, Parasect's Slash goes from a meager 46.88% critical hit rate to 51%, making it at least work as desired more often than not.
Focus Energy also received a full rework, the new equation being (Base Speed + 236) / 512. For example, Nidoking will go from a 15% base critical hit rate all the way to 62%, making it very threatening. If using both Focus Energy and high-crit moves, the critical hit rate caps out at 99% guaranteed, though this doesn't actually help any Pokemon that learns both moves.
Damage tracking
Whenever a Pokemon is fully paralyzed, uses a two-turn charge move, or switches out, the stored damage is cleared. This makes Counter and Bide less powerful, as they cannot exploit stored damage across turns.
Desync possibility
Due to the nature of Pokemon Stadium not requiring a link cable or any connectivity at all, desyncs are impossible.
Exact HP
Pokemon Stadium will display both Pokemon's current and maximum HP, exposing potential DV combinations and showing if a Pokemon is in KO range.
Partial trapping
Partial trapping—Bind, Clamp, Fire Spin, and Wrap—was reworked. In the event either Pokemon switches out, the turn instantly ends unless the other Pokemon is also switching, meaning that, while pivoting with partial trapping still exists, it works on both ends. This makes it somewhat difficult to trap Pokemon without a Speed boost with Pokemon like Dragonite, although partial-trapping moves are also harder to PP stall due to the trapper not being forced to use them again.
Additionally, there is no indication when partial trapping has concluded due to the lack of a proper Fight Menu. You do get to pick a move while partial trapped, but this doesn't actually matter; in the event partial trapping continues, the input is ignored. Ergo, neither player knows whether partial trapping will continue.
Recoil
If a Pokemon or Substitute is KOed by a recoil move like Submission or Double-Edge, the attacker takes no damage. This gives valuable counterplay to Substitute, as well as a partial Hyper Beam replacement considering its nerfs. Recoil damage no longer influences stored damage, so it cannot be countered with Counter and does not contribute to Bide's damage building.
Self-KOs
Explosion and Self-Destruct will KO a Pokemon attacking a Substitute. Additionally, Self-KO Clause is run innately, so forcing ties is impossible and results in a loss for the self-KOing Pokemon.
Sleep
Stadium innately runs its own Sleep Clause, which counts Rest. As a result, putting your own Pokemon to sleep with Rest effectively blocks all sleep moves until it wakes up. It should be noted that this does not block putting further Pokemon to sleep using Rest.
Sleep also received a gigantic nerf, going from 0-6 turns to 0-3. This makes sleep very inconsistent, albeit still at least somewhat usable.
Stat handling
The stat reapplication glitch is removed, meaning that Pokemon like Slowbro can't reapply stat drops from burn or paralysis. Stat drops from major status are now mostly tied to the statuses themselves, meaning that when the major status is removed, the stat drop usually is as well. For example, when Rest or Haze is used, the stat drop from paralysis or burn will be removed alongside the status.
Using a boosting move that affects a stat that has been dropped by burn or paralysis, unlike in RBY or Stadium 2, will not ignore the status's stat drop. Thus, if Agility is used while paralyzed, the stat drop from paralysis will still be factored in.
Rollovers as a result of stats that would be over 1023 in the event of a stat drop do not occur. Boosting moves will also fail if you would go over 999.
Thawing
In the event a Pokemon is thawed out, it will use the command given prior to becoming frozen.
Thrashing about
All accuracy issues involving thrashing-about moves are fixed, including Rage. Additionally, a notice will appear stating the Pokemon has become confused once Thrash or Petal Dance concludes. While most situations that remove player input are fixed in Stadium, such as being frozen during Hyper Beam, if a Pokemon is frozen during a thrashing-about move, both players will not be able to attack or switch out.
Validation
Pokemon Stadium has its own hackcheck, which will allow participation but flag illegal moves and the player's name in
Purple
. This includes moves obtainable through Tradebacks, since, at the time, GSC had not been released yet. This also applies to moves obtained at lower levels than what's possible, such as a Magmar with
Flamethrower at L30. Curiously, Fly Pikachu, a Japan-only event, is considered legal in the eyes of Pokemon Stadium, despite being impossible to trade to international games. Acid Diglett also validates just fine, despite being impossible to obtain. Because of this hackcheck, Tradeback moves like Thunder Punch on Alakazam can be implied through the purple text.
Move Mechanics
Aurora Beam, Acid, and Bubble Beam
All these moves had their effect chances reduced from 33.2% to 30%.
Bide
Bide no longer ignores accuracy checks and type immunity, becoming a regular perfectly accurate move. Ergo, it cannot hit semi-invulnerable Pokemon or Ghost-types. All damage stacking effects have also been removed due to the changes to damage storage; for example, switching a Pokemon out will not cause the previous turn's damage to stack. Bide allows move selection for its duration, but this has no material effect on gameplay.
Counter
Because of the changes to how damage is tracked, all unusual interactions that occur over the course of turns in RBY are removed. For example, countering a Body Slam from the previous turn as the opponent switches out is impossible and will cause the move to fail. Counter also cannot counter itself.
Dig and Fly
If Dig or Fly is interrupted through means such as confusion and paralysis, it will return to normal as is the case in later games. This removes the semi-invulnerability glitch.
Disable
Disable no longer causes a Pokemon's Rage to build if it misses. Disabled moves don't have their PP replaced with a "Disabled!" message, meaning a player has to select the move to see if it is still disabled. If a Pokemon tries to use a disabled move on the same turn as it gets disabled, the move's name will be displayed in the message.
Haze
Haze now cures the user's status, making it act like Refresh in later generations. It also removes stat drops from burn or paralysis and resets the Toxic counter.
Hyper Beam
Hyper Beam now forces a recharge upon use regardless of the outcome, even in the event of a miss or KO, drastically reducing its utility.
Mimic
Mimic will not copy a move's maximum PP.
Mirror Move
Mirror Move now always copies two-turn charge moves from the beginning.
Psywave
Psywave will deal one damage at a minimum.
Rage
Rage's accuracy no longer drops to an extremely small number if it misses. In the event Disable is used and misses, the foe's Rage does not build, but Rage will still work if it connects.
Recover and Soft-Boiled
The recovery failure glitch was removed, meaning these moves won't fail on specific HP numbers.
Rest
Rest now counts under the game's innate Sleep Clause and removes the user's stat drops from major status conditions, massively buffing users such as Jolteon. It also resets the Toxic counter.
Substitute
Substitute now blocks status like in modern games. It also blocks draining moves like Mega Drain, matching the Japanese titles.
Struggle
Struggle now affects Ghost-types, preventing infinite battles. Since it's a recoil move, the Struggle user can also "skip" damage upon KOing a Pokemon.
Swift
Swift can no longer hit semi-invulnerable Pokemon.
Transform
Transform now fails against Ditto, preventing infinite battles. If used by Ditto, it will also fail to transform into any Pokemon with Transform in its moveset. However, if any other Pokemon uses Transform, it can transform into anything else with Transform, allowing two opposing Mew to start an endless battle like in regular RBY.
Metagame Shifts
Pokemon Stadium changes the RBY OU metagame a lot, which has led to the existence of a "Stadium OU" format; while it's by no means a standard, it's still played by members of the RBY community.
The fall of sleep
Sleep is significantly worse in Stadium, with the turns spent sleeping now being generally inconsequential. 0-3 turns makes it generally a coinflip as to whether you're going to get mileage off of sleep: you either get a 0 or 1 turn wake or enough time for momentum. Substitute, Rest, and Sleep Clause's changes are also concerning, with the changes to each making them effective at blocking sleep. Ergo, Pokemon like Jynx see their usage drop off a cliff, and even Exeggutor drops Sleep Powder in favor of the permanence of Stun Spore.
Team Preview
Team Preview is extremely valuable in Stadium, telling you when Pokemon like Gengar and Articuno are in the back. This is a significant hit to their viability, reducing their surprise factor that can normally turn a game on its head. As a result, it becomes easier to play around these Pokemon and make otherwise difficult predictions.
Exeggutor's adaptation and Rest
Early on, players believed that Exeggutor would be much less useful in Stadium due to the nerfs to sleep and Explosion and an uptick in Substitute usage. However, with some adaptation, players began to remember Exeggutor's defensive prowess as well: it's far from just a status guru.
Exeggutor
- Psychic
- Stun Spore
- Double-Edge / Explosion
- Rest
With the changes to Rest, Exeggutor can be used for much longer periods of time, not having to switch out to remove the Speed drop from paralysis. The longevity provided also makes it excellent at holding back Jolteon, which can be very deadly if it uses Focus Energy. The longevity means it's also much harder to wear Exeggutor down, with its gigantic stats and solid typing allowing it to continually heal off damage with Rest while it paralyzes multiple Pokemon with Stun Spore. Rest is much more difficult to punish in Stadium, as Hyper Beam's massive hit in viability and the nerfing of critical hits from faster Pokemon generally increases every Pokemon's longevity. It's not just a move for Exeggutor either; Jolteon, Rhydon, Slowbro, and Zapdos are also great users of the move that are well worth considering for a team.
Substitute's rise
The changes to Substitute resulted in the move becoming very popular, sometimes even argued to be broken and bannable. However, this argument is often overstated and belies the opportunity cost that comes with using it. For example, while Alakazam can run Substitute, it loses a massive amount of attacking PP due to having to drop Seismic Toss, which also comes at the cost of significantly worse Starmie and Exeggutor matchups. Similar issues can be seen with Starmie, where it either has to drop valuable coverage or Thunder Wave, both of which will be sorely missed. Overall, while Substitute provides a short-term reward, its long-term benefits should be approached with question.
However, when it's good, it's excellent. For example, Rhydon can use Substitute without too much concern for Exeggutor, as Exeggutor can't sleep it through the Substitute anymore. Chansey is also a decent user if seeking to fine-tune it for matchups against Psychic-types, but it becomes significantly worse against Snorlax and Rhydon. Kangaskhan can utilize 103-HP Substitutes to guard against Seismic Toss and Thunder Wave at once, giving it free turns to try and KO Chansey. Persian is also a viable user, now being able to beat Tauros one-on-one, as it doesn't run Hyper Beam much anymore, and being able to fish for Body Slam paralysis behind a Substitute can be very helpful. The higher usage of Rest also makes Substitute much easier to set up for almost any Pokemon.
Focus Energy
With the changes to Focus Energy come new setup sweepers. These users help form a strong offensive backbone, making excellent use of the free turns Rest and Substitute users can provide them. While there are quite a few good users, such as Nidoking, Primeape, and Hitmonlee, few come close to Jolteon.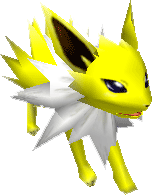 Jolteon
- Focus Energy
- Thunderbolt
- Double Kick
- Rest
Jolteon's blazing Speed gives it a massive 71% critical hit rate when using Focus Energy, which is more than enough for it to wreak havoc. Two critical hit Double Kicks are enough to KO Chansey, and with its high PP, it can effortlessly outdo Substitute. Rest's changes are another massive boon to the set, letting Jolteon consistently wall Zapdos without losing Speed in the process. Walling Jolteon once it sets up can be very difficult, so seeing one at Team Preview will make you think twice about using a predictable Rest yourself. However, Focus Energy does come with natural inconsistency, and Jolteon still despises taking paralysis and having to use Rest earlier, so it's by no means a top-tier threat.
Hyper Beam's fall from grace
Hyper Beam now always forces a recharge upon use, which makes it significantly more difficult to justify on sets. Ergo, offense is much weaker in Stadium, making continuous use of Rest harder to punish. Some Pokemon will use Double-Edge instead, though this is by no means a full replacement, as the recoil damage can be concerning if it isn't getting a KO every time. It should also never replace Body Slam, lest your Pokemon get walled by Starmie.
However, Hyper Beam remains a decent option for forcing your way through defensive Pokemon, in part due to a lack of better options. Sometimes, breaking a Pokemon by surprise can be worth the recharge turn, especially if behind a Substitute. Finally, as a "final goodbye" move or in a last Pokemon situation, the recharge is generally inconsequential. Overall, while a shadow of its former self, Hyper Beam is still functional and should not be ignored.
The death of partial trapping
Because merely switching can end a partial trapping chain, moves like Wrap are significantly worse. While still functional against paralyzed teams or with Agility, they generally just make both Pokemon switch out. If the trapper doesn't switch out as the foe does, this can allow free switches to faster Pokemon that can force the trapper out unless they switch themselves as well, making for a mindgame that isn't worth going for in a competitive setting.
Counter's changes
Counter essentially becomes the same as modern Counter, only it's still restricted to Normal- and Fighting-type moves, making it the weakest iteration of the move in the series. However, it's still viable counterplay to Pokemon like Persian and Snorlax; it just can't be used against switching Pokemon anymore.
Conclusion
Overall, Stadium is a stark deviation from traditional RBY and a much more defensive metagame. With many of the glitches gone, this can be considered to be the "final" version of the chromatic generation, and a worthy sendoff before the second generation changed the series forever. Whether it improved the game is up for debate, but there's only one way to find out: get out there and try it out yourself!
Last edited: