Have you had an urge to randomly try out some weird set you saw that looked kinda cool? Well, that's where the idea for this team came from. I was honestly just scanning the forums out of boredom and decided I wanted to build a team around specially defensive Aegislash. It kinda seemed like a good idea, what with its great special bulk and set of resistances, and it actually turned out to work really well. I'm not a great teambuilder, but so far the team has been doing pretty well on the ladder (not saying much, to be honest), and it's been a lot of fun to use. I've made a few changes here and there, but I'm at the point now that I can't seem to fix any of the major weaknesses without opening up more, so I've kinda hit a wall. This is what I've got so far:

Aegislash @ Leftovers
Ability: Stance Change
Shiny: Yes
EVs: 252 HP / 4 Def / 252 SDef
Calm Nature
IVs: 0 Atk / 13 Spd
- King's Shield
- Shadow Ball
- Substitute
- Toxic
After gaining so much notoriety as an offensive juggernaut, it seems strange to see a specially defensive Aegislash. Still, this thing has been really fun to use. It makes such a great stop to stuff like Lati@s, Gardevoir, Togekiss, random Psychic-types, pretty much anything that doesn't have a powerful super effective attack for this guy. Heck, even that might not be enough. For instance, Modest Goodra completely fails to 2HKO with Fire Blast after Stealth Rock unless it's holding a boosting item. The combination of King's Shield + Substitute + Toxic does a good job of helping Aegislash wear down bulkier Pokemon, and the frailer ones can be beaten down by Shadow Ball. An uninvested Shadow Ball may not seem like much, but an uninvested Aegislash has nearly the SpA stat of a fully invested Hasty Genesect, so it does well enough. I personally like having lower speed so that I can take as many hits as possible in Shield Form before attacking (especially against opposing Aegislash), but I also prefer to keep a little speed instead of dropping the Spe IVs all the way to 0. Specifically, these Spe IVs let me outrun 4 Spd Azumarill and everything slower so that I can stall them out more effectively with Toxic and SubShield.
P.S. Shiny is mandatory on Aegislash. Seriously, just look at it. Pure awesomeness.

Hippowdon @ Leftovers
Ability: Sand Force
EVs: 252 HP / 252 Def / 4 SDef
Impish Nature
- Earthquake
- Stone Edge
- Slack Off
- Stealth Rock
Hippowdon does a lot of what Landorus-T did for the team, with a couple of differences. While it takes physical hits slightly worse, is weaker, and doesn't have the utility of U-turn, Hippowdon does have reliable recovery in Slack Off, which makes it less reliant on Clefable's Wish. Otherwise, Hippowdon plays pretty similarly, switching into a multitude of physical attackers that Mandibuzz can't handle and forcing them out. Slack Off is so key here because it makes Hippowdon a much more reliable Stealth Rock setter and answer to opponents such as Mega Pinsir and Bisharp. Stone Edge > Whirlwind may seem strange, but it's a guaranteed OHKO on Mega Pinsir, and OHKOing that thing (and Talonflame, for that matter) is a lot better than just shuffling it around. Sand Force > Sand Stream might also seem strange, but half of my team is hit by the passive damage, and Mega Venusaur in particular hates Sandstorm since it cuts its Synthesis recovery in half. While the benefit from Sand Force is minimal (it lets Hippowdon do more damage to opposing Tyranitar, I guess), avoiding the unwanted side effects of Sand Stream makes it all worth it.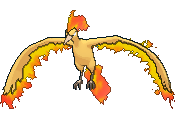 Moltres @ Leftovers
Ability: Levitate
EVs: 248 HP / 248 SDef / 12 Spd
Calm Nature
IVs: 0 Atk
- Flamethrower
- Will-O-Wisp / Toxic
- Roost
- Roar
By running Moltres > Rotom-W, I was able to solve several problems that the team had. Specifically, Moltres is a full stop to Mega Charizard Y, Volcarona, NP Mega Lucario, and CM Clefable, each of which my team struggled against before. It's a real shame that Stealth Rock exists, because otherwise Fire/Flying would be a really cool defensive typing. It comes with 6 resistances to Bug, Fighting, Fire, Steel, Fairy, and Grass, an immunity to Ground, and an immunity to burns, (Toxic) Spikes, and Sticky Web, all at the cost of only 3 weaknesses. Needless to say, as long as I can keep Stealth Rock off the field (not too hard with Mandibuzz's Defog), Moltres tends to be a great defensive Pokemon. I like having Roar in that last slot to phaze out the aforementioned threats before they can do any real damage, and I'm also currently running Will-O-Wisp since burn is such a great status to toss around. However, Toxic does help beat a few things like Mega Charizard Y and Volcarona in last Pokemon situations where I can't phaze them, whereas I would have to PP stall them otherwise. 12 Spe EVs let me beat the fastest of Mega Mawile, whom I can cripple with Will-O-Wisp and who would otherwise be dangerous to this team.

Mandibuzz @ Leftovers
Ability: Overcoat
EVs: 248 HP / 216 Def / 44 SDef
Bold Nature
IVs: 0 Atk
- Foul Play
- Defog
- Roost
- Taunt / Toxic / Whirlwind / ASLKDJDHFG
Mandibuzz got good in XY. I just love using this thing on both balanced and defensive teams. Mandibuzz essentially has 3 basic jobs: Defog away hazards, check random physical attackers with its great physical bulk and Foul Play, and tell Aegislash in no uncertain terms to go die in a hole. The only problem I've had is that last slot. Taunt is my favorite so far since it does a great job of stopping opposing hazard setters from setting up any more after I've Defogged them away, and it also makes it easier for Mandibuzz to check SubDisable Gengar, random status move users, etc. I have kinda missed being able to poison things with Toxic and stall them out, though. I've also had times where I wanted Whirlwind to phaze out setup sweepers that I couldn't beat with Foul Play, and Knock Off and U-turn have their uses. I really like specially defensive Mandibuzz, but physically defensive does a better job of taking hits from physical attackers before hitting back with Foul Play.

Venusaur @ Venusaurite
Ability: Chlorophyll
EVs: 248 HP / 164 Def / 96 SDef
Sassy Nature
- Synthesis
- Giga Drain
- Earthquake
- Sludge Bomb
Okay, okay, I'll admit it. I underestimated this guy when I first saw him. That's not to say I thought he'd be bad, but I certainly didn't expect Mega Venusaur to be such a great defensive Pokemon and answer to so many threats in this metagame. Just to give a few fun facts about Mega Venusaur, it's a little bulkier on both sides than Celebi, has some of the same key resistances with only two (fairly uncommon) weaknesses, and can hit a good bit harder with its good mixed offensive stats. I've been itching to use HP Fire or Knock Off as both are pretty good moves on Mega Venusaur, but each of the moves I'm already using are pretty important as it is. The EVs are basically designed to hit a jump point in SpD, which gives Mega Venusaur a little more than enough special bulk to survive +2 Mega Lucario's Flash Cannon after Stealth Rock, and the rest is used to boost its physical bulk.

Clefable @ Leftovers
Ability: Unaware
EVs: 252 HP / 252 Def / 4 SDef
Bold Nature
IVs: 0 Atk
- Wish
- Protect
- Moonblast
- Aromatherapy
Using this Clefable set has been a really weird experience, mainly because it just feels so weird to have a solid defensive Pokemon like Clefable that gets Magic Guard but isn't using it. Still, Unaware Clefable has been a real cornerstone of this team. There's just so much stuff that should probably sweep me but gets stopped cold by Clefable. Several setup sweepers such as DD Gyarados, SD Garchomp, DD Dragonite, DD Salamence, BU Conkeldurr, BU/SD Talonflame, DD Mega Tyranitar, and BD Azumarill go from being potentially dangerous opponents to complete chumps when Clefable hits the field. Besides shutting down setup sweepers, Clefable offers plenty of team support. Landorus-T and Aegislash lack any form of recovery outside of Leftovers, and Clefable's Wish has done a good job of keeping them alive a lot longer. I personally love Aromatherapy as well since it gives me the freedom to play more recklessly against opponents with status moves knowing that I can remove them later.

Landorus (Landorus-Therian) @ Leftovers
Ability: Intimidate
EVs: 252 HP / 252 Def / 4 SDef
Impish Nature
- Earthquake
- Rock Slide / Stone Edge / Hidden Power [Ice]
- U-turn
- Stealth Rock
Generally speaking, if I ever need some bulky Pokemon to consistently set down Stealth Rock, I usually turn to Landorus-T. Landorus-T does much of what it did on my BW teams that used it, switching into random physical threats and forcing them out. Since Excadrill and Defog are pretty popular, it has been harder to play stall with multiple hazards, so I decided to just stick with Stealth Rock for this team. So far it's worked out just fine, and Landorus-T thankfully has the bulk and resistances to switch in and set up Stealth Rock multiple times if need be (and it has done so on many occasions). Most of the moves are standard fare, just with Rock Slide > Stone Edge. Either move generally gets the job done in checking Pokemon like Talonflame, and so I prefer the extra accuracy of Rock Slide. Still, the 33% power increase of switching to Stone Edge is hard to ignore (guarantees the OHKO on Mega Pinsir where Rock Slide might fall short), and I've also always been a big fan of HP Ice Landorus-T with Relaxed > Impish, which makes it a much better answer to several Dragons and opposing Landorus-T and Gliscor.
Landorus-T has been swapped for Hippowdon.



Rotom (Rotom-Wash) @ Leftovers
Ability: Levitate
EVs: 248 HP / 8 Def / 252 SDef
Calm Nature
IVs: 0 Atk
- Volt Switch
- Will-O-Wisp
- Hydro Pump
- Pain Split
Rotom-W is just such a great Pokemon in this metagame since it shuts down several offensive Pokemon like Talonflame, Landorus-I, Greninja, etc. To be perfectly honest, Rotom-W was originally added as an afterthought, but it still functions really nicely. I've been running a specially defensive set mainly for stuff like the aforementioned Greninja and Landorus, but I've been considering running physically defensive instead to give me a better chance against Mega Pinsir, so I'm open to that change. As far as the set itself goes, everything here is standard stuff. I do have to say that even on a defensive team, a slow Volt Switch has been a pretty valuable asset for getting other teammates in safely, whether it be giving Mandibuzz a free Defog, getting Landorus-T in to set up Stealth Rock, or just switching to Clefable to wall some setup sweeper.
Rotom-W has been swapped for Moltres.
---------------------------------------------------​
Even with the new changes, there are a couple of things that still give me a bit of trouble:
Mamoswine:
LO variants are annoying without Rotom-W. It never liked taking a Stone Edge or Return, but it could at least switch into its STABs with ease. As it is now, even the weaker Jolly Mamoswine can outspeed and 2HKO everything on this team with its STABs alone. Clefable and Mega Venusaur can usually survive 2 hits at full health, but they get destroyed with Stealth Rock down or if Mamoswine is Adamant. Thankfully, it struggles to OHKO much, so doesn't really sweep easily. Still, I'm probably losing a Pokemon or two trying to bring it down.
Landorus:
Moltres usually shuts down Sheer Force Landorus single handedly, but those with Rock Slide destroy Moltres and 2HKO everything else. However, like Mamoswine, it fails to OHKO much, so I can usually bring it down before it sweeps my whole team. I'm just glad that Rock Slide Landorus is pretty rare on the ladder.
There might be another couple of problems here and there, but those are the main ones I've noticed since I updated this team. At the very least, it's weak to a lot fewer common threats than it used to be, and I've felt a lot more confident using it on the ladder ever since the latest changes. If anyone can spot any other weaknesses that need to be fixed, then I'll really appreciate the help!
Last edited: