nobody,not even the rain,has such small hands




Bisharp Knives: A DeoSharp Offense Team​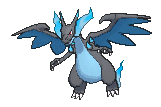 This is a team that utilizes DeoSharp. The objective of the team is to a) get hazards up, b) get Bisharp or Aegislash in if suspecting Defog or Rapid Spin respectively, and c) to clean up with Keldeo, Landorus and Char X.
Bold
is used to mark changes.
Teambuilding Process (long)
I wanted to build a DeoSharp team.


Then, I wanted a special attacker and then used Char-Y.
Because I was using Charizard, I required a Defogger and settled on Mandibuzz.
After that, I wanted another Defiant user.
Lastly, I wanted a mixed attacker and so, Aegislash arrived.
However, Thundurus just wasn't working out. I wanted another special attacker that could hit physically. Thus, I found Keldeo.
Because of that change, I needed a physical attacker and switched Char-Y out for Char-X.
I made some moveset changes, and one day, went to #pokemon. I mentioned the team and
-Tsunami-
and
Molk
helped me change Mandibuzz to Lando-I.
After that,
ShootingStarmie
helped me with suggestions that I all used.
Onto the team!
The Duo
@

Ability: Pressure
EVs: 240 HP / 60 Atk / 112 SDef / 96 Spd
Careful Nature
- Stealth Rock
- Spikes
- Superpower
- Magic Coat
The first part of the DeoSharp core, Deoxys-D is literally the best hazard-stacker in OU right now. Most, if not all the time, it can set up SR + 1 layer of Spikes, which turns many 2HKOs into OHKOs. It attracts Taunts, which makes Magic Coat an incredible move choice, making stuff like Sableye useless.
Deoxys-D is this bulky: 252+ Atk Choice Band Dragonite Outrage vs. 252 HP / 0 Def Deoxys-D: 219-258 (72 - 84.8%) -- guaranteed 2HKO.
Deoxys-D is so incredibly good that if I was Defogged, I can sometimes regain hazards by going back to Deoxys-D. Red Card is my item of choice to screw up U-turners and Volt Switchers.
To explain the set, 60 Atk and Superpower OHKO Bisharp if it runs 4 HP/0 Def and also OHKOs if it has 32/0 as well.
240 HP and 112 SDef is to survive Aegislash Shadow Balls and overall bulk, and 96 Speed is for Speed. (thanks
MattL
and
Acedia
!)
@

Ability
: Defiant
EVs
: 4 HP / 252 Atk / 252 Spd
Adamant Nature
- Sucker Punch
-
Pursuit
- Knock Off
- Iron Head
The second part of the DeoSharp core, Bisharp's Defiant is a great ability in Gen VI. With +2, Knock Off has a great power output. In fact, it beats Mega-Venu
[+2 252+ Atk Life Orb Bisharp Sucker Punch vs. 252 HP / 252+ Def Mega Venusaur: 226-266 (62 - 73%) -- guaranteed 2HKO] , Skarmory, [+2 252+ Atk Life Orb Bisharp Knock Off (97.5 BP) vs. 252 HP / 252+ Def Skarmory: 251-296 (75.1 - 88.6%) -- guaranteed 2HKO after Leftovers recovery] and completely decimates Blissey.
Pursuit is to trap Latis and Aegislash.
It can work together with Keldeo to make an awesome offensive core or work with Char-X to do the same.
The Cleaners
@

Ability
: Blaze
EVs
: 4 HP / 252 Atk / 252 Spd
Jolly Nature
- Dragon Dance
-
Fire Punch
- Earthquake
- Dragon Claw
Char-X is a really good DDancer. It has excellent typing and attack, which allows it to clean teams with ease. Fire Punch is used instead of Flare Blitz because it doesn't have recoil.
It's ability also complements DD as it works like a recoil-less LO. Earthquake kills Heatran and Dragon Claw is to hit other Dragons.
The best thing about Char-X is that it cannot be burned, which makes Scald less of a problem. Also, it completely destroys Skarmory.
@

Ability
: Justified
EVs
: 4 HP / 252 SAtk / 252 Spd
Timid Nature
IVs: 30 HP / 2 Atk / 30 Def / 30 SAtk / 30 SDef
- Hydro Pump
- Secret Sword
- Icy Wind
- Hidden Power [Flying]
Keldeo is good. Very, very good. It's a specially based mixed attacker that messes up Chansey and Blissey. In fact, Specs Keldeo is one of the most powerful special attackers.
252 SpA Choice Specs Keldeo Icy Wind vs. 4 HP / 0 SpD Multiscale Dragonite: 180-212 (55.5 - 65.4%) -- guaranteed 2HKO
That is through Multiscale. With a 55 BP attack.
Hydro Pump is very powerful STAB and strikes through stuff that doesn't resist it. Secret Sword is for Chansey and Blissey and is also STAB. HP Flying is for M-Venu.
Timid is to outrun Terrakion as they normally run Adamant. 252 SAtk is for power.
@

Ability
: Stance Change
EVs
: 244 SAtk / 252 Atk / 12 Spd
Brave Nature
- Shadow Ball
- Iron Head
- Shadow Sneak
- Sacred Sword
http://i.imgur.com/Wwis9YR.gif
Aegislash tears everything apart.
Chansey? Sacred Sword. Sylveon? Iron Head. Latias? Shadow Ball. Shadow Ball 2HKOes most of the metagame and Shadow Sneak cleans up with priority. There isn't much to be said about Aegislash since it's quite common really. Sacred Sword is to hit Normal-types, especially Chansey and Blissey. Aegislash wrecks stuff. Iron Head is used as Fairies normally have a lower Defense stat than Special Defense. It is my main lead if I see Scolipede/Ninjask, as it can Double Sneak. Air Balloon is used to protect against Excadrill.
12 Spd EVs are for outrunning 0- Speed Ttar. 252 Atk and 244 SAtk are for dual offenses.
Brave is utilized for extra attack as most of my moves are physical.
@

/

Ability: Prankster
EVs: 252 SAtk / 4 SDef / 252 Spd
Timid Nature
- Thunder Wave
- Nasty Plot
- Thunderbolt
- Hidden Power [Ice]
Thundurus is my set-up sweeper and stopper. Thunder Wave just stops set-up sweepers in their tracks. Nasty Plot is to sweep when I get the opportunity. Thunderbolt + HP Ice is for BoltBeam coverage. Leftovers is my item of choice but Life Orb can also be used for extra power.
252+ Speed is for maximum Speed to outspeed things after T-Wave as they might have +2 speed. 252 SAtk is for more damage output and 4 SDef is to attain a SR number.
Importable:
Deoxys-D @ Red Card
Ability: Pressure
EVs: 240 HP / 60 Atk / 112 SDef / 96 Spd
Careful Nature
- Stealth Rock
- Spikes
- Superpower
- Magic Coat
Bisharp @ BlackGlasses
Ability: Defiant
Shiny: Yes
EVs: 4 HP / 252 Atk / 252 Spd
Adamant Nature
- Sucker Punch
- Pursuit
- Knock Off
- Iron Head

Charizard @ Charizardite X
Ability: Blaze
EVs: 4 HP / 252 Atk / 252 Spd
Jolly Nature
- Dragon Dance
- Fire Punch
- Earthquake
- Dragon Claw

Keldeo @ Choice Specs
Ability: Justified
EVs: 4 HP / 252 SAtk / 252 Spd
Timid Nature
IVs: 30 HP / 2 Atk / 30 Def / 30 SAtk / 30 SDef
- Hydro Pump
- Secret Sword
- Icy Wind
- Hidden Power [Flying]

Aegislash @ Air Balloon
Ability: Stance Change
EVs: 244 SAtk / 252 Atk / 12 Spd
Brave Nature
- Shadow Ball
- Iron Head
- Shadow Sneak
- Sacred Sword

Thundurus (M) @ Leftovers
Ability: Prankster
EVs: 252 SAtk / 4 SDef / 252 Spd
Timid Nature
- Thunder Wave
- Nasty Plot
- Thunderbolt
- Hidden Power [Ice]
​
Last edited: