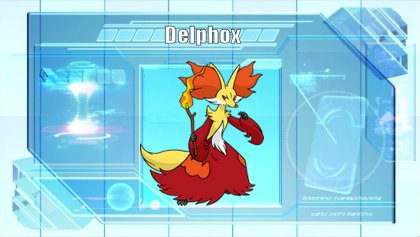 [OVERVIEW]

Delphox is a great offensive Pokemon in RU; in fact, the fiery fox can hold its own against most playstyles, from full-out stall to hyper offense. Its Fire / Psychic typing grants it a decent STAB combination that hits Pokemon such as Amoonguss, Bronzong, Escavalier, Hitmonlee, Registeel, and Poliwrath for super effective damage and helps it add a good amount of defensive synergy for an offensive Pokemon, resisting Grass-, Fighting-, Fairy-, Fire-, and Psychic-types. This is further complemented by Delphox's nice movepool, with gems such as Dazzling Gleam, Grass Knot, Calm Mind, and Trick in addition to its STAB moves.

Sadly, although its 104 base Speed allows it to outrun many relevant Pokemon, such as Hitmonlee, Flygon, Mega Glalie, Hoopa, Qwilfish, and Sigilyph, it falls tantalizingly short of many other faster attackers, including Virizion, Aerodactyl, and Choice Scarf Tyrantrum. For all its resistances, Delphox doesn't have very good bulk and is easily worn down by entry hazards and status moves, notably taking 25% damage from Stealth Rock. Due to its secondary Psychic typing, it struggles against the common Sucker Punch and Knock Off, as well as Pursuit users, which give the Choice Scarf set a heck of a hard time. Houndoom is also a huge blockade for Delphox because it's immune to both of Delphox's STAB moves. Though it does compete for a teamslot with other Fire- and Psychic-types, including Houndoom, Delphox possesses keen versatility and a knack for breaking down defensive cores, which makes it a great pick in RU.

[SET]
name: Offensive Calm Mind
move 1: Fire Blast
move 2: Psychic
move 3: Calm Mind
move 4: Grass Knot / Substitute
item: Life Orb / Salac Berry
ability: Blaze
nature: Timid
evs: 4 HP / 252 SpA / 252 Spe

[SET COMMENTS]
Moves
========

This set is probably Delphox's most well-known set and can be customized depending on your likings and what your team is trying to achieve. Fire Blast is Delphox's main method of roasting foes, as it's got a high 110 Base Power. Psychic is the best option in the second slot, as it's a powerful STAB option that hits Pokemon such as Alomomola, Qwilfish, and Gastrodon for good damage, making it better than Psyshock most of the time. Calm Mind gives Delphox the power to sweep through its checks while also giving it good matchups against stall and other defensive team archetypes. Grass Knot is the preferred move in the last slot, as it helps tie up a few loose ends left behind by Delphox's STAB moves. In particular, Grass Knot OHKOes Rhyperior and has a decent chance to OHKO Gastrodon after Stealth Rock. Substitute protects Delphox from status moves and shields it from heavier blows. It also gives Delphox a means of playing mind games with Sucker Punch users. Dazzling Gleam is another option in the third or fourth slot and allows Delphox to actually touch Houndoom, as well as hitting Dragons such as Flygon and Druddigon harder; it 2HKOes all three of them.

Set Details
========

The EVs are thrown into Special Attack and Speed to maximize Delphox's offensive capabilities, with a Timid nature to make use of its great Speed. The 4 remaining EVs go into HP to attain the Salac Berry boost after setting up only three Substitutes. Blaze gives a hefty boost to Fire Blast when Delphox is at 33% of its health or below, and thus is the preferred ability. Life Orb offers an appreciated boost to Delphox's Special Attack. Salac Berry is a decent option if you choose to run Substitute, as the Speed boost can help Delphox clean up faster teams. Colbur Berry could reduce the damage taken from a stray Knock Off or priority Sucker Punch, possibly preserving Delphox's sweep. However, Colbur Berry should really only be utilized if you're running Dazzling Gleam.

Usage Tips
========

Since Delphox offers a good amount of defensive synergy to its team, it's fine to use it to switch into special resisted hits, such as Venusaur's Leaf Storm, any of Sigilyph's moves, and Abomasnow's Giga Drain or Blizzard; however, it has a hard time switching in if Stealth Rock is on the field, and a misprediction on your part can lead to an untimely death. Remember not to let Delphox take physical hits most of the time because its Defense is mediocre. Delphox can switch in throughout the battle to take on threats, but because Delphox is good at sweeping slower, weakened teams, it should usually be preserved for late-game. Delphox can usually find an opening to set up and sweep if you play well with the rest of your team early- to mid-game. Specifically, Grass-types such as Amoonguss and Tangrowth can be used as setup bait, though you should watch out for Knock Off from Tangrowth. Notably, Aromatisse and Togetic are practically an invitation to lunch, though you should be wary of the odd Toxic or Thunder Wave. Find ways to wear down Delphox's checks, especially Houndoom, before attempting to set up and sweep. Substitute should be used against more passive walls whose only means of touching Delphox is a move like Toxic; this would include Pokemon such as Aromatisse, Togetic, and Amoonguss. Against Pokemon that can hit Delphox harder, such as Tangrowth, Alomomola, or Venusaur, a good strategy is to use Calm Mind to boost Delphox's Special Defense and then use Substitute the following turn. After setting up on and taking out a Pokemon such as Amoonguss, you should aim to have a Substitute intact so that Delphox can take a hit from a hard-hitting attacker, such as Sneasel or Choice Scarf Tyrantrum, without fainting.

Team Options
========

Defog or Rapid Spin support is very much appreciated, considering how easily Delphox is worn down by entry hazards. Flygon delivers the goods while taking on Ground- and Rock-types, and Blastoise can spin away hazards and synergizes well with Delphox, resisting Water-type moves and threatening Rock- and Ground-types. Hitmontop is another good option for hazard removal, as it offers a key resistance to Knock Off. Generally, you want to pick Pokemon that will synergize well and can cover Delphox's weaknesses. Virizion synergizes greatly with Delphox, taking on all the Knock Offs and Water-type attacks for Delphox while Delphox can take Ice, Fire, and Psychic moves in return. Virizion can also weaken Delphox's checks, and vice versa. Pokemon that can beat Houndoom are definitely recommended; in particular, Diancie can pivot into Houndoom and KO it with Diamond Storm or lay down Stealth Rock to limit Houndoom's opportunities to switch in. Similarly, Omastar, Rhyperior, and Accelgor can wear down Houndoom, Spiritomb, Drapion, and other checks to Delphox by laying down entry hazards.

Since this set can get revenge killed by faster Pokemon, it's a good idea to run bulky pivots, such as Tangrowth and Granbull, that can take hits throughout the match while keeping up momentum. Alomomola and Aromatisse are more passive but can stomach stronger hits and heal their team with Wish. In a similar boat, having some fast Pokemon of your own to KO opposing revenge killers isn't a bad idea. Choice Scarf Tyrantrum and Hitmonlee, as well as Accelgor, are decent examples of such revenge killers. Defensive Slowking can be a problem for Delphox because it can stomach a +1 Grass Knot and retaliate with Dragon Tail or Thunder Wave, both of which Delphox doesn't like. Therefore, Mega Steelix or similar leads can lure in Slowking and cripple it with Toxic, while Pokemon that resist Water, such as Jellicent and Virizion, can switch into Slowking without too much to fear.

[SET]
name: Speedy Roaster (Choice Scarf)
move 1: Fire Blast
move 2: Psychic
move 3: Dazzling Gleam
move 4: Trick
item: Choice Scarf
ability: Blaze
nature: Timid
evs: 4 Def / 252 SpA / 252 Spe

[SET COMMENTS]
Moves
========

Equipped with a Choice Scarf, Delphox can now fulfill the noble role of revenge killer for its team. Fire Blast is Delphox's main STAB move and attains great coverage, even on its own. Psychic is a powerful secondary STAB attack; though it doesn't roast opponents like Fire Blast does, it's useful when you encounter a Pokemon that resists Fire or when you can't afford to miss a move. Dazzling Gleam hits the majority of Dark- and Dragon-types hard, such as Scrafty, Spiritomb, Flygon, and Druddigon. Trick can cripple a member of the opponent's team and free up Delphox's moveslots when used correctly.

Set Details
========

252 EVs in Speed and Special Attack maximize Delphox's damage output and swiftness, with a Timid nature to make certain that Delphox can outrun Choice Scarf Flygon. Choice Scarf turns Delphox into a potent revenge killer and helps patch up some of its Speed problems versus offensive teams. Blaze is Delphox's only semi-useful ability; it provides a 1.5x boost to Fire Blast when Delphox is at 33% HP or below, which can happen often due to Delphox's mediocre but passable defenses.

Usage Tips
========

Delphox mostly serves as a revenge killer for its team, but it can also step forward to mop up weakened parts of the opponent's team. Since Delphox is a revenge killer, don't make bold predictions and lose it too early. Most of the time, it's not good to subject it to strong hits in the early- or mid-game, though weaker resisted attacks are fine for Delphox to switch into. It's important to play with Trick the right way; only hand off the Choice Scarf to a passive or very slow Pokemon, and make sure Delphox has done its job first. One exception, though, would be if the benefit of crippling a certain wall, such as Quagsire, is greater than that of being able to KO a faster Pokemon later in the game. Another good idea is to avoid locking Delphox into Psychic if there are Pursuit users on the opposing team and the switch is really obvious. However, if you're fairly sure that your opponent is switching in a Fire-type check, such as Mega Camerupt, Psychic is a relatively safe play.

Team Options
========

Choice Scarf Delphox fits in well on balanced or offensive teams looking for a powerful revenge killer. Defog and Rapid Spin support are also a good idea to complement this set: Flygon, Blastoise, and Hitmontop can provide this. Since Choice Scarf Delphox doesn't have the offensive presence of a setup sweeper, strong wallbreakers such as Diancie, Virizion, and Sawk are highly recommended to pressure and break down the opposing team's defensive core. These Pokemon can also switch into Knock Off users, which is another necessity when running Delphox. Venusaur and Tyrantrum tear down defensive cores well and offer some synergy with Delphox. Choice Band Tyrantrum in particular can play mind games with the opponent when paired up with Delphox, as most opponents would think that Tyrantrum is the Choice Scarf user when it's actually Delphox. This can result in your opponent making the wrong play, which can turn the game in your favor. Entry hazards from Registeel, Mega Glalie, and Mega Steelix can help guarantee some key KOs for Delphox. For example, Stealth Rock gives Delphox a chance to OHKO Tyrantrum with Dazzling Gleam while guaranteeing the OHKO on Venusaur. Packing something that can take down Pursuit users is a good idea for this set, as Delphox can fold so easily to Dark-types if you predict wrongly. Virizion can take on most Dark-types and uses Spiritomb as setup fodder. Granbull and Mawile are also good defensive answers to Dark-types.

[STRATEGY COMMENTS]
Other Options
=============

An all-out attacking set with Life Orb and Fire Blast, Psychic, Dazzling Gleam, and Grass Knot could be useful if your team prefers the coverage, though this sacrifices Delphox's ability to beat more defensive teams. Psyshock is a viable alternative to Psychic because it hits with similar power, although Psychic hits the vast majority of Pokemon such as Tyrantrum, Rhyperior, and Alomomola harder. Delphox can wield a Choice Specs along with the same moves as the Choice Scarf set, allowing it to hit insanely hard, but it usually prefers the Speed or ability to switch moves. Leftovers gives Delphox some passive recovery and works well in conjunction with Substitute on the Calm Mind set, but it comes with a notable decrease in power. If your team can handle Pokemon like +1 Speed Scrafty and Choice Scarf Flygon decently, several different moves can replace Dazzling Gleam on the Choice Scarf set. Will-O-Wisp burns troublesome Pokemon on the switch in, Calm Mind allows Delphox to boost up once it's gotten rid of its Choice Scarf, and Hypnosis is an option that, despite its low accuracy, can put Houndoom or a bulky Water-type out of commission for a few turns. Shadow Ball can be used to hit Jellicent and Hoopa harder than any of Delphox's other moves. Overheat is a decent option on a Choice Specs or the Choice Scarf set for more power. Consequently, Flamethrower can be used for the increased accuracy, but the power drop is not worth it. Will-O-Wisp cripples Delphox's offensive switch-ins, such as Spiritomb and Drapion. Running Sunny Day and Solar Beam is a pretty nice combination, although Delphox doesn't really have the bulk or Speed for the job and doesn't get access to Chlorophyll. Similarly, Magician + Power Herb and Solar Beam makes for a decent way to deal with Alomomola and Jellicent and steals the foe's item, but Knock Off puts this strategy in jeopardy, and running Magician means that Delphox loses out on the possible Blaze boost.

Checks and Counters
=============

**Dark-types**: Drapion, Houndoom, Sneasel, Absol, and Spiritomb can trap Delphox with Pursuit when it's Choice locked into a Psychic-type attack, although all but Houndoom should be careful of switching into Fire Blast. Absol, Skuntank, Houndoom, and Spiritomb possess Sucker Punch and can KO Delphox, though they should be wary of Substitute. Delphox is also prone to Knock Off, as many Fighting-types use the move for coverage. Though it's not a Dark-type, Aerodactyl can Pursuit trap Delphox as well.

**Bulky Water-types**: Alomomola, Slowking, and Jellicent can take on most of what Delphox has to offer, but they should be careful about switching into Trick or Grass Knot. Delphox can also beat them with enough Calm Minds (two or more) under its belt, though Slowking can fend off and cripple the Calm Mind set and Waterfall Alomomola can soften Calm Mind sets considerably to allow a revenge killer to finish off Delphox.

**Powerful, Faster Attackers**: Pokemon such as Aerodactyl, Jolteon, Sneasel, and Virizion as well as Choice Scarf Tyrantrum, Hoopa, and Hitmonlee can all outrun and defeat Delphox with a single swift move, though they should watch out if Delphox is holding a Choice Scarf. Dugtrio can outspeed Delphox, trap it, and KO it with Earthquake.

**Residual Damage**: Entry hazards are an excellent means of wearing Delphox down; Stealth Rock in particular shaves off 25% of its health and makes it quite a bit easier to knock out. Delphox also doesn't appreciate status effects of any kind, as Toxic wears it down and Thunder Wave users such as Slowking rob Delphox of its great Speed.

**Priority**: Powerful priority moves such as Sucker Punch, Aqua Jet, and Fletchinder's Acrobatics take advantage of Delphox's subpar Defense stat and are capable of felling Delphox with enough chip damage. Again, Sucker Punch users should watch out for Substitute.
Last edited: