Double dance Lando is a really fun sweeper. Landorus is fast enough to outspeed most scarfers after a rock polish and most offensive mons and chipped walls get murdered by EdgeQuake coverage from a +2 Landorus. As someone who will never use defensive Landorus in a million years, this is my favourite Landorus set by far and for my monotype team, I tried to make the best double dance Landorus team I could build.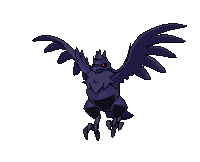 Team Link: https://pokepast.es/4b515d5f74e0b27f


Zapdos-Galar @ Choice Band
Ability: Defiant
EVs: 252 Atk / 4 SpD / 252 Spe
Jolly Nature
- Close Combat
- Brave Bird
- Blaze Kick
- U-turn
Galarian Zapdos is a very strong wallbreaker in mono flying. Banded close combat and brave bird can deal serious damage to a team's defensive core. I've messed around with scarfed Galarian Zapdos before and it also works as a valuable revenge killer, but for this team, I prefer stronger firepower to poke holes in the opponent's team so other pokemon can come in and finish the job. I don't find myself using the 3rd move much so I put blaze kick there because might as well.

Mantine @ Heavy-Duty Boots
Ability: Water Absorb
EVs: 252 HP / 252 Def / 4 SpD
Bold Nature
IVs: 0 Atk
- Scald
- Toxic
- Haze
- Roost
Mantine is used as a tank that can shut down set up sweepers with haze and cripple other tanks with toxic. I originally had defog over toxic, but Corviknight also runs defog and I can never get the right opportunity to defog with Mantine. It's also a decent way to beat rain. Mantine can tank water moves with water absorb then cripple them with toxic. Overall, it's a fun tank that can forego defog to better deal with tanks not immune to toxic.
Dragonite @ Heavy-Duty Boots
Ability: Multiscale
EVs: 252 Atk / 4 SpD / 252 Spe
Jolly Nature
- Earthquake
- Ice Punch
- Dragon Dance
- Roost
I put Dragonite here because it's ability multiscale lets it tank the first hit and safely set up dragon dance. The bulky dragon dance set didn't work as well because it doesn't outspeed Tapu Koko after a dragon dance. Dragonite doesn't get OHKO'd by Tapu Koko and can threaten a kill in it with earthquake. Ice punch also improves your matchup against other mono flyings but dual wingbeat is always an option if you just want powerful stab.

Thundurus-Therian (M) @ Choice Scarf
Ability: Volt Absorb
EVs: 252 SpA / 4 SpD / 252 Spe
Timid Nature
IVs: 0 Atk
- Thunderbolt
- Focus Blast
- Sludge Wave
- Psychic
I'm kind of conflicted whether I should run banded Galarian Zapdos and scarfed Thundurus or scarfed Galarian Zapdos and specs Thundurus. For now, I've decided on banded Galarian Zapdos and scarfed Thundurus but that could potentially change later. Focus miss is for stuff like Tyranitar and Ferrothorn, sludge wave is for fairies, while psychic is for bulky poisons like Nidoking or Amogus. No matter what item I run on Thundurus, it's still a mandatory flying type with a great electric immunity and even better coverage.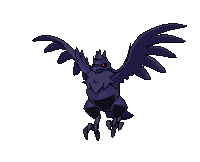 Corviknight @ Rocky Helmet
Ability: Pressure
EVs: 252 HP / 168 Def / 88 SpD
Relaxed Nature
IVs: 0 Spe
- Body Press
- U-turn
- Defog
- Roost
This team slot is where most people would run Celesteela. Celesteela is very good on mono flying, but I prefer Corviknight because it has an actual recovery move, it can pivot with u turn and access to defog allows Mantine to forego defog for a way to cripple walls with toxic. Rocky helmet can also punish Weavile's triple axel. I just think Corviknight is better for what my team wants to accomplish
(and it's more fun than defensive celesteela anyway)
.

Landorus-Therian (M) @ Leftovers
Ability: Intimidate
EVs: 252 Atk / 4 SpD / 252 Spe
Jolly Nature
- Earthquake
- Stone Edge
- Swords Dance
- Rock Polish
The star of the team. Most people tend to just see Landorus as a defensive tank and the only offensive sets are scarfed Lando and once in a blue moon you'll see swords dance Lando. Double dance Lando fixes the issue of swords dance Lando's not great speed, allowing it to outspeed most forms of speed control while dealing a ton of damage in return. EdgeQuake coverage helps against many matchups and it's one of my team's main win cons.​

: Stomping Tantrum / Throat Chop / Thunderous Kick over Blaze Kick, Choice Scarf over Choice Band
(if you're running specs thundurus)

: Defog over Haze / Toxic

: Dual Wingbeat over Ice Punch
: Grass Knot over Sludge Wave / Psychic, Choice Specs over Choice Scarf
(if you're running scarfed gapdos)

: Leftovers over Rocky Helmet
If you've made it this far, thanks for reading! I could honestly use feedback on what I should change. Mainly, the items on Galarian Zapdos and Thundurus since I'm still torn on what fits the best. If you also have other feedback, feel free to suggest ways I can improve my team.