AT A GLANCE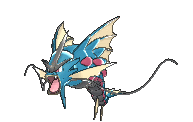 Welcome to my first XY OU RMT. This team, as you can se from the preview, is based on Mega Gyarados' sweep, maybe one of the most underrated megas in the current metagame.
It's a bulky offense or maybe a balanced team thath gaves me many staisfactions.
BUILDING PHASE



I started from this core: Gyarados + Defogger + Rotom-W that would have absorbed Mega Pinsir and Talonflame's stabs, but the washing machine was unable to cover Gyarados' weaknesses in a good way.





So i chose Celebi that is a very good partner for Mega Dos. The most evident weaknesses are in the top usage list: Talonflame, Mega Pinsir, Dragons, Aegislash, Mega Mawile.






For the firsts (and a bit for Mawile too) i got Heatran, a little underrated in the beginning of the metagame. The new entry gives solidity to the team, creating a very good FWG core.






For the seconds i chose Landorus-T, a very versatile Pokèmon. With the combination of Intimidate, bulkyness and a good atk stat, it can be very useful to contrast numerous threats of the metagame.






Last but not least the revengekiller, a must-have on almost every XY team: i'm talking about Genesect, obviously. His weaknesses are covered well by other members and gives a very important offensive contribution.







The great weakness to Dark types forced me to prefer Chesnaught over Celebi (under Nog's suggestion). With Genesect's ban i had to switch him with Scizor.

IN DEPTH
(changes in red)
Scizor (M) @ Choice Band
Trait: Technician
EVs: 252 HP / 248 Atk / 8 SDef
Adamant Nature (+Atk, -SAtk)
- Bullet Punch
- U-turn
- Knock Off
- Superpower
A
fter Genesect's ban i had to search ofr a substitute and here it is. He has the same typing of Genesect there are no complications to the team
. Even if Genesect was the best choice for this team, he's pretty good to take care of most Faries that are litterally destroyed by his powerful Bullet Punch. He also gives me a very important resistance to Mamoswine that, as underlined by ninjawhitetiger, could be a great treath to the team.
Chesnaught (F) @ Leftovers
Ability: Bulletproof
EVs: 252 HP / 228 Def / 28 SDef
Impish Nature
- Leech Seed / Synthesis
- Spiky Shield
- Wood Hammer
- Hammer Arm
A great discovery
. The heavy weakness to Dark types is partially covered by this fantastic Pokèmon, too much underrated in my opinion. In fact, besides of the 4x weakness to Flying types, he's a great physical wall, he can resist tons of hits and answer with two powerful stabs with a respectable attack stat.
His odd (?) trait gives him total immunity to "ball" or "bomb" moves, making moves such as Shadow Ball, Focus Blast, Sludge Bomb/Wave, etc... uneffective and this makes him very funny to play with opponents such as Aegislash that can't do nohing to him, or to absorb some Focus Blasts (better if choiched).
The spread gives him a great physical bulk and a decent special one. I'm not sure about Leech Seed or Synthesis because the first makes me recover HP very slowing but damaging my opponent, while Synthesis gives a 50% recover in one turn but with only 8 uses.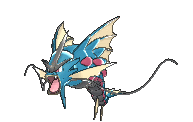 Gyarados (M) @ Gyaradosite
Trait: Intimidate
EVs: 4 HP / 252 Atk / 252 Spd
Adamant Nature (+Atk, -SAtk)
- Dragon Dance
- Waterfall
- Earthquake
- Ice Fang
The star of the team, and what a star! Despite the lack of the rain, it can be an extremely dangerous
Pokèmon, if used wisely. With the Mega Evo, it gains a boost of 25% in Atk, 30% in Def and Sdef, in addition to Mold Breaker that grants to hit Rotom-w, Dragonite, Unaware users, ecc... As you can understand, this is really a monster and with Intimidate on the first entrance, it gains a free boost almost every time and a second boost is very probable.
The lack of item makes him a bit weaker too, in fact LO Gyarados does more raw damage, but as you can see this version is way better.
Ice Fang > Substitute to hit Flying types and Dragons that are easily killed.


Heatran (M) @ Leftovers
Trait: Flash Fire
EVs: 32 HP / 252 SAtk / 224 Spe
Modest Nature (+SAtk, -Atk)
- Fire Blast
- Earth Power
- Stealth Rock
- Ancient Power
Heatran is completely reconsidered this gen and even if it was used frequentely in BW, it returns to take care of the bad bird that reigns on the top 5 usage and of the robot-bug.
Classic SDefensive set with the only add of Ancient Power > Earth Power to hit and kill Talonflame anche Charizard Y.
Flash Cannon > Toxic to take better care of Faries, especially Clafeble before it boosts.
I've replaced the past set with a new one, the offensive Tran that now gives me more attacking power. Besides that, it's role still remains the same but now he has to set rocks.
Together with Landorus he takes care of Mega Mawile that is a unbelievable thing.

Landorus-T (M) @
Choice Scarf
Trait: Intimidate
EVs: 4 HP / 252 Atk / 252 Spe
Adamant Nature (+Atk, -SAtk)
- Knock Off
- Earthquake
- U-turn
- Stone Edge
A Classic from BW that i like to use in this metagame too, even if it is very rare right now. Intimitade + Bulkyness + great Atk stat make him very good for this type o teams because it can play different roles.
For the spread, i preferred to run a little more speed to outspeed all Rotom-Ws and opponent Landoruses.
It's new choice scarf set, gives me a pretty strong revenge killer for Pinsir, Geninja and others thing thata are difficult to take down. I usually start with him to scout since turn 1.
Stone Edge > HP Ice because it's more effective in the actual metagame.

Latias (F) @ Life Orb
Trait: Levitate
EVs: 4 HP / 252 SAtk / 252 Spd
Timid Nature (+Spd, -Atk)
- Roost
/ Healing Wish
- Defog
- Draco Meteor
- Psyshock
Another very important role for Gyarados' sweep is the Defogger, chosen over Rapid Spinners because the great diffusion of Ghost tipes like Aegislash and beacause the lack of choice. Latias, in fact, can be also a great attacker with her two powerful stabs and with Life Orb, combined with Roost, give her a great balace between bulk and attack qualities.
As you can see i run a more offensive set because i already have Heatran as Special Wall and she can take more advantage from the sinergy with him this way.
An intresting option is Healing Wish that, as Memoric suggests, can be great because of the set's "bite and run" nature.
CONCLUSIONS
Now the team is more solid than before, covering well Dark and Fairy weaknesses. But there are two treaths to this team that can destroy all just by themselves and i'm talking about Mega Pinsir and Azumarril.
EXPORT TO TEXT
Scizor (M) @ Choice Band
Trait: Technician
EVs: 252 HP / 248 Atk / 8 SDef
Adamant Nature (+Atk, -SAtk)
- U-turn
- Bullet Punch
- Superpower
- Knock Off

Chesnaught (M) @ Leftovers
Trait: Bulletproof
EVs: 252 HP / 228 Def / 28 SDef
Impish Nature (+Def, -SAtk)
- Leech Seed
- Spiky Shield
- Hammer Arm
- Wood Hammer

Gyarados (M) @ Gyaradosite
Trait: Intimidate
EVs: 4 HP / 252 Atk / 252 Spd
Adamant Nature (+Atk, -SAtk)
- Dragon Dance
- Waterfall
- Earthquake
- Ice Fang

Heatran (M) @ Leftovers
Trait: Flash Fire
EVs: 32 HP / 252 SAtk / 224 Spd
Modest Nature (+SAtk, -Atk)
- Fire Blast
- Earth Power
- Stealth Rock
- Ancient Power

Landorus-T (M) @ Choice Scarf
Trait: Intimidate
EVs: 4 HP / 252 Atk / 252 Spd
Adamant Nature (+Atk, -SAtk)
- U-turn
- Knock Off
- Earthquake
- Stone Edge

Latias (F) @ Life Orb
Trait: Levitate
EVs: 4 HP / 252 SAtk / 252 Spd
Timid Nature (+Spd, -Atk)
- Recover
- Defog
- Draco Meteor
- Psyshock
​
Last edited: