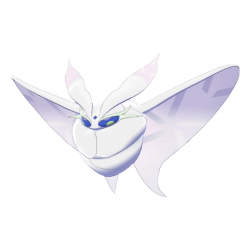 Frosmoth
Base Stats
: 70 HP | 65 Atk | 60 Def | 125 SAtk | 90 SDef | 65 Spe
Abilities
: Shield Dust |
Ice Scales (H)
Level Up Moves:
- [Evo] Icy Wind
- [01] Icy Wind
- [01] Powder Snow
- [01] Struggle Bug
- [01] Helping Hand
- [01] Attract
- [04] Stun Spore
- [08] Infestation
- [12] Mist
- [16] Defog
- [21] Feather Dance
- [24] Aurora Beam
- [28] Hail
- [32] Bug Buzz
- [36] Aurora Veil
- [40] Blizzard
- [44] Tailwind
- [48] Wide Guard
- [52] Quiver Dance
TMs:
- [TM08] Hyper Beam
- [TM09] Giga Impact
- [TM17] Light Screen
- [TM18] Reflect
- [TM19] Safeguard
- [TM21] Rest
- [TM24] Snore
- [TM25] Protect
- [TM27] Icy Wind
- [TM28] Giga Drain
- [TM31] Attract
- [TM35] Hail
- [TM39] Facade
- [TM41] Helping Hand
- [TM44] Imprison
- [TM46] Weather Ball
- [TM51] Icicle Spear
- [TM56] U-turn
- [TM64] Avalanche
- [TM76] Round
- [TM78] Acrobatics
- [TM95] Air Slash
TRs:
- [TR05] Ice Beam
- [TR06] Blizzard
- [TR18] Leech Life
- [TR20] Substitute
- [TR26] Endure
- [TR27] Sleep Talk
- [TR49] Calm Mind
- [TR61] Bug Buzz
- [TR89] Hurricane
- [TR90] Play Rough
- [TR92] Dazzling Gleam
Egg Moves:
- Fairy Wind
- Mirror Coat
- Bug Bite
Notable Moves
:
- Quiver Dance
- Bug Buzz
- Ice Beam
- Blizzard
- Air Slash
- Hurricane
- Defog
- Aurora Veil
- Giga Drain
- Weather Ball
- Substitute
- Dazzling Gleam
- Tailwind
- Stun Spore
- U-turn
New Ability
:
Ice Scales - Protected by icy scales, this Pokemon halves damage taken from special attacks.
Pretty similar to Fur Coat in this regard
Pros
:
- Good Special Attack stat and access to one of the scariest boosting moves in Quiver Dance.
- Blessed with a new ability in Ice Scales, allowing it to tank special attacks well in order to set up Quiver Dance.
- Has the capacity to remove entry hazards with Defog or set up Aurora Veil after Max Hailstorm if need be.
Cons
:
- Atrocious typing with two 4x weaknesses to Rock and Fire and weaknesses to common Flying and Steel types. Even if one decides to run Heavy Duty Boots to prevent Stealth Rock damage, they will sacrifice what could be more valuable items like Life Orb for damage output or Leftovers for passive recovery.
- Its movepool is lacking, leaving it unable to hit Fire-types well and Steel-types for even neutral damage.
- Base Speed is quite low at only 65, still can be revenge killed easily as at +1 Speed it is barely able to outspeed Base 121s at max (376 Speed at +1 with max investment).
- No reliable recovery, it does not even get Roost, making it easy to wear down.
Dynamaxing potential
:
- Max Airstream lets Frosmoth get a +1 Speed boost after its usage, letting it outspeed more threats.
- Max Hailstorm can be used to summon hail, which can help with chipping the opponent, making Blizzard perfectly accurate, or letting Frosmoth or a teammate set up Aurora Veil.
Potential Movesets
:
Frosmoth @ Heavy-Duty Boots / Life Orb
Ability: Ice Scales
EVs: 4 Def / 252 SpA / 252 Spe
Timid Nature
IVs: 0 Atk
- Quiver Dance
- Ice Beam / Blizzard
- Bug Buzz
- Hurricane / Giga Drain / Aurora Veil
Pretty straightforward set, Frosmoth can come in on special attackers or passive walls like Galarian Corsola with relative ease and start setting up Quiver Dance. Clear any entry hazards if Heavy-Duty Boots is not being used, and clear any opposing Steel- and Fire-types before attempting to sweep as they are often a hard stop otherwise. The moves are pretty explanatory as being STABs then Flying coverage because of Max Airstream's Dynamax effect of boosting Speed. Blizzard is slashed with Ice Beam if one plans on using Dynamax with Frosmoth, as it can get perfect accuracy Blizzard after a Max Hailstorm. Likewise Aurora Veil is also an option to give Frosmoth more utility after launching a Max Hailstorm. Giga Drain is also an option on Frosmoth incase Water-types need to be hit, and it also provides a bit of recovery. Weather Ball is also a nice option on rain teams as it gives Frosmoth a way to damage Fire-types while the rain also reduces damage Frosmoth takes from Fire moves. Life Orb can be run to give Frosmoth extra damage output that it otherwise misses out on with Heavy-Duty Boots, however as previously stated hazard control will be a necessity with Life Orb which makes team options stricter. Dynamax is pretty nice right now to differentiate it from other Quiver Dance users, seeing as it can use Max Hailstorm to summon hail for Aurora Veil and accurate Blizzard, however it faces steep competition from other Dynamax abusers like Hawlucha and Gyarados which are far more dangerous.
Last edited: