Sugar, Spice and One For All



Approved by charizard8888
OptiMons
Welcome to
OptiMons
, a Pet Mod where each Pokemon is optimized to their full extent. Here's the guidelines to define what 'optimized' means:
A Pokemon becomes optimized once they have been given all of the necessary tools to be used to their highest ability. Be it a small change, be it a big change: a Pokemon has its limits. Nothing is broken, intentionally at least.
No Pokemon will be injured, or de-optimized if you will. No Uber Pokemon will be dropped down with nerfs allowed, as that defeats the entire purpose of optimizing a Pokemon.
In order to create an optimization, think of a Pokemon's inherit flaws. Then, work around these flaws by including slight tweaks to turn these flaws into non-issues. That will make a Pokemon fully optimized.
Once a Pokemon is optimized, it can be amended if the community decides that a.) the optimization makes the Pokemon too powerful, or b.) the optimization turns out to not be as useful as expected.
Here is an example of an optimized Pokemon: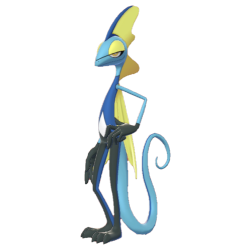 Inteleon [Optimized]
Abilities: Torrent | [HA] Infiltrator
Stats: 70 HP / 75 Atk / 75 Def / 125 SpA / 85 SpD / 120 Spe [BST 550]
Added Moves: Taunt, Encore, Hyper Voice, Psychic, Sludge Wave
Summary of Changes: -10 Atk, +10 Def, +20 SpD
Inteleon's key flaws include non existant bulk, a mediocre ability, a lack of coverage, and inability to stand out as an offensive Water type. However, by adding more bulk and giving it access to utility such as Taunt, Inteleon becomes a much more optimized version of itself. Furthermore, its brand new and unique Water - Normal typing carves out a niche as a normal type in a tier where normal types are lacking. Psychic is given to allow it to hit Toxapex, which otherwise gives it trouble, and Sludge Wave for Grasses and to gain a potential +1 with Dynamax. Primarina has now become more optimized because it has the ability to break through its common roadblocks, it's more reliable as an offensive Pokemon, and it has just enough bulk to give itself an defensive utility. Inteleon's not overpowered since it still suffers from priority, and the over abundance of Ghost types in the tier, and its inability to break past defensive teams.
If you'd like to use the above format, here's the code!
Code:
[CENTER][IMG]https://play.pokemonshowdown.com/sprites/xyani/pokemon.gif[/IMG]
[IMG]http://www.serebii.net/pokedex-bw/type/type.gif[/IMG][IMG]http://www.serebii.net/pokedex-bw/type/type.gif[/IMG]
[B]pokemon [Optimized][/B]
Abilities:
Stats:
Added Moves:
Summary of Changes:
description
Here are some common questions which will be asked:
What are the set limitations / common sense rules?
Although input from the community is obviously the goal, I'd like to reserve the right to have the ultimate decision fall upon me (and a council, if it garners support). Since we don't want anything asinine or something that's just not completely filled with idea behind it, then just having me or a council do it makes most sense to me. I feel like since optimization is tweaking of already existing, addition shouldn't be too much. I feel like it's more of a logical standpoint. Typing, too, but only in specific rare cases. Here's an example. Giving Dunsparce 105 Speed since it's based slightly off a bumble bee, so Ribombee has high speed, so Dunsparce should as well. That is not an optimization, it's a reach and a half. However, making Dunsparce Normal / Poison is logical, as it's based off of a serpent, and does optimize it in that it neutralizes its Fighting-type weakness and gives it a new set of resistances to work with. Obviously more would be added, but the first example is overzealous and not logical to me.
What actually determines if a Pokemon is to be optimized?
Here's how I see it. Mega Evolutions give Pokemon the ability to be optimized. For example, Charizard wasn't a good Pokemon in OU compared to before it became able to Mega. Becoming OU viable is the goal, or even just make it a tier higher. For example, making Kangaskhan a lot more viable in RU than it might be already. The gap between NU and OU is very rarely going to be fixed. That isn't the point. The goal in my eyes is to make a Pokemon the best version of themselves. A 2.0 if you will. My example, Primarina, is now viable in OU, logical and would be able to hold its own. The way I see it, it's like giving a Pokemon an ability to get the spotlight that Mega Pokemon receive, without making them Mega Evolutions or giving the "vibe" of a Mega. The purpose of this is to optimize a Pokemon so that they've essentially become a 2.0 of themselves, without breaking the Pokemon's identity. Making Primarina very fast and strong while lowering defenses to make up for it erases Primarina's base. I want to see Tyranitar to Tyranitar-Mega: similar concepts, but with one having a unique twist (higher bulk and Speed). I do not want to see a Diancie to Diancie-Mega: exchange defenses with attacking stats to create a whole new concept. The concept should be intertwined with the base Pokemon. This makes it not arbitrary or opinionated as if we went with how Diancie's Mega Evolution did, people could easily argue it wasn't optimized because it lost the base form in itself and became an entirely new object. I want it to be seen as an upgrade, not an evolution.
Have fun!
Here is the spreadsheet list of mons
https://docs.google.com/spreadsheet...Sr-hy9xsoglgkZTGriKdM6oFRDI/edit?usp=drivesdk
Last edited: