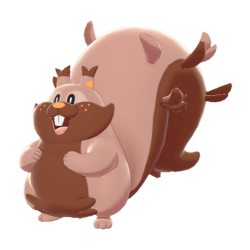 Greedent

Base Stats
- 120 HP | 95 Atk | 95 Def | 55 SpA | 75 SpD | 20 Spe
Abilities
- Cheek Pouch | Gluttony (H)
All Moves

Level Up Moves:
- [Evo] Covet
- [01] Tackle
- [01] Tail Whip
- [01] Bite
- [01] Stuff Cheeks
- [15] Stockpile
- [15] Swallow
- [15] Spit Up
- [20] Body Slam
- [27] Rest
- [34] Counter
- [41] Bullet Seed
- [48] Super Fang
- [55] Belch

TMs:
- [TM08] Hyper Beam
- [TM09] Giga Impact
- [TM15] Dig
- [TM21] Rest
- [TM23] Thief
- [TM24] Snore
- [TM25] Protect
- [TM31] Attract
- [TM39] Facade
- [TM50] Bullet Seed
- [TM53] Mud Shot
- [TM57] Payback
- [TM58] Assurance
- [TM59] Fling
- [TM66] Thunder Fang
- [TM67] Ice Fang
- [TM68] Fire Fang
- [TM76] Round
- [TM84] Tail Slap
- [TM97] Brutal Swing
- [TM98] Stomping Tantrum

TRs:
- [TR00] Swords Dance
- [TR01] Body Slam
- [TR10] Earthquake
- [TR17] Amnesia
- [TR20] Substitute
- [TR26] Endure
- [TR27] Sleep Talk
- [TR31] Iron Tail
- [TR32] Crunch
- [TR35] Uproar
- [TR39] Superpower
- [TR42] Hyper Voice
- [TR52] Gyro Ball
- [TR59] Seed Bomb
- [TR86] Wild Charge
- [TR97] Psychic Fangs
- [TR99] Body Press

Egg Moves:
- Rollout
- Defense Curl
- Last Resort
- Belly Drum
Notable Moves
-
Stuff Cheeks
Rest
Counter
Super Fang
Facade
Assurance
Thunder/Ice/Fire Fang
Earthquake
Substitute
Crunch
Superpower
Gyro Ball
Seed Bomb
Wild Charge
Psychic Fangs
Belly Drum
New Moves
-
Stuff Cheeks*


10 PP
Never Misses
The user eats its held berry, then sharply raises its Def
Pros
:
- Greedent has many good coverage moves, allowing it to hit many Pokemon for super effective damage.
- Greedent's exclusive move Stuff Cheeks combined with Cheek Pouch lets it boost defense, heal health, and use its held berry all at once.
- Greedent has a decent 95 Attack Stat and access to Belly Drum which, when combined with Cheek Pouch and a healing berry, can get it to full health with a maxed-out Attack stat to sweep under Trick Room.
Cons
:
-Greedent's terrible base 20 Speed stat leaves it vulnerable to attacks before it can set up and unable to kill faster powerful attackers without Trick Room support.
- Because Greedent has a weakness to Fighting, Pokemon like Hawlucha and Lucario can one-shot it.
- While it has a good HP stat, Greedent's mediocre 95/75 Defenses make it challenging for it to take many hits without raising its stats first.
- With Ghost, Fighting, Steel, Rock and other types that threaten it, Greedent suffers from 4MSS.
Dynamaxing Potential
:
It's best not to Dynamax Greedent. More defensive sets are left with too many Max Guards to be useful and offensively, it usually can't stay alive long enough to make use of its powerful Max moves. In a pinch, it can be used.
Possible Movesets
:
Belly Drum + Three Moves
Greedent @ Sitrus Berry
Ability: Cheek Pouch
EVs: 92 HP / 252 Atk / 152 Def / 12 SpD
Impish Nature
- Belly Drum
- Assurance/Superpower/Psychic Fangs/Gyro Ball
- Psychic Fangs/Assurance/Superpower/Gyro Ball
- Facade/Body Slam
With Belly Drum, Greedent can do enough damage to one-shot many frail Pokemon. Sitrus Berry and Cheek Pouch allow Greedent to fully restore its health, assuming it was not hurt too badly before it set up. Coverage moves can be chosen to fit the team's needs. With Trick Room support, Greedent can actually do serious damage to the opposing teams. Try to carry a Normal-type move for the STAB boost if possible. Body Slam is the more consistent move, but Facade is more useful against stall teams that may try to use status effects. The EVs can be set differently, but this is my personal preference. Pokemon that can set Reflect, Light Screen, and Trick Room make good teammates.
Defensive
Greedent @ Ganlon Berry/Sitrus Berry
Ability: Cheek Pouch
EVs: 252 HP / 252 Def / 4 SpD
Bold Nature
- Stuff Cheeks
- Stockpile
- Assurance/Crunch
- Super Fang/Substitute/Swallow
Greedent's naturally high HP stat and ok Defenses let Greedent tank hits after boosting its stats. Stuff Cheeks boosts Greedent's Defense and restores health once through Cheek Pouch. Ganlon Berry gives a bigger Defense boost while Sitrus Berry restores more HP. Other berries can be used if preferred. Stockpile boosts both Defenses and Swallow can be used for health restoration. Super Fang helps chip down bulkier Pokemon, but Substitute can be used for longevity. With Greedent's bad Speed, Assurance can hit more powerfully but Crunch is more consistent. A different coverage move can be used if needed. With Screens from a teammate, Greedent can tank a few of its enemies' attacks.
Greedent will most likely not be seen much in OU, but he may be a threat in a lower tier. With the right team, Greedent can be useful, but there are other, more easily used options.
*At the time of posting, Stuff Cheeks is not causing Greedent to eat his berry as intended.