down the rabbit hole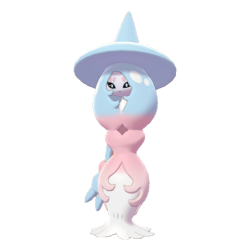 Type: Psychic / Fairy
Base Stats
: 57 HP | 90 Atk | 95 Def | 136 SpA | 103 SpD | 29 Spe
Abilities
: Healer | Anticipation | Magic Bounce (H)
[Notable Moves]
- Aromatherapy
- Dazzling Gleam
- Calm Mind
- Psychic
- Healing Wish
- Thunder Wave
- Light Screen
- Giga Drain
- Trick Room
- Mystical Fire
- Psyshock
- Baton Pass
- Shadow Ball
- Future Sight
- Dark Pulse
- Stored Power
- Nuzzle
Level Up Moves:
- [01] Psycho Cut
- [01] Brutal Swing
- [01] Confusion
- [01] Play Nice
- [01] Life Dew
- [01] Disarming Voice
- [Evo] Psycho Cut
- [15] Aromatherapy
- [20] Psybeam
- [25] Heal Pulse
- [30] Dazzling Gleam
- [37] Calm Mind
- [46] Psychic
- [55] Healing Wish
- [64] Magic Powder
TMs:
- [TM08] Hyper Beam
- [TM09] Giga Impact
- [TM10] Magical Leaf
- [TM14] Thunder Wave
- [TM17] Light Screen
- [TM19] Safeguard
- [TM21] Rest
- [TM24] Snore
- [TM25] Protect
- [TM28] Giga Drain
- [TM29] Charm
- [TM31] Attract
- [TM39] Facade
- [TM41] Helping Hand
- [TM44] Imprison
- [TM60] Power Swap
- [TM61] Guard Swap
- [TM65] Shadow Claw
- [TM69] Psycho Cut
- [TM70] Trick Room
- [TM71] Wonder Room
- [TM72] Magic Room
- [TM76] Round
- [TM87] Draining Kiss
- [TM92] Mystical Fire
- [TM97] Brutal Swing
TRs:
- [TR00] Swords Dance
- [TR11] Psychic
- [TR20] Substitute
- [TR25] Psyshock
- [TR26] Endure
- [TR27] Sleep Talk
- [TR29] Baton Pass
- [TR33] Shadow Ball
- [TR34] Future Sight
- [TR40] Skill Swap
- [TR49] Calm Mind
- [TR58] Dark Pulse
- [TR72] Power Whip
- [TR82] Stored Power
- [TR90] Play Rough
- [TR92] Dazzling Gleam
Egg Moves:
- Aromatic Mist
- Nuzzle
- After You
- Quash
[New Moves]

Life Dew
- The user scatters mysterious water around and restores the HP of itself and its ally Pokémon in the battle.
Magic Powder
- The user scatters a cloud of magic powder that changes the target to Psychic type.
[Pros]
- Great Special Attack stat. Since it's already very slow, it also has the luxury of running a Modest / Quiet nature
- Gets Mystical Fire to hit Steel-types that resist its STAB combination
- Magic Bounce lets it shut down passive Pokemon like Toxapex
- Good utility movepool includes moves like Calm Mind, Trick Room, Healing Wish, and Nuzzle
[Cons]
- Low Speed makes it easier to pivot around and / or revenge kill than Tapu Lele if Trick Room isn't set
- Since it doesn't automatically set Psychic Terrain, its Psychic is much weaker than Tapu Lele's Psychic
- Does not get Moonblast; Modest Dazzling Gleam is slightly weaker than Timid Tapu Lele's Moonblast
- Low HP stat
[Dynamaxing Potential]
Hatterene has a good amount of Dynamaxing potential. Max Mindstorm sets Psychic Terrain, which can shield it from revenge killing by priority users under Trick Room. Max Starfall sets Misty Terrain, which could improve its stallbreaking capabilities, although it's already immune to Toxic due to Magic Bounce and it doesn't really mind Scald burns. Max Darkness allows it to lower the target's Special Defense stat so it can hit them harder with its next attack.
[Potential Movesets]

[Offensive Trick Room]
Hatterene @ Life Orb / Leftovers
Ability: Magic Bounce
EVs: 252 HP / 4 Def / 252 SpA
Quiet Nature
IVs: 0 Spe
- Trick Room
- Psychic
- Dazzling Gleam
- Mystical Fire
I think this set has the most potential right now given how fast-paced the metagame currently is. Trick Room allows Hatterene to make use of its very low Speed to turn the tables on offense and avoid being revenge killed by Ditto. Since people will often try to dance around Hatterene, such as with Toxapex + Ferrothorn, you may want to use Leftovers instead of Life Orb to increase its longevity.
[4 Attacks]
Hatterene @ Choice Specs / Life Orb
Ability: Magic Bounce
EVs: 252 HP / 4 Def / 252 SpA
Modest Nature
- Psychic
- Dazzling Gleam
- Mystical Fire
- Future Sight / Dark Pulse
With this set, Hatterene gets immediate breaking power and greater longevity, but prediction is more important compared to the other sets. Future Sight lets it force your opponent into making predictable plays later, Dark Pulse hits Psychic-types and has good neutral coverage to ease prediction (chosen over Shadow Ball for its Dynamax effect).
[Defensive]
Hatterene @ Leftovers
Ability: Magic Bounce
EVs: 252 HP / 252 Def / 4 SpD
Bold Nature
- Rest
- Psychic
- Dazzling Gleam / Sleep Talk
- Mystical Fire
This set can come in on and force out some common hazard setters like Toxapex + Ferrothorn. It takes very little damage from Gyro Ball due to Hatterene's low Speed. A replay where it was successfully used can be found
here
Last edited: