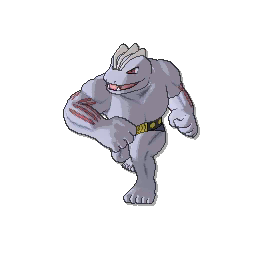 [OVERVIEW]
Machoke has cemented itself in ZU as an exceptional tank thanks to its notable Eviolite-boosted bulk and access to a great STAB attack in No Guard-boosted Dynamic Punch to threaten potential switch-ins and cause confusion. Its mixed bulk allows it to easily check Pokemon such as Electivire, Poliwrath, and a multitude of Silvally formes bar Silvally-Ghost, while its pure Fighting typing is somewhat unique in ZU and allows it to check certain Pokemon such as Floatzel, Electivire, and multiple Silvally formes that threaten other Fighting-types in the tier such as Monferno, Combusken, Hakamo-o, and Poliwrath. A physically defensive set handles common threats such as Shiftry, Electivire, Pinsir, and Bouffalant. Alternatively, a specially defensive Machoke can be used to combat ZU's special attackers such as Combusken, Silvally-Dragon, and Poliwrath. Unfortunately, Machoke's reliance on Eviolite to accomplish its role as a tank limits how effective Machoke can be as a Dark-type check due to Knock Off being the most common Dark-type move in the tier. Common Psychic- and Flying-types in the tier such as Exeggutor, Beheeyem, Kadabra, and Swanna also heavily threaten Machoke. Machoke's lackluster Speed stat means that it can be taken advantage of when against common pivots such as Rotom-S, Mareanie, Zebstrika, and Choice Band Komala.
[SET]
name: Tank
move 1: Dynamic Punch
move 2: Knock Off
move 3: Rest
move 4: Sleep Talk
item: Eviolite
ability: No Guard
nature: Impish
evs: 252 HP / 252 Def / 4 Spe
[SET COMMENTS]
Moves
========
Dynamic Punch is Machokes best STAB move, allowing it to heavily damage and confuse Pokemon, pressuring potential switch-ins such as Swanna. Knock Off provides Machoke with an excellent coverage option to threaten Pokemon that would otherwise wall it, such as Bronzor, Mareanie, Exeggutor, and Dusclops. Rest provides Machoke with a source of recovery and allows Machoke to act as a status absorber. Sleep Talk allows Machoke to preserve its Dynamic Punch PP while also avoiding the passivity that comes after using Rest.
Set Details
========
The maximum investment in HP and Defense alongside an Impish nature allows Machoke to maximize its effectiveness as a physical tank. Alternatively, Machoke can run a spread of 252 HP and 252 Special Defense EVs with a Careful nature. Machoke can also run 212 Defense and 44 Speed EVs in order to outspeed base 50 Speed Pokemon such as Lickilicky, Metang, and Regice. No Guard ensures that Machoke hits all of its Dynamic Punches.
Usage Tips
========
Machoke performs best as a physical tank, so it should be brought in on physical attackers that it walls such as Electivire, Pinsir, and physical Silvally formes. Dynamic Punch should be spammed for easy chip damage unless you are able to predict a Ghost-type switch-in such as Silvally-Ghost, Gourgeist-XL, Dusclops, or Dusknoir. Eviolite adds to Machoke's notable bulk, so it should avoid being hit with Knock Off, especially from Dark-types that it can otherwise reliably check. Machoke should refrain from switching into strong wallbreakers that can 2HKO it such as Toucannon, Choice Band Bouffalant, and Marowak. However, Machoke acts as an excellent pivot against weaker attackers or Pokemon whose attacks it resists such as Electivire, Rapidash, Pawniard, and Sawsbuck. Because of its reliance on Rest for recovery, Machoke should refrain from taking damage as much as possible in order to avoid being passive. However, Rest does enable Machoke to absorb status for its teammates. Machoke should primarily be used defensively, but when against more defensive builds, it should focus on crippling Pokemon with confusion and Knock Off.
Team Options
========
Wallbreakers such as Shiftry, Swanna, and Exeggutor that appreciate Machoke's access to Knock Off and its exceptional bulk pair well it. Machoke appreciates Pokemon that can absorb Knock Off, so Silvally formes such as Silvally-Water and Silvally-Dragon tend to make for good partners, as well as Pokemon that carry Z-Moves like Combusken, Swanna, and Rapidash. Machoke is extremely weak to Psychic-types, so Pokemon that resist or are immune to Psychic such as Bronzor, Shiftry, Pawniard, and Silvally-Dark make good partners for it. Pawniard and Silvally-Dark are worth noting due to their access to STAB Pursuit. Flying-types such as Swanna, Rotom-S, and Toucannon are all common threats, so Pokemon that resist their attacks such as Mawile, Rotom-S, Probopass, and Bronzor all pair well with Machoke. Due to being heavily invested in only one of its Defense and Special Defense stats, Machoke appreciates Pokemon that can cover up its other, non-invested stat. Examples of these Pokemon may vary depending on the invested stat; specially defensive walls include Bronzor, Lickilicky, and Muk; physically defensive walls include Gourgeist-XL, Shiinotic, and Avalugg. Entry hazards can allow wallbreakers such as Combusken and Toucannon to break through Machoke, so Machoke appreciates Pokemon that can remove entry hazards such as Komala, Avalugg, and several Silvally formes like Silvally-Water, Silvally-Dragon, and Silvally-Ground.
[STRATEGY COMMENTS]
Other Options
=============
A more offensive set utilizing Close Combat and Guts and an EV spread of 212 HP / 252 Atk / 44 Spe can be used. Machoke can run a variety of coverage options over Knock Off such as Ice Punch, Thunder Punch, and Earthquake. A Choice Band set that takes advantage of Machoke's plethora of coverage moves is an option, but this is generally outclassed by Pokemon such as Komala, Golem, Bouffalant, and Rapidash. A set featuring Rest, Sleep Talk, and Guts can also be used alongside Close Combat and Toxic as a more offensive set. Toxic allows Machoke to cripple Gourgeist-XL, a would-be counter to this set.
Checks and Counters
===================
**Ghost-types**: Ghost-types such as Silvally-Ghost, Gourgeist-XL, Dusclops, and Dusknoir are all immune to Machoke's most spammable move, Dynamic Punch. Gourgeist-XL is worth a special mention due to its ability to easily absorb a Knock Off and burn Machoke, forcing it to use Rest. Silvally-Ghost is also a good Knock Off absorber.
**Psychic-types**: Psychic-types such as Exeggutor, Mr. Mime, Beheeyem, and Kadabra all threaten Machoke with their STAB moves. Beheeyem is worth noting thanks to it usually holding a Colbur Berry, allowing it to shrug off Machoke's Knock Off. Kadabra is another example of this, as it tends to run Focus Sash.
**Flying-types**: Flying-types such as Swanna, Rotom-S, and Toucannon all threaten Machoke. Swanna, in particular, is worth mentioning thanks to its ability to run either a physically or specially based set.
- Written by: [[Broken Phobias, 272450]]
- Quality checked by: [[DurzaOffTopic, 357488], [Bloodace, 435539], [5gen, 296755]]
- Grammar checked by: [[The Dutch Plumberjack, 232216], [Fireflame479, 231476]]
Last edited: