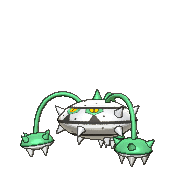 Hello, this will be my first proper post and first RMT on Smogon. I have been playing competitively since DPP and was in the Youtube scene for a while and have always enjoyed making teams. When Pokemon transitioned from DS to 3DS, I had a little break from Pokemon and missed most of the BW meta up untill near the end. While I considered myself good with DPP team building, I feel I could use some work in the new ORAS metagame. Here is my first real attempt at making a solid ORAS team.
Steelix @ Steelixite
Ability: Sturdy
EVs: 244 HP / 252 Atk / 12 Spe
Adamant Nature
- Heavy Slam
- Earthquake
- Stone Edge
- Stealth Rock
I feel like Mega Steelix gets no love and I wanted to try build a team that is capable of using Steelix to its fullest potential. This is the set that I feel works best. Mega Steelix hits like a truck and is my answer to Pinsir, Bisharp, and alot of trick users such as Jirachi, and Latios/as. I run 12 Speed to get the jump on Slowbro and Amoonguss. The one thing I don't like about this set is having to use stealth rock on it which I feel wastes a turn where I could do some big damage if I'm in sand.

Hippowdon @ Leftovers
Ability: Sand Stream
EVs: 252 HP / 4 Def / 252 SpD
Careful Nature
- Slack Off
- Earthquake
- Ice Fang
- Whirlwind
Hippowdon's main purpose is obviously sand stream and it's also my check to Manectric and Lando-i who would run over my team otherwise (which is why I have stealth rocks on Steelix). Whirlwind for CM Clef and sub Gengar which can be annoying for my team.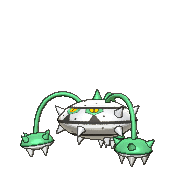 Ferrothorn @ Rocky Helmet
Ability: Iron Barbs
EVs: 252 HP / 48 Def / 208 SpD
Sassy Nature
IVs: 0 Spe
- Leech Seed
- Spikes
- Power Whip
- Gyro Ball
Ferrothorns purpose is to set up spikes and is my answer to rain teams and volt-turn. Conidering I have no spinner on my team I feel like rocky helmet is the best option for an item to chip away at u-turn users like jirachi and lando-t. I always run 2 attacks on ferrothorn to hurt Lati's and Azu/Gyara - I dont feel that I need protect that much.

Suicune @ Leftovers
Ability: Pressure
EVs: 252 HP / 252 Def / 4 Spe
Bold Nature
- Rest
- Sleep Talk
- Roar
- Scald
Much needed fire resist and CM Keldeo check, also nice bait for volt turn users to get a switch into Steelix which is quite hard to achieve in this meta. I chose Suicune over Slowbro because I feel that Pressure, roar, and no bug weakness are more important than a fighting resist.
shoutout to chimpact where i got the nice cune/hippo/ferro core
Tornadus-Therian (M) @ Leftovers
Ability: Regenerator
EVs: 212 HP / 128 SpD / 168 Spe
Jolly Nature
- U-turn
- Knock Off
- Taunt
- Toxic
My answer for stallbreakers like Gliscor and Mew, one of my 2 fighting resists on the team and a good pivot. Speed is 352 to scare Mega Gallade which is a problem for me. It's also nice for getting Steelix into the battle, as it lures in things like Ice and Electric types which Steelix can handle.

Clefable @ Leftovers
Ability: Unaware
EVs: 252 HP / 252 Def / 4 Spe
Bold Nature
- Wish
- Protect
- Heal Bell
- Moonblast
Final fighting resist and wish passer/cleric for the team. Also one of my best answers to BD Azumarill. Heal bell for healing Ferrothorn who will be taking most of the scalds and healing Hippowdon of toxic/lava plumes burn from Heatran.
Thanks for viewing my team, please leave any feedback you think would help make it better!​